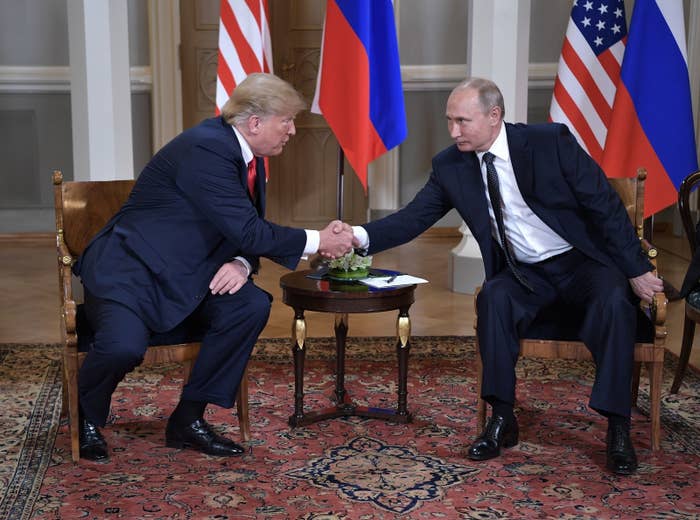 WASHINGTON — The Trump administration has struggled to find a way to counter Iran in Syria.
One strategy it has considered, according to analysts tracking the conflict and President Donald Trump's statements, is to work with Russia to do it.
But new legislation being developed in Congress shows that US lawmakers are gearing up to resist the idea.
In the buildup to Trump's summit last month with Russian President Vladimir Putin in Helsinki, debate within the US government on the idea of striking a deal with Russia on Syria spilled into the open. No deal was struck, said a National Security Council spokesperson. "During the two presidents' discussions, there were no commitments to undertake any action, beyond agreement that both sides should continue discussions," he said.
Yet Trump's performance at the summit received scathing criticism across the political spectrum for appearing to defer to Putin on Russia's meddling in US elections, Syria, and other issues. In the aftermath, concern among lawmakers about any potential deals with Russia spiked. "We need to be very clear with the president that we're not doing some grand bargain with the Russians right now," said a Republican congressional source who has worked closely on Iranian and Russian involvement in Syria. "There was a big push to do something pretty resonant and pretty expansive to send a message after Helsinki."
The revolt has been bipartisan. Of a raft of new Russia-related bills and resolutions introduced in both houses since the July 16 Trump-Putin summit, the most sweeping is one cosponsored by Sens. Robert Menendez, the ranking Democrat on the Senate Foreign Relations Committee, and Lindsey Graham, a prominent Republican voice on foreign policy, along with four other senators.
Called the Defending American Security from Kremlin Aggression Act of 2018, the bill condemns Russia over a variety of issues, from its election meddling to its aggression in Ukraine, and it calls for a wide array of sanctions, including on political figures and oligarchs connected to Putin and on Russia's energy projects and oil industry.
It also takes aim at Russia's role in Syria — and at any agreement the US might make with Moscow as the conflict grinds toward an end.
The bill asks the US government to determine if Russia "meets the criteria for designation as a state sponsor of terrorism" — the same term US officials have applied often to Iran.
It seeks to tie Russia to Iranian forces and their proxies in Syria, requesting an assessment of whether Russia has provided weapons, technology, or military knowledge, either directly or indirectly, to Iran as well as to Syrian forces, the militant group Hezbollah, and other Iranian allies.
It spotlights the long-standing Russian policy of working in concert with the government of President Bashar al-Assad to strike medical facilities, aid convoys, and other civilian and humanitarian targets, seeking to know whether Russian forces have committed "war crimes and crimes against humanity."
There is also an effort to underline a potential flashpoint between the US and Russia. In the section on war crimes, the bill includes a reference to "paramilitary forces or contractors responsive to the direction of [Russia]."
According to a congressional source who was involved with the bill, this language is meant to wrap in the Wagner Group, the shadowy Russian military contractor that has acted as an unofficial extension of Moscow's military power in Ukraine, Syria, and other countries. The US Treasury Department sanctioned the group's founder last year for its activities in Ukraine.
In February, Wagner's mercenaries were reportedly involved in a four-hour attack against US forces by hundreds of pro-Assad fighters in eastern Syria. The attack was a "collective assault on US forces in which Wagner, Iran-aligned proxies, and Assad regime forces [acted] all at once," the congressional source said, adding that it "suggests coordination, which means an arm of the Russian government actively participated in a direct assault on US forces."
Finally, with a series of pointed questions, the bill requests the details of any deal President Trump may have stuck with Putin to limit Iranian influence in Syria.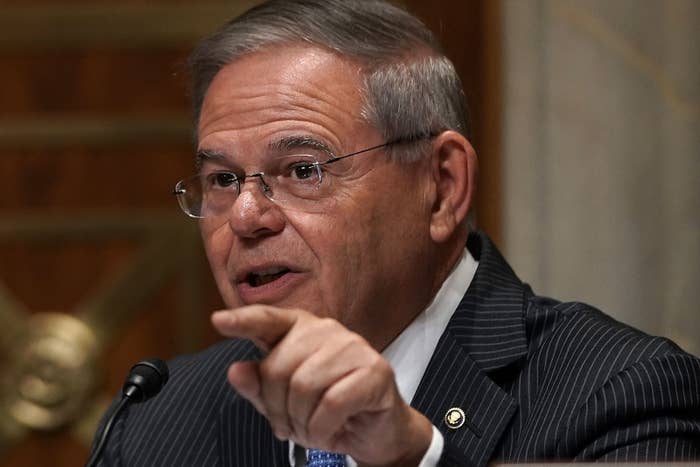 "Among the concerning developments coming out of the Helsinki summit was the president's willingness to cede to Putin policy-making regarding Syria, including Iranian entrenchment in Syria as a base to threaten Israel and further destabilize the region," Menendez told BuzzFeed News in a statement. "I have long raised concerns that the administration does not have a serious foreign policy strategy in the Middle East and is taking every tool off the table when it comes to addressing the conflict in Syria in a way that protects our national security and Israel's security. These Syria sections of the Russia sanctions bill are intended to hold this administration accountable for its absent policy and missing strategy when it comes to Iranian and Russian involvement in Syria."
The Iranian presence in Syria is the most sensitive issue the Trump administration faces in the country. Along with Russia, Iran has been crucial in propping up Assad through the 7-year-old civil war, sending troops, advisers, and a steady stream of cash. In the process, it has entrenched its presence in the country, along with the presence of its proxies, including Shiite militia groups and Hezbollah.
Since July, when Trump quit the nuclear deal his predecessor struck with Tehran, US officials have ramped up their rhetoric against Iran amid a push to cripple its economy. The administration has repeatedly presented its clash with Iran as a product not just of the nuclear issue, but of Iran's persistent quest to expand its reach and export its revolutionary ideology. "On foreign policy, the regime's mission of exporting the revolution has produced a decades-long campaign of ideologically motivated violence and destabilization abroad," Secretary of State Mike Pompeo said in a speech last month.
That mission is the primary purpose of Iran's proxies, with Hezbollah the most prominent among them. Yet even as the US campaign against the regime in Tehran gathers strength, in Syria, the most prominent outpost for Iranian influence in the region, the Trump administration has struggled to find a plan to roll it back.
Israel has repeatedly expressed alarm over the strength of these forces in Syria — both Iran and Hezbollah have called for Israel's destruction — and worries that they will increasingly turn their sights across the border as the war winds down. Israel has launched dozens of strikes against Iran and its proxies in Syria over the course of the conflict.
"We want all Iranian forces out of Syria. And [we] will do what we must to prevent Iran from establishing its foothold," an Israeli government official said, speaking on condition of anonymity. "We coordinate with Russia so our forces don't clash over the skies of Syria. But we won't [allow] Iran, which calls for our annihilation, the ability to entrench itself on our border."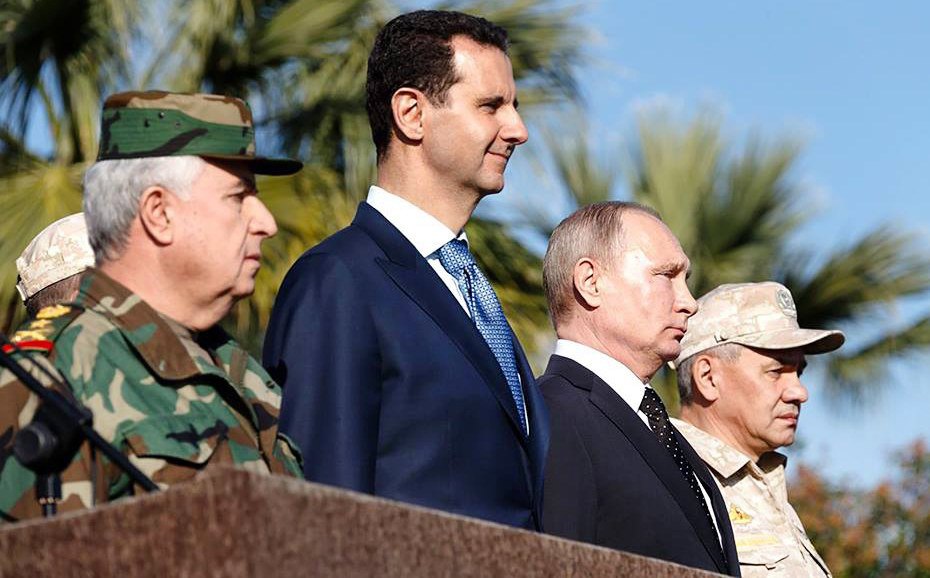 The volatile situation has sparked concern in Washington as well as in the region, and speculation over US–Russia cooperation in Syria has lately centered on the issue of Israeli security.
"We are open to discussions with Russia on areas of mutual interest. In Syria, we would like to see Russia live up to its commitments to de-escalate the fighting and move forward on a political solution to the crisis," the NSC spokesperson said, speaking on the condition of anonymity. "If Russia wants to help Syrian refugees and the humanitarian situation, it must first end its attacks against Syrian civilians and its support for the Assad regime's brutal military offensives that have created the refugee crisis in the first place."
He added, on the issue of Israel: "We welcome President Putin's support for the 1974 disengagement agreement between Israel and Syria and the return of United Nations Disengagement Observer Force monitors to the Golan Heights. We will look for concrete Russian actions to bring this about."
Nicholas Heras, a fellow at the Center for a New American Security who has advised US officials on the conflict, said, "The Trump team is following the Israeli lead" in managing the Iranian problem in Syria.
"That means that the Trump administration and the Israelis will put the burden of diminishing Iran in Syria on Russia," Heras said. "This is a calculated risk, which is that with Bashar al-Assad's ongoing consolidation of Syria, the Israelis and the Trump administration believe that Russia has a vested interest in being the dominant foreign actor in Assad's territory. In a nutshell, Trump and the Israelis are trusting Putin to value Russia's military bases in western Syria, and trade with Israel, over [Iran's] desire to make war upon Israel from Syria. Trump's taking a risk by expecting Putin to play the sheriff to police Iran in Syria, but with limited US influence on the ground in western Syria, it is the best of bad options."
Syria has been carved up by the various foreign powers who have backed competing sides in the war. As Assad, Iran, Russia, and their allies consolidate their hold over much of the country, Turkish forces hold onto a zone of influence in northern Syria, and US troops work with their local partners to take the last areas of ISIS control in the east. "The way the Syrian civil war ended was not through the victory of Assad and his troops. It was through foreign military intervention," said Andrew Tabler, a Syria expert at the Washington Institute for Near East Policy. "If you're trying to get Iran to withdraw from Syria, the question is who replaces them."
Even as Trump has publicly expressed his desire to pull US forces from the country, however, Iran has shown little indication that it intends to do the same.
"The Trump administration is now falling into the same trap in Syria as the Obama administration. A disengaged, retreating America cannot help Israel ensure its security or prevent Iran and Russia from continuing to commit atrocities in Syria," said Jamie Fly, a senior fellow at the German Marshall Fund of the United States and former foreign policy adviser to Republican Sen. Marco Rubio. "Unless this administration changes course, in many respects, the fate of Syria and of the broader Middle East will be increasingly determined by the actions of Tehran and Moscow rather than Washington."