Resignation Inside Crimea As Russian Forces Extend Control
Unrest mounts in Ukraine's east.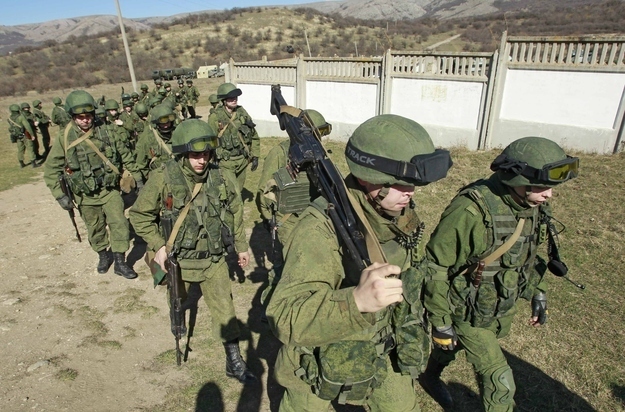 SIMFEROPOL, Ukraine — Besieged military officers kept their composure in Crimea on Monday, and said the right things. But it was clear their battle had already been lost — and that the only questions left were how and when.
Ukrainian forces have been surrounded at their bases across Crimea for two days, with Russian troops fanning out in cities across the peninsula in a move that raised tensions with the West to their highest levels since the Cold War. Russia shows no sign of backing down — it reportedly has 150,000 soldiers along the border with Crimea, and the Ukrainian government on Monday accused it of violently seizing border posts.
As Russian soldiers — who wear no insignia and have refused to identify themselves — milled outside one base not far from the regional capital of Simferopol on Monday, a Ukrainian commander gave an impromptu interview to reporters in which he said he and his men would never surrender. When asked if he expected assistance from the country's new government, the commander, Col. Sergei Storozhenko, was quick with his reply: "Of course."
At another base nearby, in the village of Perevalnoye, another officer stepped out from the gates to offer a similarly stoic assessment: "We have our government and our state, and they will make a decision" on how to respond to the Russian aggression," he said.
But the atmosphere at the bases was one less of tension than of resignation. Earlier, just behind where the officer stood, three of his soldiers had been hanging over the compound's walls, looking haggard as they traded cigarettes and shot the breeze with the Russian soldiers posted underneath. "We would really like to go home. We are tired," one of the Ukrainian soldiers said, not giving the impression that he expected to put up much of a fight.
News reports swirled late on Monday that Russian forces had given the Ukrainians in Crimea a deadline of 5 a.m. on Tuesday to surrender — or face "a real assault," according to a widely cited report from Russia's Interfax news agency quoting an anonymous source in the Ukrainian Defense Ministry. A Russian official later told Vedomosti, a respected Russian business daily, that news of the ultimatum was false.
Regardless of whether the ultimatum was true, Ukraine's forces in Crimea had little way to defend themselves and many in the peninsula appeared to welcome the Russians' presence. Meanwhile, unrest flared in the regions of eastern Ukraine that many believe could be the next target of Russian aggression — a move that could greatly ratchet up tensions if carried out.
Russian President Vladimir Putin, unhappy at seeing his ally, former Ukrainian President Viktor Yanukovych, forced out by a popular uprising last month, moved swiftly to win parliamentary approval for an invasion of Crimea — which has deep historic ties to Russia — under the pretext of protecting the ethnic Russian population there. But the text of the request, unanimously approved late last week, allowed him to send troops to all of Ukraine. Cities in Ukraine's industrial heartland in the east of the country also have deep cultural ties to Russia and a largely Russian-speaking population.
In recent days, the cities of Odessa, Donetsk, and Kharkov have all seen violent demonstrations as pro-Russia crowds capture administrative buildings in a push for autonomy from Kiev. A move by Russian forces to mount a Crimea-style operation in those places would significantly ratchet up tensions in the country — as well as between Russia and the West.
Meanwhile, the battle for Crimea already seemed to be over. Outside the gate at the Perevalnoye base in Crimea stood family members of some of the soldiers holed up inside. Asked how she was feeling, the wife of one officer immediately broke into tears and walked away. "At the moment she's hysterical. She hasn't been sleeping well, because she's worried about her husband," said the woman's mother-in-law, Svetlana Gorbachova.
Gorbachova has been the librarian for the base behind the closed-off gates for around 20 years. She was on hand to lend support to the men inside, whom she said were struggling to cope with the fast-changing events. "They are cut off from everything," she said, complaining that there had been no clear directives from Kiev. "Now there is a concern that we've been left on our own."
As she spoke, a bus arrived with Russia supporters bused in from other cities in the region. They quickly marched to join their comrades who had set up a barricade in front of the base, refusing to let reporters pass and seeming to further isolate the troops on the other side. One of the men at the barricade, who gave only the name Vitalik, said the barricade was there "for peace."
"Please respect the barricade," another man shouted at the crowd, "and don't cross it."