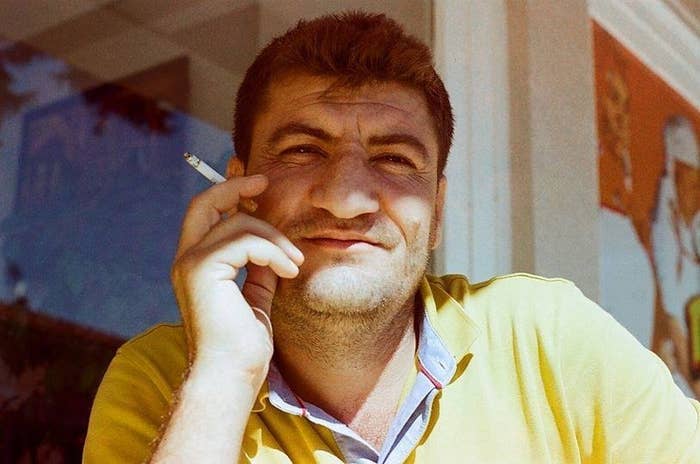 REYHANLI, Turkey — On the night of Jan. 28, Raed Fares, one of the best-known pro-democracy activists still living and working inside Syria, was up late, as usual, in his media center in the small northern village of Kafranbel.
Fares, 41, and his colleagues had made an unlikely name for Kafranbel, both inside Syria and abroad, with their media work, which blended dark, biting humor with earnest pleas for empathy. Their trademark signs held at weekly protests, in Arabic and English, were designed to get people to pay attention to Syria's suffering, and ideally also to care. In one notable effort, Kafranbel responded to the Boston Marathon bombing with a sign calling it "a sorrowful scene of what happens every day in Syria."
"Do accept our condolences," the sign added.
Fares and his friends had savaged the Syrian regime regularly, as well as the Islamic extremists who were surging among the rebel ranks, drawing the ire of both. Jihadi rebels had even raided the Kafranbel media office the month before, and they were sending Fares death threats.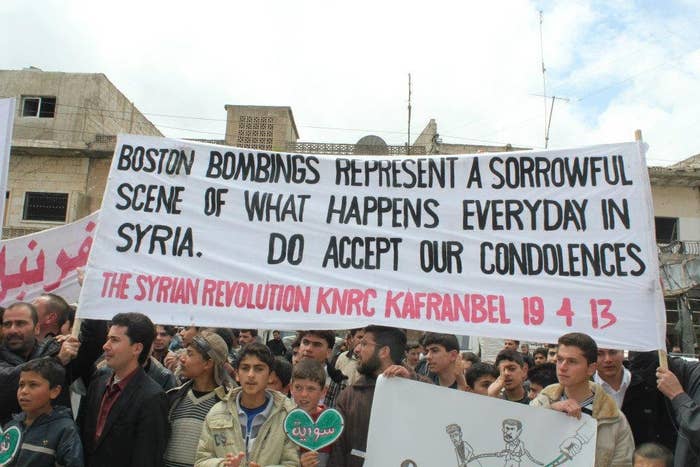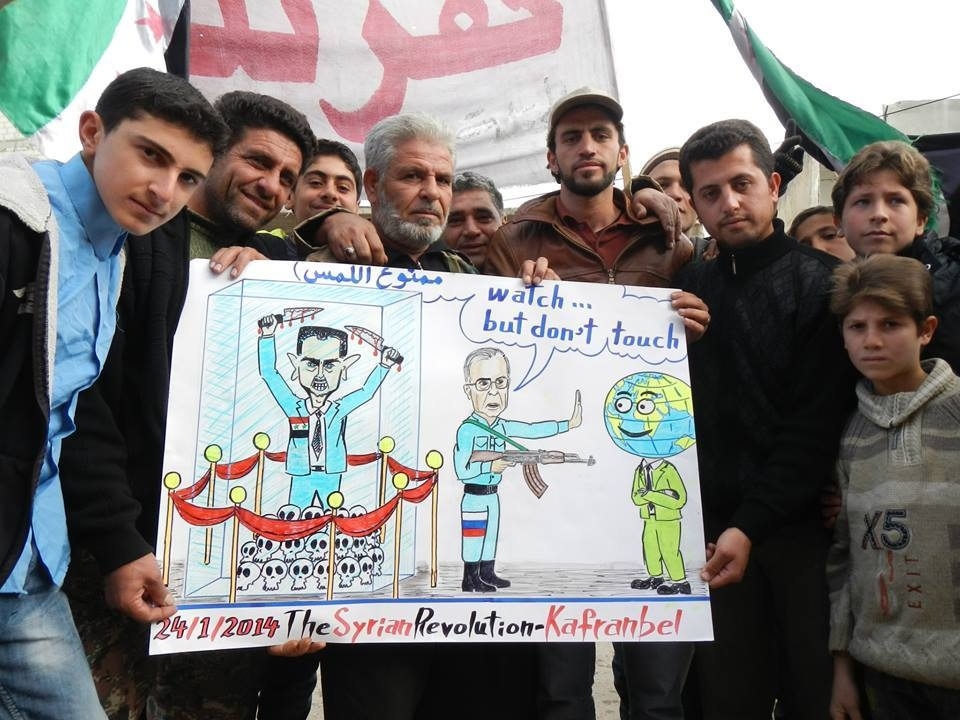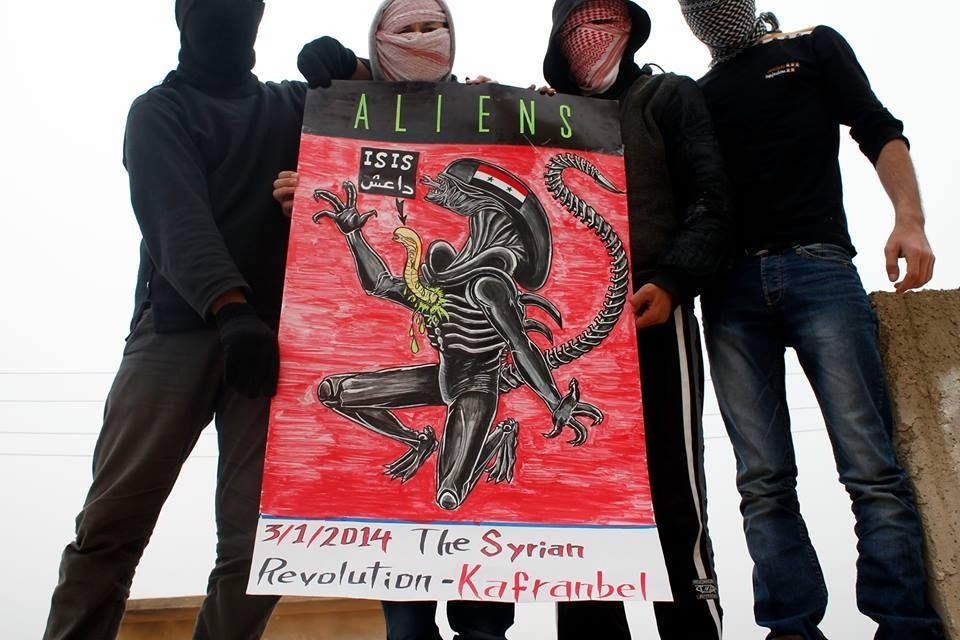 Fares decided to head home around half past midnight. He was standing at his car outside the media center when a masked man approached. Through the darkness, Fares said, he could make out the man's eyes, and then his camouflage jacket and military boots. When the man got close, Fares saw him point a Kalashnikov at his chest.
The man opened fire, and so did another assailant Fares couldn't see. I must have 30 or 40 bullets in my body, he thought, and fell so hard that he broke his hand.
He mumbled a prayer, screamed once in pain, and then quieted himself, waiting to die.
Against a man known for his messages, the attack, perversely, sent a grim message of its own — that the kind of creative and civil rights-minded voices that once defined the revolution are being snuffed out in Syria. On top of the longstanding threat from the regime, activists like Fares have been targeted increasingly by extremists, who have imprisoned, tortured, and killed some, and intimidated others into leaving the country.
But Fares survived — improbably, it seemed. He took two bullets to his right side, breaking six bones in his arm, shoulder, and chest and piercing a lung. He recalled mainly the cold of the hospital where he was rushed for treatment, losing so much blood that he needed transfusions to stay alive. Photos from the scene show how much worse the outcome could have been: his bullet-riddled car, and pockmarks in the brick wall beside it that appeared to have danced around his 6-foot-2-inch frame. Friends counted 16 bullets in the car and another 25 in the wall.
Now Fares is preparing to do something that would send perhaps his strongest message to date: return to Kafranbel and get back to work.
"Of course I will return — as soon as I can work," he said on Monday night, in his first interview with the Western media since the attack. He is recovering in a home in the Turkish border town of Reyhanli with his wife and three sons, his right arm buried in the pocket of a fleece as a makeshift sling.
"It's a very big message," he said. "The message is that when we started our revolution, we broke the barrier of fear. We're not afraid. We just want to reach our aims: dignity and freedom. And we will get them."
Besides, he added: "I have a lot of work to do."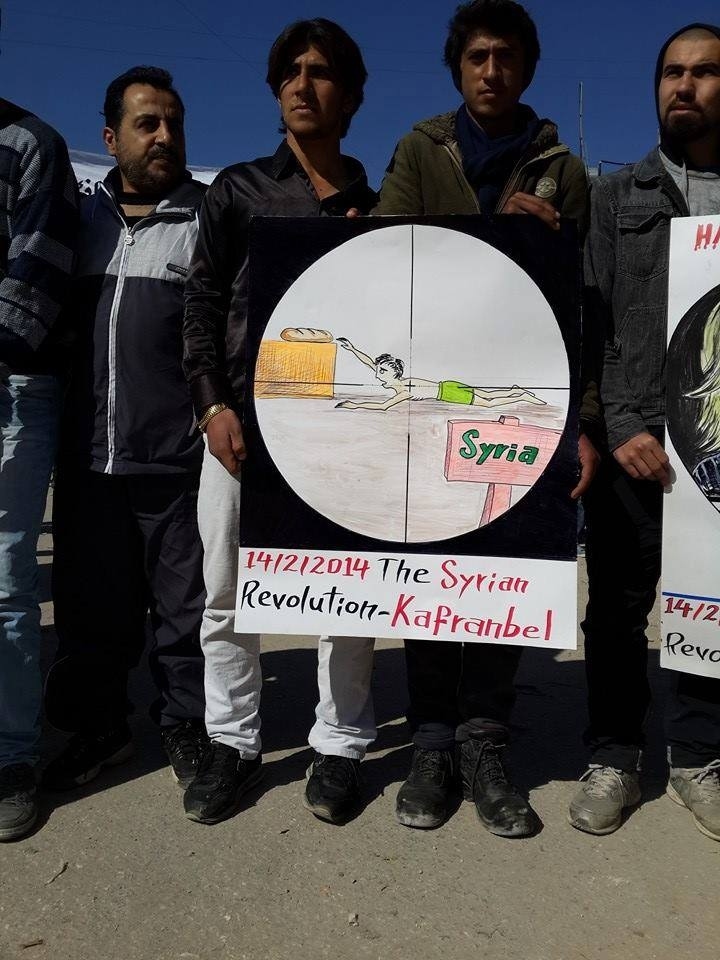 Fares, who completed a few years of medical school but never finished his degree, was a real estate agent in Kafranbel when the revolution began. There was a simple inspiration for the early banners, he said: With no independent journalists around to ask, protesters needed a way to express their demands. The media center's work has expanded since into a demanding enterprise.
In addition to the banner campaign, the media center runs an FM radio station that broadcasts inside Syria, and it works to document the conflict, reporting on the atrocities and filming on-the-ground video of the suffering, such as one gripping feed showing the immediate aftermath of a regime shelling in Kafranbel that was picked up by the international press.
Other videos are more creative — and aimed more directly at persuasion. When the U.S. Congress was weighing President Barack Obama's proposal for an airstrike on the Syrian regime in retaliation for a chemical weapons attack outside Damascus this summer, the Kafranbel media center released a video featuring residents inside Syria, in halting English, urging them to "support the U.S. strikes." Fares emailed the link to some politicians himself.
After Obama scrapped the proposed strike in return for the regime's agreement to give up its chemical weapons arsenal, the media center released another video, parodying the decision with actors dressed as cavemen.
Fares said that the center's work targeting those inside Syria held special importance — especially when it came to dealing with the rising tide of extremism among the opposition. In addition to the banner campaigns, the subject of religion was addressed often on the radio station, with one moderate cleric given regular two-hour time blocks.
It was an uphill battle, Fares said. "For the last three years, the Syrian people have been very close to death, and when you are close to death, you think a lot about God," Fares said. "And when people see [these extremists], they think they have the shortest path to God. It's very hard to convince people that these guys are wearing the Islamic clothes, but they are not the real Islam. They just came here to steal our minds."
He and his colleagues tried to show that the extremists "are not part of this revolution," he said. It was the kind of work that made them a target for the jihadis, though Fares said he thought the regime could also have been behind the attempt on his life.
They needed to continue to push this idea internationally as well, he said — especially in the United States, where concerns over extremism have dominated debates over aiding the opposition. He'd come to an important realization in the build-up to the aborted vote on the U.S. airstrike last year, he said — that most Americans didn't support the idea.
Fares reasoned that those who didn't must have been unaware of the real situation in Syria — and for that he blamed not U.S. citizens, but Syrians themselves, in addition to the U.S. government and media, for not doing enough to get the right message across. "Not all of the people in the United States understand what's happening in Syria," he said. "If they knew what was really going on — that it's genocide — then they would have stood behind [the strikes]."
Fares guessed that he'd be ready to return to Kafranbel in about a month. When he does, he said, he expects to be targeted for assassination again. He said he will leave his family behind in Turkey, and he talked about plans to keep an armed guard, conceal his movements, and constantly change where he sleeps. But when pressed, he put his chances of survival at "maybe 30%."
"For me, it's OK," he said. "Because the first time you yell and shout and cheer against the regime in the street — from the first time — you expect that you will die. So I've had three years. It's been a very good time."