Radical Factions Square Off In East Ukraine
As fear of imminent invasion fades, pro-Russia and pro-Ukraine groups hunker down for the long fight in Kharkiv.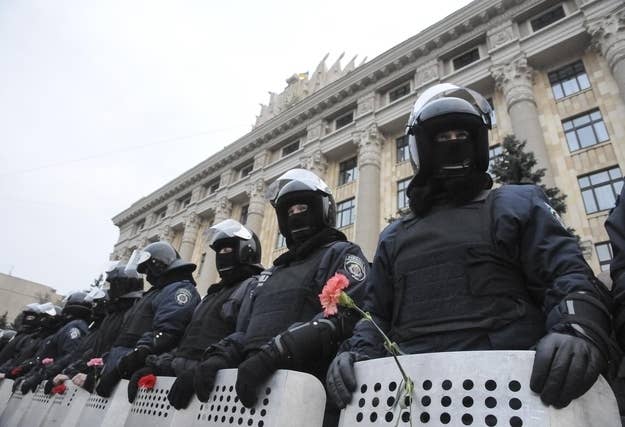 KHARKIV, Ukraine — The local leader of the Right Sector, a militant nationalist Ukrainian group, had the air of a hunted man as he sat down for an interview at a hotel in this eastern city last week. His eyes darted nervously. Two of his men stood guard in the parking lot. "I'm taking what precautions I can," he said. "But it might not be enough."
With Russia just 20 miles away, Kharkiv, Ukraine's second largest city and a bastion of support for Russian President Vladimir Putin, would be a likely first target of a potential Russian incursion, and the man said it was important to show that there would be resistance here.
"People in Kharkiv are not nearly as supportive of Russia as people in Crimea," he said. Protests calling for referendums on secession and for Russian protection have been gripping cities around the region since Russian troops took control of the Crimean peninsula this month. If these pro-Russia movements weren't confronted, the man said, "the Crimea scenario would likely play out in the east" — meaning that Russia could use the cover of local support to invade.
Virulently nationalist, the Right Sector is the group that most unnerves Ukrainians opposed to last month's revolution, especially here. Its Kharkiv leader declined to use his name, but he's well known to his enemies in the city. The names, photos and home addresses of several Right Sector members, himself included, had recently been leaked online — something he saw as the latest salvo in a simmering conflict between his group and the pro-Russia forces in the city.
The conflict turned deadly on the night of March 14, when pro-Russia protesters stormed the Right Sector's local office. The protesters said members of the Right Sector had attacked them while gathered around the Lenin statue that towers over Kharkiv's main square. What happened next is disputed by both sides. The Right Sector leader claimed that he and his comrades who gathered to defend the building faced rubber bullets, stun grenades and even live bullets from the pro-Russia crowd. When the dust settled that night, though, it was two pro-Russia activists who had been shot and killed.
The confrontation jolted tensions in the city, as well as fears of Russian intervention, with the Kremlin having repeatedly invoked a right to protect Russian-speakers in eastern Ukraine — its same justification for taking over Crimea.
It also saw the hardliners from both sides hunker down.
The Right Sector leader said the group was keeping its guard up, and he declined to make other members available for interviews. His counterpart on the pro-Russia side — Eugene Zhilin, who leads a group called Oplot that made up much of the crowd storming the Right Sector office — adamantly refused an interview request when contacted via Skype.
Zhilin is a former police officer who reportedly served prison time for armed robbery and is known for running mixed martial arts (MMA) tournaments in Kharkiv. Many of Oplot's members are drawn from a local MMA club of the same name, and they form the muscle of the pro-Russia movement in Kharkiv. Zhilin took refuge in Russia this month, fearful that Ukraine's new government would target him with criminal charges, possibly in retaliation for his activism. Shortly after he was contacted on Skype, he posted a message on his Facebook page warning Oplot members not to speak to foreign journalists, whom he accused of being provocateurs.
The tension between the city's two most extreme factions has left many in Kharkiv feeling caught in the middle, as the geopolitical struggle being waged over Ukraine plays out on the streets. "They are just instruments," said one pro-Russia activist in Kharkiv, an engineer and father of two who gave only his first name, Dmitry, because he was concerned for his safety. "It's a political conflict for political power in east Ukraine. They're just meat for the fire."
"Blood was spilled. People were killed," said Igor Korol, the regional head of the Ukrainian Democratic Alliance for Reform, a political party that supports the new government in Kiev. "It's not supposed to happen."
Residents worry the tensions will flare again. There were rival pro-Russia and pro-Ukraine protests scheduled in Kharkiv on Sunday. While the thousands that have taken to the streets in the city are just a small fraction of its population of nearly 1.5 million, the protests have been closely watched as a potential flashpoint.
Activists on both sides said they were unsure which side the police were on and feared arrest, as well as conflict with their rivals. "Maybe our organization will come under attack [by pro-Russia protesters] just like the Right Sector," said one member of another right-wing group in the city, a local business trainer, who said he and his colleagues were readying themselves for self-defense. "Everyone has shown their true faces: who is a patriot and who is a traitor."
U.S. officials have accused Russia of stirring unrest in Ukraine's east, either to destabilize the government in Kiev or to set the stage for a possible intervention. Russia has forces massed along the border, and at a press briefing on Friday, National Security Advisor Susan Rice cast doubt on Moscow's claims that the troop buildup was part of a military training exercise. "Obviously given their past practice and the gap between what they have said and what they have done, we are watching it with skepticism," Rice said.
Uncertainty about Russia's intentions looms in Kharkiv, and several residents put the chances of invasion at "50-50." Fears that an invasion is imminent, though, have gradually eased since last week's referendum in Crimea. And activists on both sides stressed that support for Russian intervention in eastern Ukraine is considerably less than it was in Crimea, where Russian troops faced little resistance. Many expected locals and Ukrainian troops alike to fight back if Russia tried to move in. "You can't compare this to Crimea," said Andrei Borodavka, a Kharkiv journalist and pro-Russia activist. "The Russians don't want to kill Ukrainians or Ukrainian soldiers."
Borodavka said he thought Russia would intervene only in the case of persistent violence — and on a far larger scale than the shootings that took place in Kharkiv on March 14, however much they may have jarred residents here.
Yet on the highways around Kharkiv, military vehicles could be seen making their way to the border, as the Kiev government moved to shore up its forces there. They would be little match for the Russians — in one glaring sign of the Ukrainian army's weakness, Kharkiv activists were regularly delivering food and blankets to the under-supplied troops. Yet the army seemed determined at least not to be caught off guard.
Inside one base near the border, a senior officer said the Ukrainian military had been braced for an invasion for much of the last month. A Russian intervention like the one in Crimea, he said, was already underway, citing the pro-Russia protests in Kharkiv and elsewhere, which he believed were incited by Moscow: "It's just not so vivid right now."
He seemed resigned to the fact that Russia would eventually make its move into the east, though he expected this to take some time. "It will take steps to it. But we should be ready," he said. "And we will protect our people to the last drop of blood."