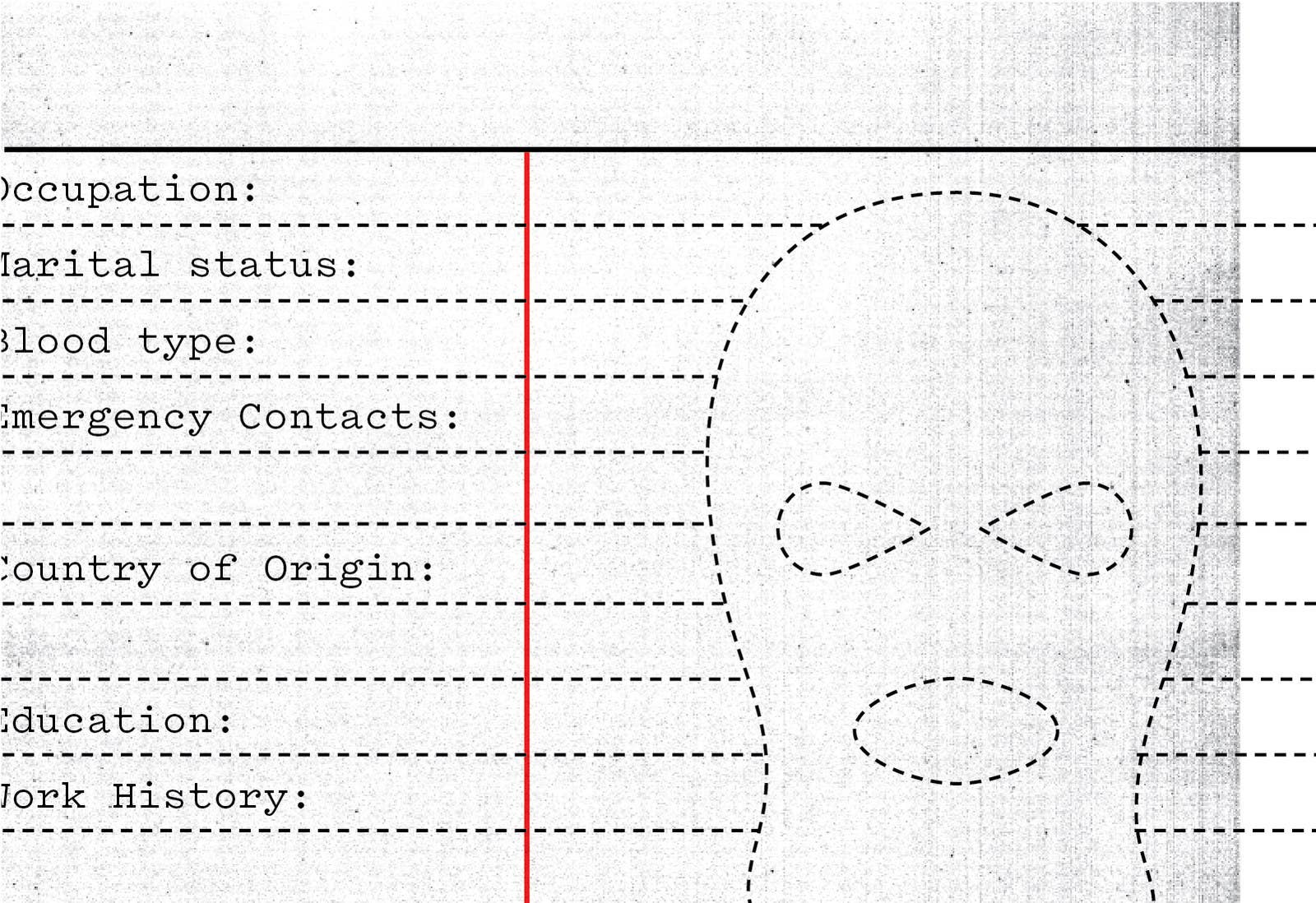 ISTANBUL — A bookseller from northern England. A driving instructor from Tunisia. A sports trainer from France, an Azeri trader, a mechanical engineer from Leverkusen, Germany. These were among the thousands of people who flocked to ISIS as it gathered strength in Syria in 2013 and 2014, the early soldiers of the caliphate it would soon declare. When they entered ISIS territory, they filled out arrival forms, their personal data logged into computers by the clerks of an aspiring state.
Now a cache of that data, leaked from ISIS and obtained by BuzzFeed News, has opened a unique window into the recruits who lent the group its global face — the same people governments fear will return to sow terror in their home countries. The cache identifies hundreds of alleged foreign jihadis, people who often fight under nicknames and behind masks.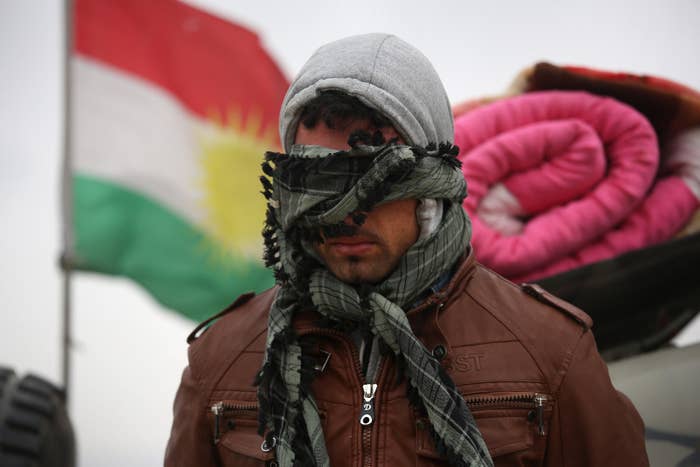 Their stories are told in the minutiae of bureaucratic forms that asked their names and birthdays, blood types and marital statuses, countries of origin, dates of arrival, educations, and work histories. On the forms, they could select whether to become a fighter, the choice of most, or a suicide attacker, the box that a 33-year-old Egyptian lawyer checked. They were asked for emergency contacts. Many of them put their mothers.
A Saudi student who had been studying in Kentucky put in the notes section that his visa to the U.S. was still valid. An Indonesian businessman said he had a blood type of O+ and six children. Most were first-time jihadis, like a chemist from Toronto, a chef from Istanbul, and a Palestinian-Swede who had worked at electric plants. An Egyptian surgeon said he'd fought previously in the deserts at home. An Uzbek man said he was a veteran of the war in Afghanistan and listed "mafia" as his profession.
An Uzbek man said he was a veteran of the war in Afghanistan and listed "mafia" as his profession.
Each document could not be immediately verified, though some relatives listed as emergency contacts confirmed that the data about their loved ones was correct. When reached by telephone this week, the Saudi student's mother said she had received word that he was killed in Syria about a year after he called to say he was joining ISIS, despite her vehement protests. A man in Tunisia said his brother had been an unsuccessful baker but was now making good money with ISIS, a father of three with multiple wives and slaves, who sent $500 home each month to his family. "To be honest, it's better for him to stay there," he said, speaking, like the others, on condition that the family not be identified.
Three analysts tracking ISIS said, after viewing the cache of documents, that the data appeared to be genuine. "It seems unlikely that someone could fake things as detailed as family member names and phone numbers on so many entries," said Shiraz Maher, a senior researcher at the International Center for the Study of Radicalization at King's College London. It remains possible, though, that false information is scattered among the true.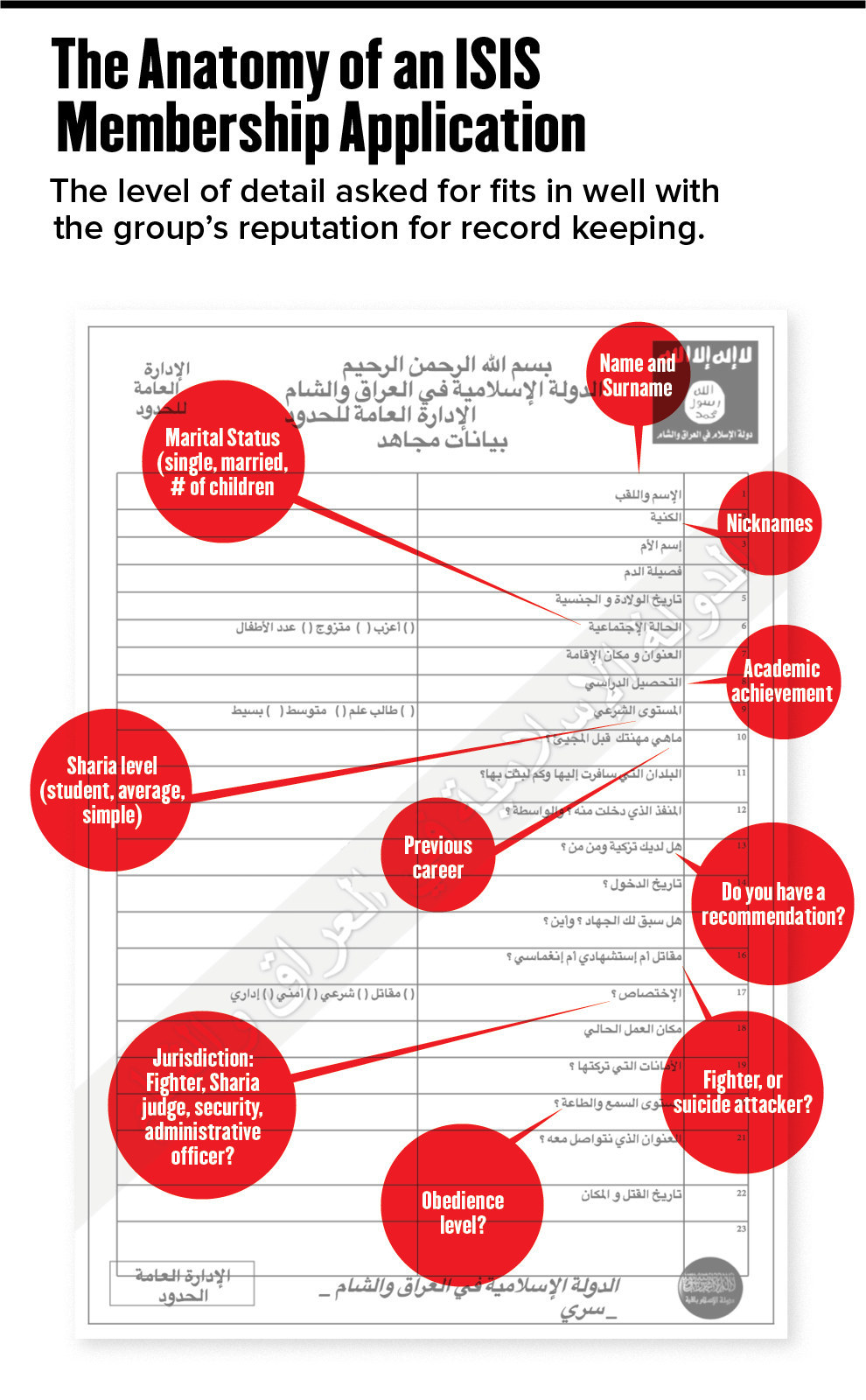 Some of the forms belong to well-known jihadis, such as Douglas McCain, a onetime aspiring rapper from Minnesota who was the first American reported to have died fighting for ISIS in August 2014. His form says he arrived in Syria that March and lists his nom de guerre as "Abu Jihad al-Amriki." Others have stayed off the radar. During a counterterrorism raid in Brussels on Tuesday, police killed a man they later identified as Mohamed Belkaid, a 35-year-old Algerian. A form in the cache says Belkaid reached Syria from Turkey in 2014, with a request to be a suicide attacker. A Belgian counterterrorism officer, speaking on condition of anonymity because he wasn't authorized to speak to the press, told BuzzFeed News that authorities had been searching for Belkaid for some time and believed he was linked to ISIS's November 13 terror attacks in Paris. (The name of Salah Abdeslam, a key suspect in the Paris attacks who was captured in Belgium on Friday, was not among the cache.)
There are few Americans listed in the forms but dozens of Europeans citizens from countries like Britain, Germany and France. Most are from the Middle East. A handful of media outlets have reported receiving either the same or similar documents of late. German authorities are reportedly in possession of such files as well and believe them to be genuine. An official in Jordan — a key U.S. ally on the border with Syria — told BuzzFeed News that its government had likewise reviewed the same or similar data and was convinced of the veracity of most, if not all, of it. Due to the sensitive nature of the subject, he spoke on condition of anonymity.
The dates of entry in the cache stretch only to the second half of 2014. A U.S. official suggested that the information had been obtained by Western governments long before its publication. "The reports may be news to some in the West, but not everyone," he said, also speaking on condition of anonymity.
He added that the information appeared to support previous U.S. assessments of ISIS's recruitment efforts. "Following [ISIS]'s emergence and heavy investment in propaganda, the group was able to draw a large share of foreign fighters traveling to the conflict in Syria," he said.
According to U.S. estimates, he added, more than 38,000 foreign fighters have traveled to Syria, and the group currently has between 19,000 and 25,000 fighters of all nationalities in its ranks.
The information in the documents is just a partial picture of that human tide.
And the murky path the documents have traveled highlights the difficulty of finding real information on the secretive extremists.
The source who provided the documents to BuzzFeed News, a Syrian activist, said he first received them in mid-December from a contact with connections in Raqqa, the capital of ISIS's self-styled caliphate. He alerted BuzzFeed News to the cache in January but made clear that they could be obtained only with a sizable cash payment. BuzzFeed News has a policy against paying sources for information, which most media outlets consider unethical. After information about the cache of documents was published last week, the source agreed to provide it for free.
Fathi Bayoud, editor of the Syrian news site Zaman al-Wasl, said he received a similar cache in mid-December from his own source with connections in the ISIS capital. He believed they had been leaked by a mole within ISIS, he said. The site began to publish news of the documents and samples of the forms the next month. He said that multiple people appeared to have been attempting to sell the documents to journalists in recent weeks. "It's like a business now," he said, adding that international news outlets had contacted him with offers to purchase his cache.
His cache contained 22,000 documents in total, Bayoud said. But within them were many duplicates and only some 2,200 unique names that he considered to be credible. "These forms are important because they represent the first lines of the organization," he said.
Aaron Zelin, a fellow at the Washington Institute for Near East Policy who specializes in jihadi groups, reviewed the cache obtained by BuzzFeed News and said the documents underscored "the obsessive bureaucracy" instituted by ISIS. Many of its leaders are veterans of the security services of former Iraqi dictator Saddam Hussein, apparently intent on continuing his regime's attention to paperwork.
The cache bore similarities to a trove famously captured by U.S. troops outside the Iraqi town of Sinjar a decade ago, Zelin added. In those documents, al-Qaeda in Iraq, the predecessor to ISIS, had meticulously documented the arrival of thousands of foreign volunteers to fight the U.S.-led occupation of Iraq.
Aymenn al-Tamimi, a researcher at the Middle East Forum who has compiled an extensive archive of internal ISIS documents, said the data from the cache appeared to be genuine. Yet the forms themselves showed inconsistencies with previous ISIS leaks, he said, such as a logo at the bottom that has never appeared before. The paperwork also lacked the stamps often featured on the group's internal documents. He said this could mean that they were computer files copied and pasted onto the template of the forms after the fact, possibly with an eye to marketing them.
As for how the leaks might affect ISIS, one recent defector from the group, who had worked as a member of its internal security arm, said he thought his old colleagues might think on the bright side: "ISIS doesn't care about their fighters, they only care about their [leaders] and security officials, and they don't write their names in the documents," he said. "They want to keep their fighters on the battlefield — and now they can't even think to defect."
With additional reporting by Maged Atef in Cairo and Sheera Frenkel in San Francisco.