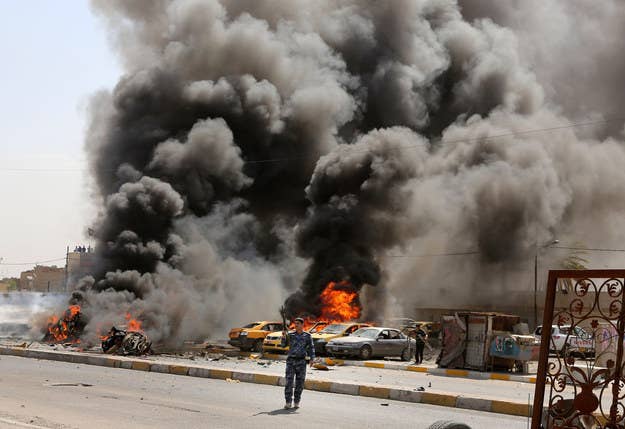 BAGHDAD — Nour Amr stood at a travel agency counter to book her escape. "I'll come back when it feels safe," she said, buying a ticket for herself and her son to Tbilisi, Georgia, 600 miles away. "But I have a bad feeling that there won't be an end to this."
Fears of sectarian conflict have been driving some Sunnis to flee Baghdad, as Islamic State of Iraq and Syria (ISIS) militants push toward the capital after capturing key towns and cities in the north of Iraq. Most government forces dropped their arms when ISIS captured the second city of Mosul last week, allowing the group to take territory with ease. But, even if the army manages to hold ISIS back now, many Sunnis fear that the sectarian tensions touched off by the conflict might engulf them anyway.
Nouri al-Maliki, Iraq's Shiite prime minister, has responded to the crisis with the hardline sectarian stance that has increasingly marked his rule, which is looking increasingly tenuous. Speaking to reporters in Washington on Thursday, President Barack Obama announced the U.S. would send a team of 300 military advisers to Baghdad — and then strongly hinted the prime minister should go.
In Baghdad, Shiite volunteers have rushed to take up arms; Sunnis have begun looking at their neighbors with increasing alarm. The sectarian bloodletting that rocked the city during the U.S. occupation hangs heavy, as does the fact that Maliki has only tightened his grip on the capital since the Americans left. "I think people have been brainwashed," Amr said.
Worries of a new cycle of sectarian violence flared on Tuesday, when the bodies of 44 Sunni prisoners were found in a city about 40 miles north of Baghdad, bearing marks of execution. The same day four young Sunni men turned up dead on the street of a Shiite neighborhood. Shiites meanwhile have been regularly subjected to bombings and attack, including a car bomb that tore through a Shiite neighborhood in the city on Tuesday.
Mohamed Alrubaye, a Shiite member of the Baghdad Provincial Council, claimed that more Shiites than Sunnis were fleeing the city. Then he said: "To be honest with you, all the wealthy are leaving the city, whether they're Sunni or Shiite or Christian. It's always the poor people who take the punch."
Those like Amr who can afford it are flying out for what they hope might feel like an extended summer vacation. "It's a way to run away — a practical way to run away," said Nouri Mohamed, another customer at the travel agency. The 50-year-old businessman was also headed to Georgia with his family on a one-way trip. "I'll decide from there when to come back," he said.
In the mixed, upscale al-Mansour district in Baghdad, a barber who gave only his first name, Mohamed, said he had ordered his wife and five children to do everything possible to remain at home. He lived in the Sunni neighborhood of Sadiyeh, and said he feared a "sectarian accident" befalling his family. He was especially worried about his oldest son, who was just 14 but looked much older. "They might react to his size — on the buses, in the taxis. Anyone can be dangerous on the street," Mohamed said.
He said he wanted to leave Baghdad too but his family was too big and he needed to support them. "I don't have enough money," he said. "How can I leave my job?"
Hamez al-Mutlaq, secretary general of Hiwar, a Sunni-led political party, said that poorer Sunnis who couldn't afford to leave Baghdad had been fleeing for surrounding towns and suburbs, staying with relatives, or even, he said, on the streets, though there have been no reports of the latter. "They feel that the final battle will be in Baghdad," he said.
He blamed Maliki for fanning what threatened to become a regional sectarian war. And he said that regular Sunnis were now caught between Maliki's hardline policies — which have seen many Sunnis jailed without charge — and the extremists rampaging in the north. "They have no choice but to be silent," he said.
Mutlaq said that earlier this week he had sent his family to Erbil, the capital of the semi-autonomous Kurdish region. The city has has functioned as a safe haven of late, sheltering a number of Sunni politicians who have fled Baghdad to take refuge from Maliki's sectarian crackdowns. The manager of one travel agency that runs buses to the city said that June was always a busy travel season — but that since ISIS took over Mosul in a surprise offensive last week, there had been a sudden spike in demand. Flights and buses were filling up.
Mohamed Obeid, the manager of another travel agency, guessed that the numbers were up at least 50%. "We will be the last people in Baghdad," he said, with dark humor, of himself and his staff.