ERBIL, Iraq — The Black Hawk helicopter pushed into ISIS territory through the pre-dawn sky. Joshua Wheeler, a veteran master sergeant with US special operations, was taking his men deep behind enemy lines. As the chopper descended on the ISIS stronghold of Hawija in northern Iraq, back in Washington, US president Barack Obama, who had been notified of the mission, waited for word of its fate.
Wheeler and his team were at the forefront of the hidden war US special operations troops are waging against ISIS. With him in the chopper were fellow members of the US Army's elite Delta Force and some of the local commandos they had trained. Decked in desert camouflage and equipped with high-tech automatic weapons and night vision, the US and local soldiers looked almost identical.
Their mission, carried out on Oct. 22, was more dangerous than most. It called for the men to infiltrate a guarded compound that ISIS had converted into a prison and rescue dozens of men who, according to intelligence reports, were scheduled to be executed that day.
ISIS militants began firing on the helicopter as it lowered toward the compound. Wheeler shot back from the bay, recalled one of the local soldiers who was beside him, a captain with a specialized Kurdish force called the Counter-Terrorism Unit (CTU), which is run by the security council of Iraq's semi-autonomous Kurdish region.
Then — as Wheeler often did, his Kurdish partners said — he led the way.
Wheeler hit the ground first, said the 29-year-old captain, the ranking CTU officer on the chopper. Gunshots and calls of "Allahu Akbar" rang out as the militants tried to repel the commandos, firing with everything they had. The captain said he and Wheeler advanced together, "fighting side by side."

On risky missions like Hawija, the US commandos often have a simple command, said a CTU lieutenant: "Let us go first."
By the time the operation was over three hours later, around 20 ISIS militants had been killed and 69 prisoners had been saved. And Wheeler was dead, struck down by an ISIS bullet, making him the first US service member to lose his life in the ISIS fight.
When his death became public, US officials painted the combat role of the US commandos on the mission as an anomaly. The Pentagon's press secretary called it "a unique circumstance." Defense Secretary Ashton Carter said Wheeler's engagement with the enemy "wasn't part of the plan." These comments pushed Wheeler's death into line with the narrative Obama had presented to the public when the new fight began. "I ran for this office in part to end our war in Iraq and welcome our troops home, and that's what we've done," he said in August 2014 as US airstrikes against ISIS began. "And so even as we support Iraqis as they take the fight to these terrorists, American combat troops will not be returning to fight in Iraq, because there's no American military solution to the larger crisis in Iraq."
But the Kurdish soldiers who worked with Wheeler tell a different story. They say that Wheeler intended from the start to be up front in the operation — and that elite US troops like him often lead the charge against ISIS on the ground.
On risky missions like Hawija, the US commandos often have a simple command, said a CTU lieutenant: "Let us go first."
"In those operations, they put their lives ahead of ours," the lieutenant said. "They are in the lead."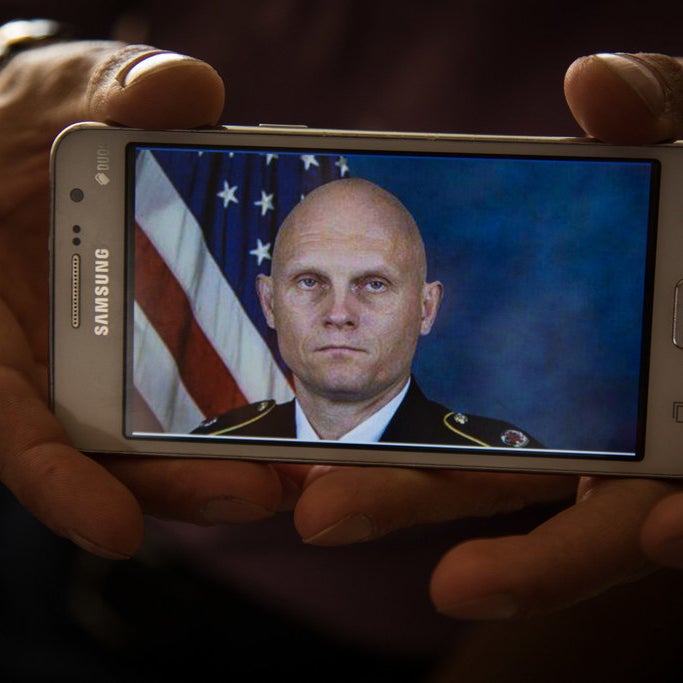 A member of Kurdish Counter-Terrorism Unit who was in the operation room during the fight for Hawija shows a picture of Master Sgt. Joshua Wheeler on his smartphone screen. Wheeler was killed during that operation.
Interviews in the Kurdish region's capital of Erbil with three CTU members — the captain, the lieutenant and the unit's commander — marked the first time sources with direct involvement in the Hawija mission have publicly discussed it in depth. Each requested anonymity due to the sensitivity of their work, believing that ISIS would attempt to assassinate them if it learned their names. The interviews, carried out over two weeks in July, also provided new insight into how these elite US special operations troops are taking the fight to ISIS: often on the front lines, and sometimes beyond them. Joint US and CTU teams have worked together on the ground in more than 50 operations against the militants, the three men said, performing kill-or-capture missions, conducting surveillance, calling in airstrikes, carrying out sniper attacks, and pounding ISIS positions with mortars and artillery.
These elite US forces reflect a pattern in the greater US war on ISIS in Iraq, which has seen US soldiers quietly stepping up their role on the ground, where they work in growing numbers and increasingly in harm's way. There are currently about 3,830 US service members in the country, according to the Pentagon, an increase of 17 percent in the last year. That figure doesn't include civilians, contractors, and soldiers on temporary duty, and analysts tracking the conflict often put the total between 5,000 and 6,000. In addition to specialized forces of various stripes, soldiers from the conventional US Armed Forces are posted around the country. Conversations with local soldiers and US officers — along with visits to front lines and military bases around northern Iraq, including the operations room in Erbil that oversees US airstrikes and Camp Swift, the expanding US base some 50 miles south of the ISIS capital of Mosul — showed US service members to be much deeper in the fight than White House officials in Washington commonly portray. These troops, in addition to arming and training local forces and coordinating battle plans, are a regular presence on the front lines, conducting surveillance, firing mortars and artillery, and calling in airstrikes as US warplanes rip through the skies.
"There are no real front lines," Volesky said. "Everyone is at risk."
In the process, they are putting their lives on the line. Sixteen US soldiers have been wounded in the war on ISIS, according to publicly available data from the Department of Defense, and two more have been killed since Wheeler's death in late October. On March 19, Louis Cardin, a 27-year-old Marine staff sergeant, was killed by ISIS rocket fire at his base near Camp Swift, where his battalion had been providing artillery support for the Iraqi military. And on May 3, Navy SEAL Charles H. Keating IV died while fighting alongside Kurdish troops in a town called Tel Asqaf after ISIS militants breached the nearby front line.
Obama came to office promising to get the US out of old wars, not into new ones — and to stop the loss of US lives in Iraq. White House officials have often downplayed the role of US soldiers in and close to combat against ISIS, keeping the narrative of US involvement focused on the drones and fighters jets that operate out of range of ISIS's assault rifles, mortars, and suicide car bombs. But while this new US war, in contrast with the last one, leaves the bulk of combat operations to local forces, for US soldiers, it carries its own set of sacrifices and risks.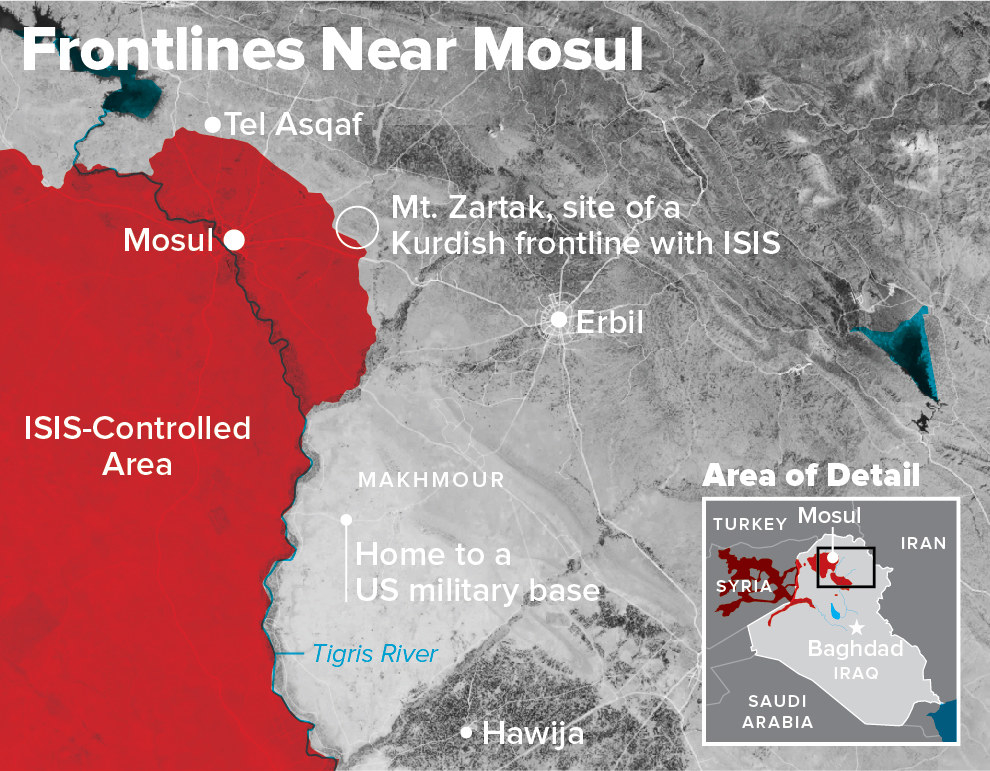 Far removed from the politics in Washington, these troops are well aware of the danger they face. Gen. Gary Volesky, the commander of US ground forces in Iraq, is on his fifth tour in the country. He completed his first four during the Iraq War, leading soldiers first against Saddam Hussein and then against ISIS's predecessor, al-Qaeda in Iraq. "The fight here is a little bit different than it has been in the previous times we've been here. But let's make no mistake. We're in a combat environment," he said. "So when people talk about the soldiers aren't at risk — we know we're at risk."
Volesky ticked off some of the threats that had faced US soldiers in recent days: 20 ISIS rockets that hit at the international airport a short drive from his base in Baghdad; and a suicide car bomb "just about three kilometers from where I currently am." Artillery shells can come crashing down even on US bases set back from the day-to-day fighting. As ISIS loses territory, Volesky noted, it has also leaned more heavily on its roots in unconventional war, focusing less on holding land and more on insurgency, meaning asymmetrical tactics like car bombs and attacks on US troops behind the front lines become more of a threat. "There are no real front lines," Volesky said. "Everyone is at risk."
Volesky had just returned to Baghdad from a visit to northern Iraq that took him to the base where Cardin, the Marine sergeant, had been killed. "I went out to the place that has our artillerymen out there that are in the fight every single day, living in the desert, and said, 'Hey, what can I do for you? What do you need?'" he said. "And they just said, 'We need more targets.'"

The headquarters of the elite Kurdish unit that worked with Wheeler in Hawija is set deep inside an intelligence compound in the mountains on the outskirts of Erbil, along a road that winds past guard towers and barricades. "Warning: Military Personnel Only," reads a sign nearby. One wall in the single-story building is lined with commendations from foreign government services: the French Foreign Legion, the US Joint Chiefs of Staff, the CIA.
Somewhere around Erbil — whether in the intelligence compound or at another place, the CTU officers won't say — is a base where CTU and US commandos live and train. Officially, the base doesn't exist, but it has a name: Camp Wheeler.
To his local partners, Wheeler embodied the US commitment to the new war.
Like many US service members in Iraq today, he had deployed there before. The former Army Ranger was transferred to the military's elite special operations command in 2004 and had been deployed at least 17 times, mostly in Iraq and Afghanistan, the Army said after his death. Like its counterpart in the Navy, known as Seal Team 6, which killed Osama bin Laden in Pakistan, most of what Delta Force does is classified. Its soldiers, termed "operators," played a key role in the Iraq War, leading the hunt for Saddam Hussein and helping to decimate the leadership of al-Qaeda in Iraq with constant raids. Delta Force left Iraq when Obama pulled out US troops in 2011, and they were among the first to return when the war on ISIS began.
US special operations forces started working with the CTU shortly after its formation in 2012, but their cooperation surged after ISIS poured across the Syrian border and into Iraq in June 2014, capturing Mosul from the Iraqi army. The shock offensive woke the world to the fact that ISIS — which Obama had once called al-Qaeda's "JV team" — was a global threat. US airstrikes began two months later amid another flurry of international panic: ISIS was now pushing into Kurdish territory, threatening genocide against the Yazidi religious minority concentrated around Mt. Sinjar and closing on Erbil, where the regional government has long been a key US ally.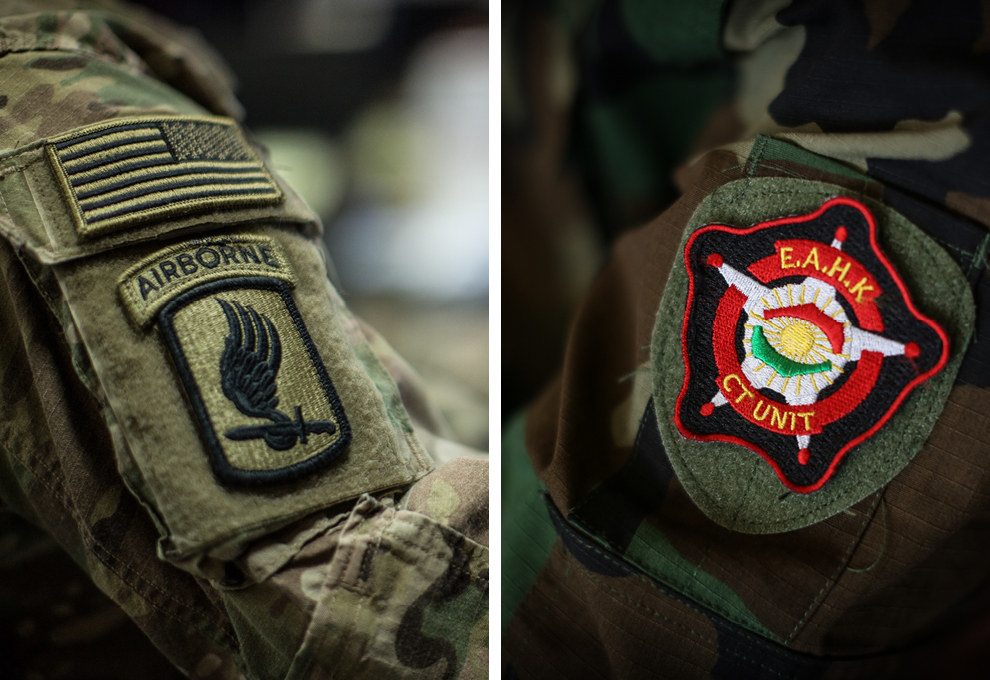 The operators work with the CTU in three-month rotations, training the commandos, helping them plan operations, and often accompanying them. Wheeler was the team leader on his rotation, the CTU soldiers said, and was near the end of his tour when he went into Hawija. The father of four had recently taken a short trip home for the birth of his newest son. The CTU soldiers remembered Wheeler as demanding during training and warm and open in downtime. He kept a bottle of whiskey on top of his refrigerator, said the CTU lieutenant, and had learned a little Kurdish: Are you ready? Move! Fire!
The lieutenant said that Hawija was not the only operation that saw Wheeler put his life on the line. "Of all the teams I've worked with, his was the strongest, and I can tell you that in those three months we did the biggest number of important operations," the lieutenant said. "He took part in many operations, and I took part in many with him. Our objective was detaining and removing ISIS members from the field."
When Wheeler touched down in Hawija, the lieutenant was in an operations room watching on a drone feed. He saw Wheeler's team move toward one of the two houses ISIS militants occupied on the compound as commandos from another chopper moved toward the second. The lieutenant's account is consistent with drone footage of the raid viewed by a BuzzFeed News reporter in the days following Wheeler's death. In it, infrared cameras showed commandos, described by Kurdish sources as a mix of Delta operators and CTU troops, departing two helicopters and rapidly approaching the compound's two houses as they came under enemy fire.
While the captain took some men to secure the house's ground floor, Wheeler and the others advanced toward the second story, which had its own entrance via a set of exterior stairs. From his perch at a window there, an ISIS militant was firing down on the commandos relentlessly.
Wheeler led the charge, shooting to kill the militant at the window. But a second jihadi got off the shot that killed him, hitting him in the neck. Another US operator then dispatched the assailant, and one of Wheeler's comrades began, in vain, to perform first aid.
"Josh was a very selfless guy," said the senior officer who commands the CTU.
In an interview at the CTU's headquarters, the senior officer, who helped to plan the raid, confirmed details recounted by the captain and lieutenant and provided his own. "The guy on the second floor could have killed everyone," he said.
Spokespeople for the US military declined to comment on the specifics of the raid.
After Wheeler's death, the commandos held a service before his remains were sent home, draping a US flag on the casket. Following the service, the CTU commandos presented Wheeler's US colleagues with an ISIS flag taken from Hawija, as a token of his sacrifice.
His name is now engraved on a rock at the secret base that was dedicated in his honor.
"It was as if I lost a brother," the captain said on a recent afternoon in Erbil, rolling up a sleeve to reveal a scar from a shrapnel wound he suffered in Hawija. He said his US partners continue taking risks that their fellow US citizens never see. "He got killed on the ground fighting ISIS. And Josh, if he wasn't killed, he wouldn't have wanted anyone to know."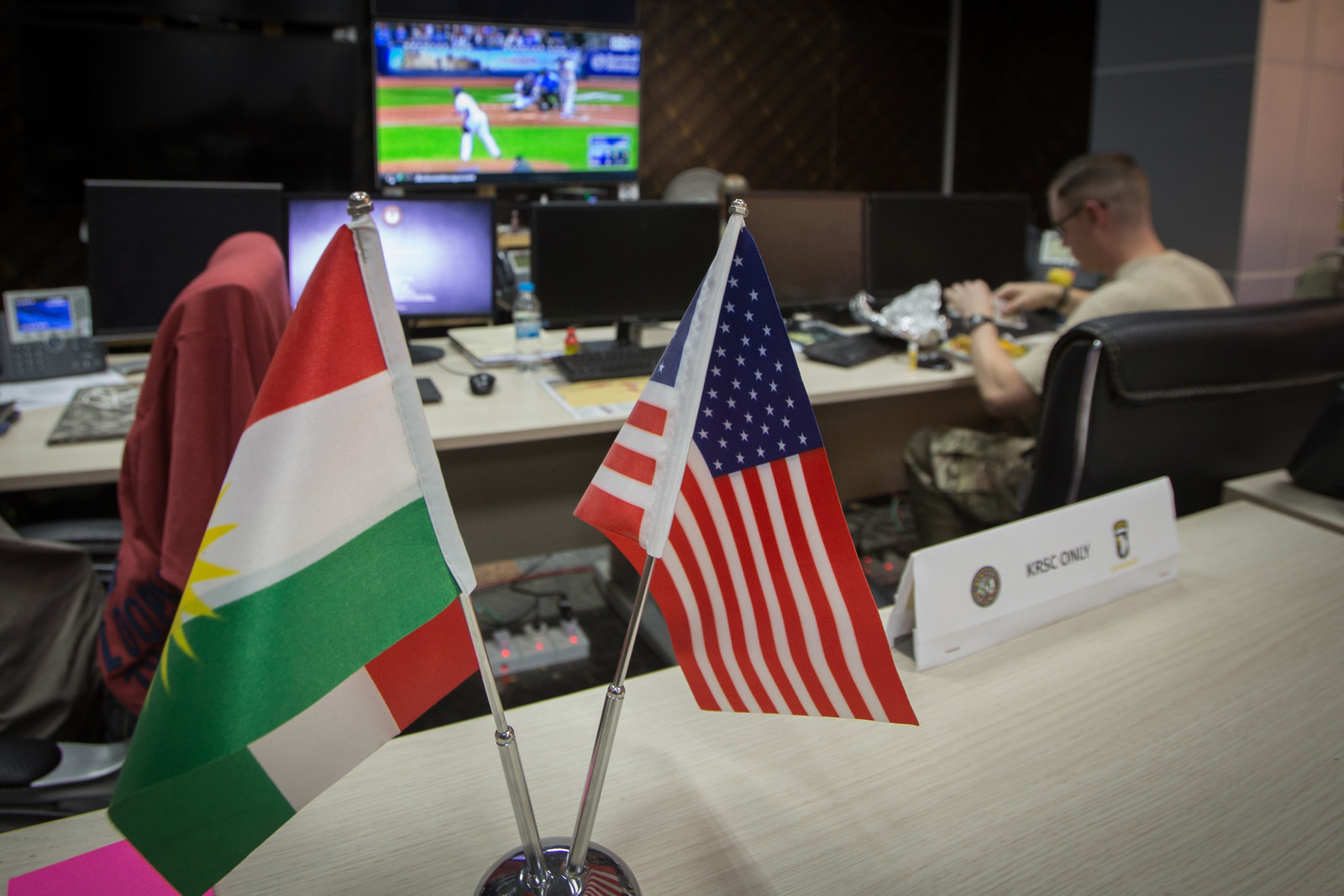 In an operations room far from the front, clicking keyboards provide the quiet soundtrack for another key front of the US war. It is here, in a cordoned-off building at Erbil's international airport, that US and Kurdish specialists coordinate US airstrikes across northern Iraq. One day last month, US soldiers in crew cuts and camouflage sat at keyboards facing a wall of high-definition TVs. Seven showed live streams from surveillance drones. An eighth had a muted broadcast of a Dodgers-Brewers game. The airport also hosts a US military base that is growing as the country expands its involvement in the war. It houses roughly 2,500 personnel from the US and its coalition of allies, according to a spokesperson for the coalition based there. Special forces are mixed with conventional troops and US military contractors, sleeping in rows of tents. On a recent afternoon, some soldiers worked out in a covered gym while one, shirtless and sweating, jogged outside in the 110-degree heat. Military helicopters lined a tarmac nearby, and residents in the city beyond see the choppers buzzing back and forth daily.
August 8 marked the two-year anniversary of US airstrikes against ISIS in Iraq. The Obama administration's request for authorization for a new war has not been granted by Congress, and today's military engagement has relied on a 2001 authorization for the use of military force granted in the wake of the Sept. 11 terrorist attacks. The US-led coalition fighting ISIS has carried out 9,562 airstrikes in Iraq and another 4,838 in Syria, according to the Pentagon. (US allies such the UK and France also deploy planes, as well as their own special forces, and in the ops room, a photograph of Queen Elizabeth was taped to one wall.) The strikes are coordinated through this ops room and another in Baghdad. They give the US a presence in battles around the country as myriad forces battle ISIS on the ground. US drones and jets batter ISIS positions in places like Fallujah, where the militants suffered their biggest defeat last month as the Iraqi military pushed into the city followed closely by Iran-backed militia. They also assassinate ISIS leaders in targeted strikes.
The airstrikes are frequently launched in support of the Kurdish forces, called peshmerga­, that hold more than 500 miles of front lines with ISIS in northern Iraq. Through an open door in the Erbil ops room, a Kurdish team mans its own bay of computers as they field requests for air support. The Kurdish official who oversees the team — a reserved, middle-aged man who can't be named for security reasons — recalled a mad scramble to organize the joint US-Kurdish effort in its chaotic early days. "ISIS was coming. They were taking ground," he said. "Sometimes we didn't sleep for 72 hours."
Now the partnership runs smoothly, he said, with teams working around the clock, fueled at times by the Red Bull kept stocked in a refrigerator. As he detailed the process, during a rare visit by a journalist, a subordinate received a call for help from a peshmerga commander who was facing ISIS fire from a heavy machine gun. Silent minutes passed as the men on the keyboards analyzed the request. One wrote out the details and coordinates in English on a form and walked it into the next room, where he handed it to a US officer in a corner. "Froka laraya," the US officer said in Kurdish: a plane is on the way.
Though the role US troops are playing on the front lines in Iraq is little known at home, Kurdish soldiers see them as a regular presence — calling in airstrikes, flying surveillance drones, firing mortar rounds and hacking ISIS communications, often within range of ISIS fire.
The ops room relies on a steady stream of intelligence from US surveillance and soldiers on the ground. It often comes from US troops who are embedded around the front lines. While Delta Force carries out its sensitive work with the CTU — and with the CTU's older counterpart, the Counter-Terrorism Group — a constellation of US troops from different specialized units play key roles in the ISIS fight.
US special forces are helping to train the peshmerga as well as the Iraqi military and Sunni Arab militias. They also perform lesser-known and more dangerous tasks under what is broadly termed an "advise and assist" mission.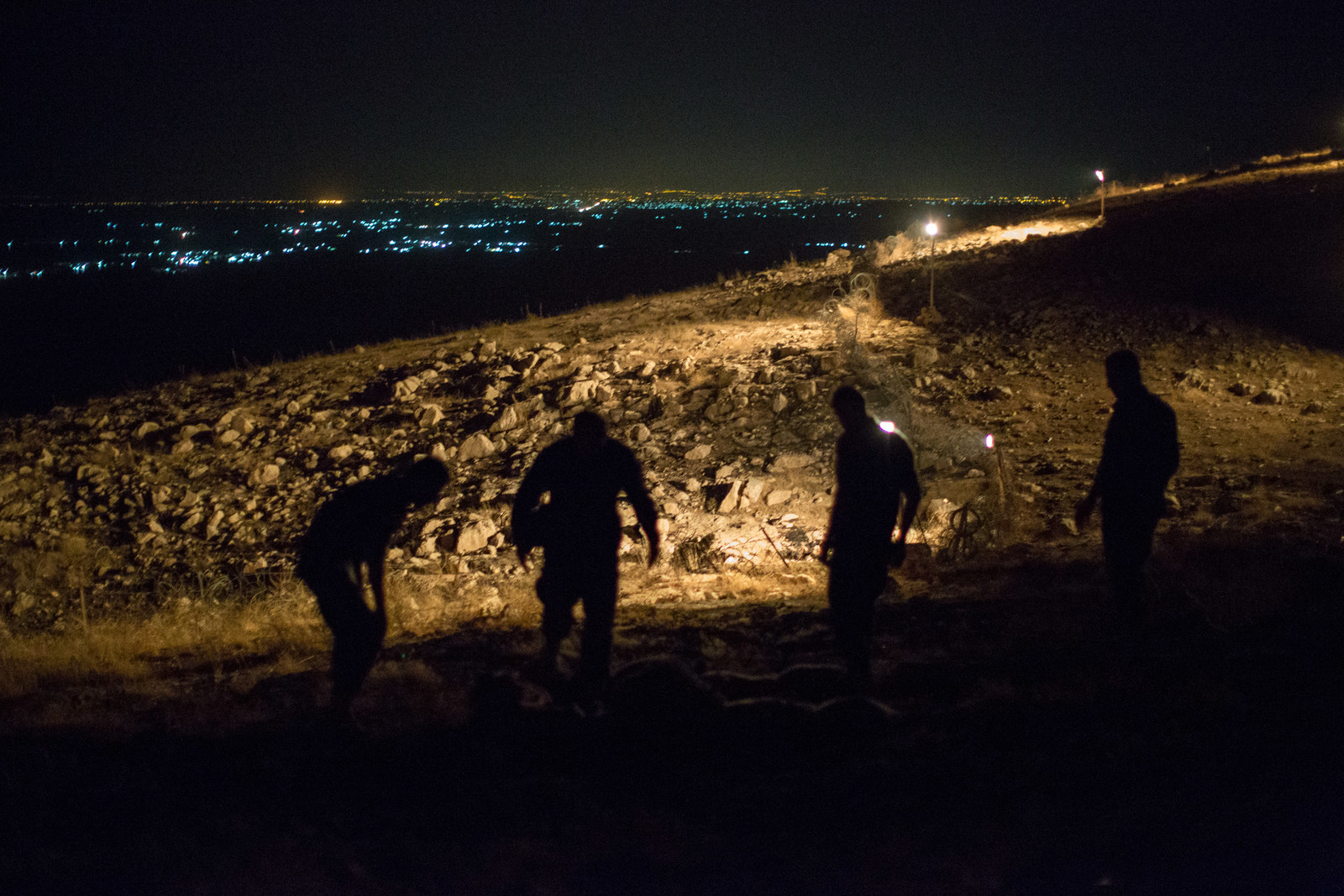 At a sandbagged post outside the city of Makhmour, about a kilometer from ISIS territory, a peshmerga commander pointed to a spot in the sand where US soldiers had fired mortars at the enemy, seeking to neutralize ISIS's own mortars, which had been pummeling the area daily. The US mortar team was led by a man the Kurdish soldiers guarding the post remembered for his beard. It can be hard for peshmerga to tell regular US soldiers from special forces — but facial hair is one sign, as special operations troops, in contrast with conventional soldiers who must be clean-shaven, are often afforded what are known as "relaxed grooming standards." (At another peshmerga position that takes regular mortar fire, dug into the top of Mt. Zartak with ISIS in the valley below, a soldier confused a US journalist for one of the Western troops who frequently fly drones there. "Excuse me sir, is that one of yours?" he asked, as a fighter jet passed overhead.)
In the town of Tel Asqaf, where the front is a long dirt barricade 10 miles from the edge of Mosul and a mile from the nearest ISIS positions, the peshmerga general in charge, Tariq Sulaiman, said he considered the US operators who work in the area to be "not just partners, but brothers."
It was in Tel Asqaf that Keating, the Navy SEAL, lost his life. His team was based nearby and had been training the peshmerga and working with them to identify targets, call in airstrikes and operate surveillance drones, Sulaiman said. The SEALs were in the area when ISIS breached peshmerga lines early on May 3, breaking through with armor-plated car bombs and some 400 fighters in a mad push to seize control of a strategic highway. Sulaiman said he believed that the SEALs had instruction to avoid direct contact with the enemy, but they drove right to the head of the ISIS advance, halting the militants as they took cover behind their truck in the middle of the road and opened fire. "They stopped ISIS," he said.
Peshmerga soldiers rallied behind the US operators, who numbered about 10, for what several of those who participated remembered as an intense firefight. "My head was ringing for days," one said. ISIS militants took up positions in a home along the roadside, which is pocked now with bullet holes. Peshmerga soldiers remembered shrapnel from car bombs raining down, and a US operator holding steady in his fire on a mounted machine gun as bullets hit around him. Keating was killed in the battle, they said, and the rest of the SEALs eventually evacuated on a helicopter.
The spot where Keating was hit was quiet on a recent afternoon as peshmerga pickup trucks and SUVs raced past. Cigarettes and bullet casings littered the sunbaked dirt along the shoulder, and a scorpion dashed across the road. In addition to Keating, Sulaiman said, the battle saw 16 peshmerga killed. "Our blood was mixed," he said. "You couldn't tell whose was whose on the ground."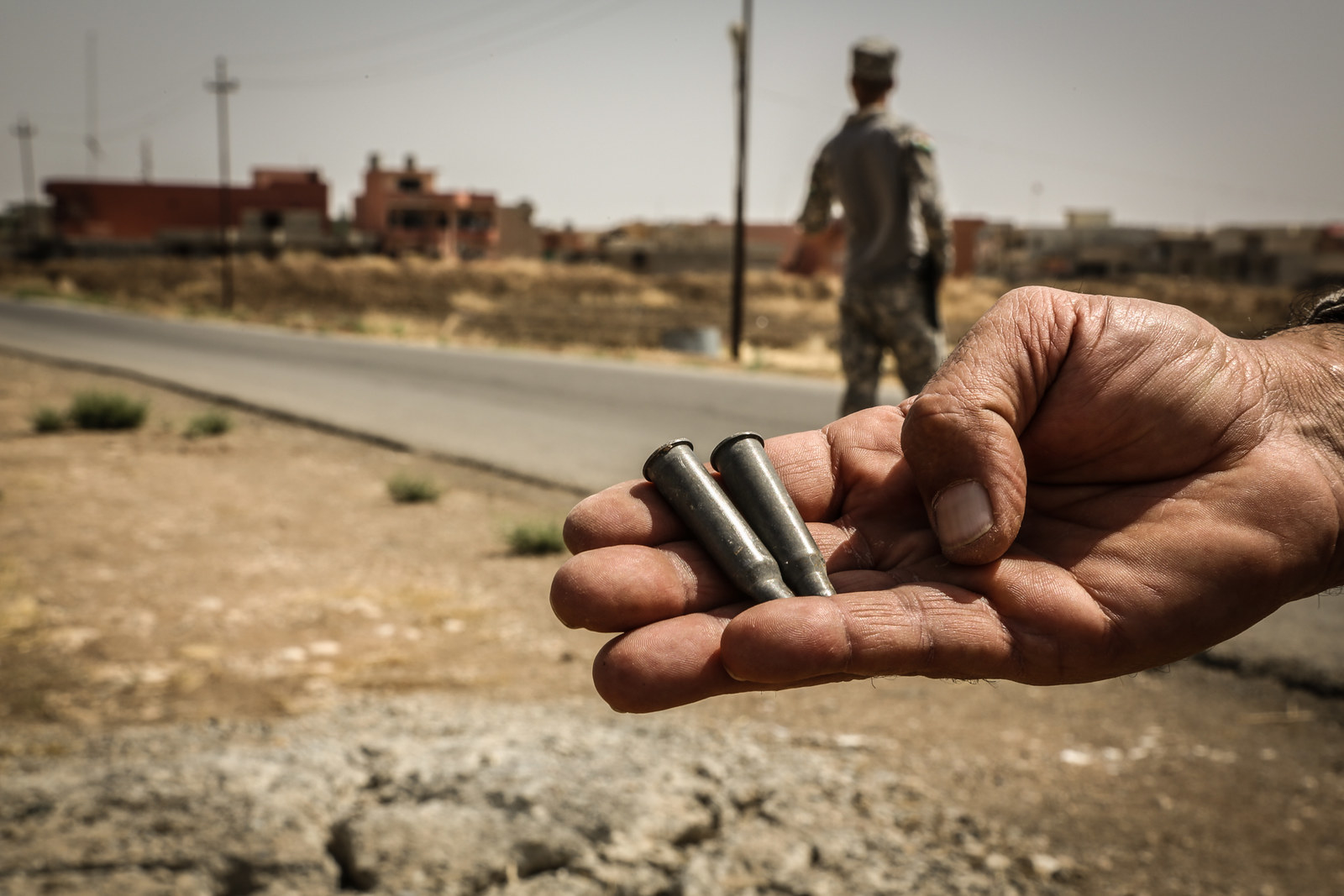 On a recent afternoon in Washington, DC, a flatscreen TV in the office of Seth Moulton — a Democrat on the House Armed Services Committee who served four tours as a Marine in the Iraq War — greeted visitors with some statistics they had compiled. "Fewer than 1 percent of Americans are willing and able to serve," it read. "Sixteen percent of Americans currently have a parent who served, compared to 40 percent in 1990. Eighteen percent of members of Congress are veterans today, compared to 64 percent in 1984."
The result, it adds, is "a longstanding trend: a growing disconnect between American society and the armed forces that claim to represent it."
Moulton felt the disconnect when he served in the Iraq War, he said, sitting down for coffee in his office — and he thinks the problem has grown worse for the new US war, in part because the Obama administration has been unwilling to level with the public. "And I understand why: this is the president who promised to get us out," he said. "The president who promised to take us out of Iraq, basically as a condition of his election, has now sent almost 6,000 troops back."
We have to give a clear mission and end game to our troops. The alternative is that we keep sending US troops back to fight and die for battles that we've already won."
Moulton visited US troops in Iraq this spring and felt a sense of déjà vu. US commanders spoke of their battle plans against ISIS in the same way they discussed the US military surge in 2007, which saw special operations forces and ground troops partner with Sunni militia fighters to roll back al-Qaeda in Iraq. He believes the US still lacks a comprehensive political plan in a country whose unsettled internal conflicts helped pave the way for ISIS's rise. "I don't think we have a long-term political plan to ensure the peace after we're done defeating ISIS. I don't think we have a political end game at all," he said. "So my great fear is that all these troops that we're sending back to Iraq today, to re-fight battles that we already won, which is once again going to take a lot of lives and resources to defeat a terrorist group, are going to find themselves back there again in five years."
Moulton noted that the US built its largest embassy in the world in Iraq with the understanding that the country would continue to need major US political and diplomatic investment — and that the embassy now sits half-empty, something he saw as a sign that the Obama administration isn't fully committed. "We didn't build that embassy as a tourist attraction, we built it because we needed the capacity," he said. "Fundamentally this is a problem from the leadership, from the administration. We have to give a clear mission and end game to our troops. The alternative is that we keep sending US troops back to fight and die for battles that we've already won."
When Obama pulled US troops from the country, in late 2011, he declared an end to the Iraq War — fulfilling a core promise of his election campaign.
But when the US decided to return to the country to fight ISIS, recalled Derek Chollet, who was a senior civilian official at the Pentagon at the time, there was little time for sentimentality. "There was the sense that we needed to stop this thing from unraveling," said Chollet, who is now a senior advisor at the German Marshall Fund, a public policy think tank based in Washington, DC. "What we were seeing was an unraveling of the country — and it was reminiscent of the summer of 1975 when we were watching the fall of South Vietnam after we had left there. So my recollection is not an emotional debate about putting troops on the ground, it was more that the [Iraqi] government wants us there, and we should do it."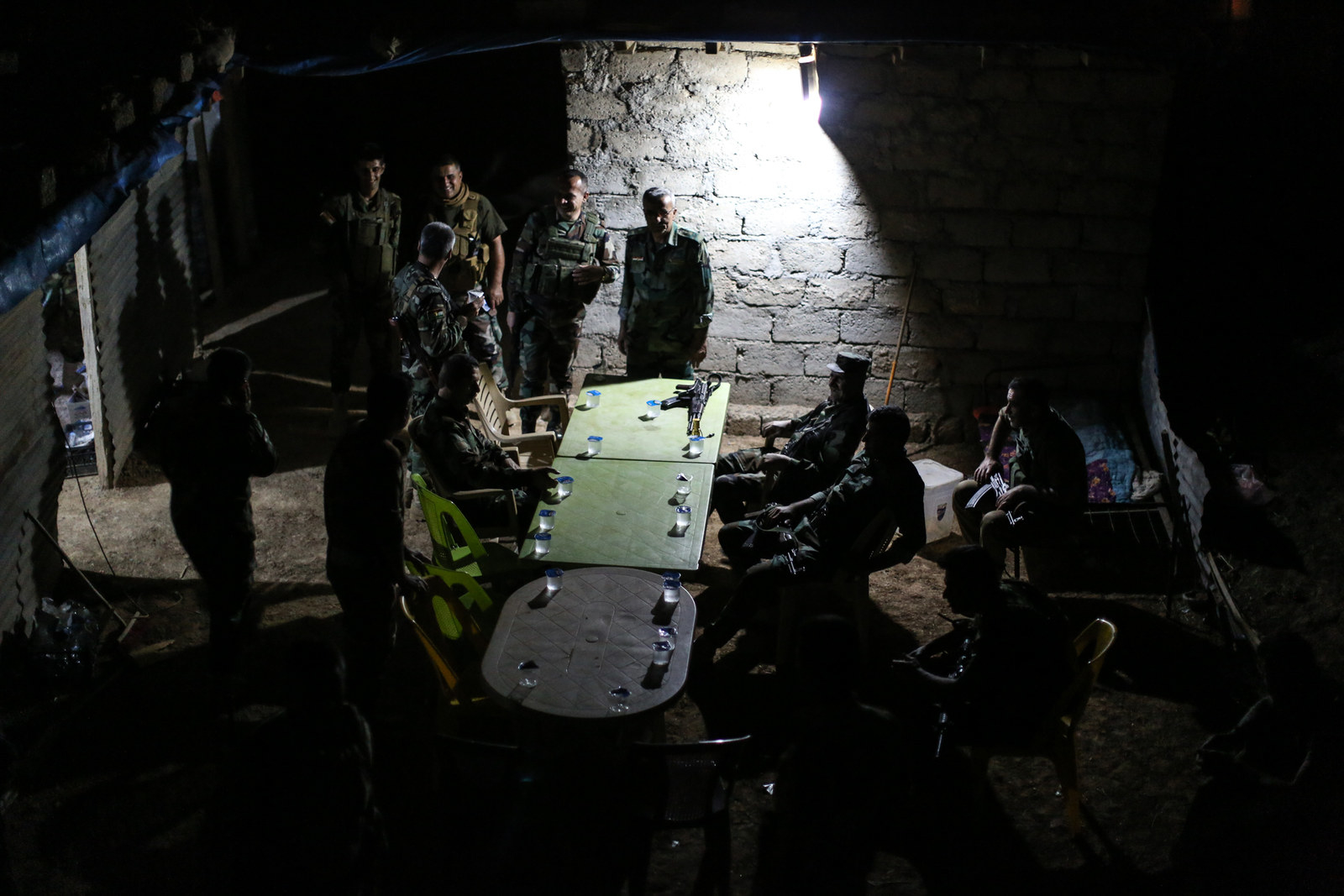 Chollet said the new US involvement in Iraq keeps in line with Obama's campaign promise. "When the president would say to end the Iraq War, what was meant by that was not that we wouldn't have a relationship with Iraq and would not do anything there militarily, but that it wasn't going to be the overwhelming priority for the United States in the world," he said. "I think that for the president what matters most is that what we're doing there is sustainable over time: in terms of the resources we're putting into it, in terms of support in Iraq for what we're doing, and in terms of the American people's support for what we're doing."
A spokesperson for the Obama administration rejected the idea that it has downplayed the role of US soldiers in combat, and he pointed to portions of an interview Obama gave the military newspaper Stars and Stripes in May. In them, Obama noted the current conflict's difference in scale and mission from the previous US engagements in Iraq and Afghanistan. "Our mission in Iraq, first and foremost, is to support Iraqi forces as they take the lead in fighting [ISIS] on the ground," Obama said. "This includes our special operations forces in Iraq, and now Syria, who are training, equipping and advising local forces and partnering on counterterrorism missions against [ISIS] leaders and targets. It also includes our air campaign, which, along with coalition partners, has pounded [ISIS] targets and helped local forces in Iraq and Syria push ISIL back from key areas. This is a dangerous mission, and our forces will sometimes face combat situations, as did Master Sergeant Wheeler, Staff Sergeant Cardin and Chief Special Warfare Operator Keating."
"The facts on the ground simply don't align with the desired storyline."
Yet even some within the government feel that the administration has often portrayed the war as one that doesn't require deep involvement from US troops on the ground — even as their involvement has increased. "Why must everything be forced to fit into the 'ending the war' narrative, even when it doesn't fit?" said one US official involved in anti-ISIS policy, speaking on condition of anonymity to express his critique. "The facts on the ground simply don't align with the desired storyline."
Dan Sullivan, a Republican on the Senate's Armed Services Committee, said that presenting a clear picture of what US troops are doing in Iraq is crucial to the mission's sustainability. "The lesson that we've learned now in this country is that you have to level with the American people about what you're doing, what the government's doing, what our military forces are doing," he said. "Because that's just the right thing to do, and that's the best way to get American support, but also because there's an issue with keeping faith with the troops."
Sullivan, a lieutenant colonel in the Marine Corps. Reserve who served in Afghanistan and Iraq, said the White House has worked "to spin the fact that our troops are in combat" in the new conflict. "These guys are out there sacrificing and risking their lives," he said. "And there are spouses and kids back at home who know it."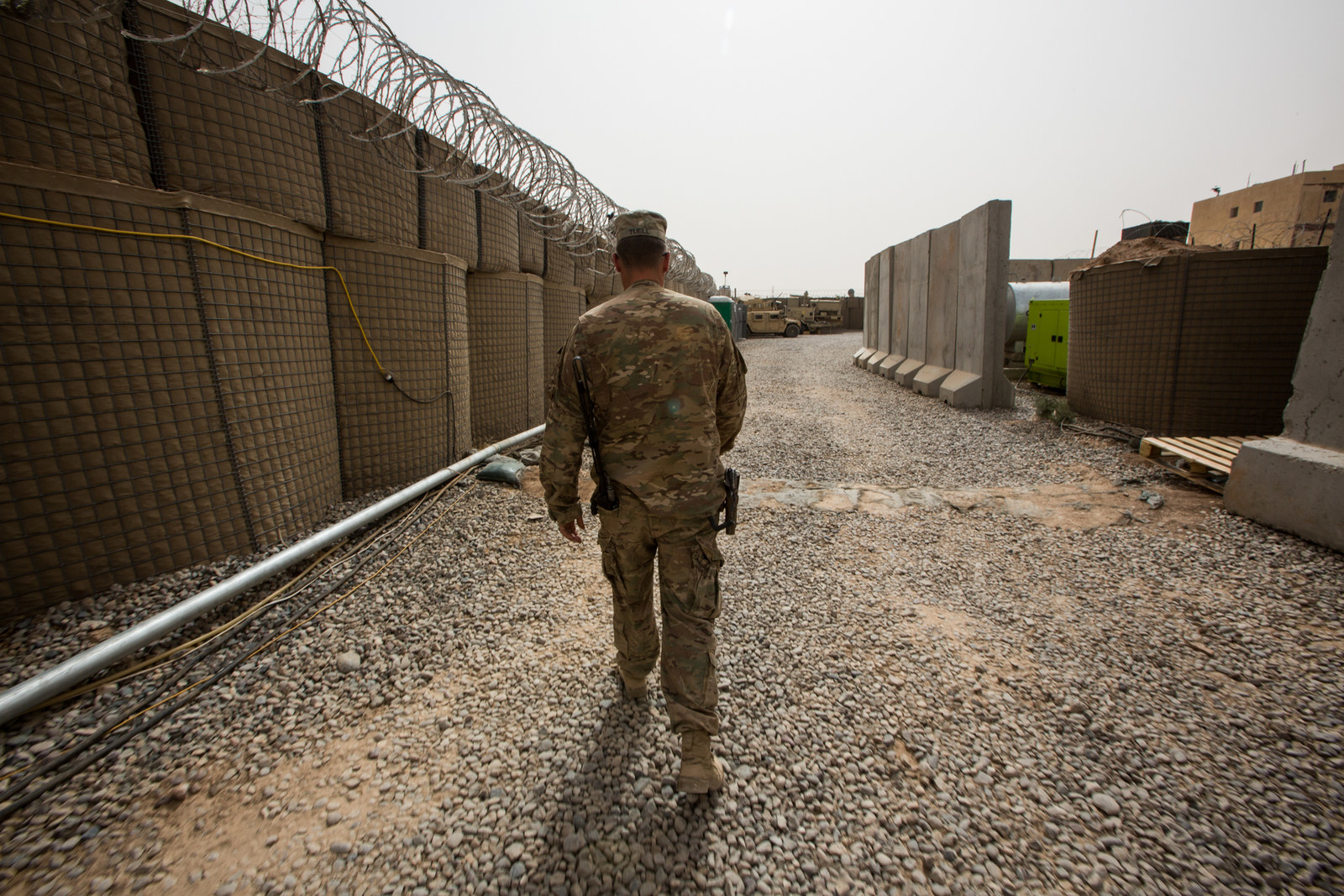 On the ground in Iraq, U.S. soldiers are moving with the front lines — preparing for the upcoming offensive to retake Mosul, which will be the largest against ISIS to date. Outside Makhmour, not far from the base where Cardin, the Marine sergeant, was killed by ISIS rocket fire, an artillery convoy of seven U.S. armored vehicles kicked up dust as it rolled through a field behind peshmerga lines. As Iraqi forces have advanced against ISIS in the area, pushing north toward Mosul, U.S. soldiers have too, rolling artillery forward from their bases so they can keep ISIS under fire.
The Mosul offensive will see Iraqi and Kurdish forces working to surround the city, bearing down on it from multiple fronts. "And on every front there's going to be US special forces calling in air support, reacting to crises, engaging in direct fire," said Michael Knights, an analyst at the Washington Institute for Near East Policy who has spent time at Iraqi, Kurdish, and US bases across the country. "And eventually this is going to extend into Mosul itself."
US involvement on the ground promises to increase as the offensive comes to a head. "The front line is shrinking down as we are getting closer to Mosul, and it's the jaws of this great animal closing on ISIS, and we are going to see a higher and higher concentration of US forces and their [Western] allies on the front lines," Knights said. "What has so far been a low-visibility effort is going to be a much more intensive one."
Part of an Army infantry brigade combat team is stationed at the US base in Makhmour, which sits in a joint compound with the peshmerga and the Iraqi military. Carloads of civilians who have fled the nearby fighting pass on the road outside the compound's guarded gate. Inside, the entrance to the base is marked by a handwritten sign on a fortified metal door: Camp Swift.
Inside Camp Swift, which has largely been off limits to journalists since it opened last year, were signs of expansion. The sandbagged guard posts that once marked the camp's exterior had been encircled by new ones on walls set further out. ISIS rockets have hit the base, but two US soldiers manning one post said it had been quiet of late. "We're mostly watching civilians, and there are a lot of dogs," one said.

The base houses more than 150 US troops, said Col. Brett Sylvia, the senior officer there. "It's slowly growing," he said.
Sylvia, 43, is the commander of Task Force Strike, the US Army's advise-and-assist program in Iraq. His mission is to help local forces — mainly the Iraqi army and peshmerga — to drive ISIS back and ultimately defeat it. Based at nine locations in Iraq and three in Kuwait, Sylvia said, his soldiers advise local forces before and during operations and assist them on the ground with surveillance and artillery. The adjoining Iraqi base holds an ops room, much like the one in Erbil, where US officers were manning computers in one corner while Iraqi officers occupied another.
Trying to coordinate the war on ISIS is a complicated task — and one over which the US doesn't have total control. The Iraqi military and peshmerga are often at odds, while the US tries to keep its distance from the Iran-backed Shiite militia, many of whom fought US troops during the Iraq War. The Iraqi military, meanwhile, is still trying to regain its footing after its collapse in Mosul, which saw three divisions retreat in the face of a much smaller ISIS force, leaving behind US-provided weapons and armored vehicles.
But ISIS has lost around 45 percent of its territory in Iraq and Syria over the last two years, according to the Pentagon. And from the front lines around Makhmour, Iraqi forces are slowly making their way toward Mosul, where the eventual offensive to retake the city will be the climax of the US efforts. "The main event is getting to Mosul," Sylvia said, pointing to a military map at the base that was centered on villages to the city's south. "Very soon what I want to do is take this map and shift it down."
Sylvia said his soldiers were well aware of the risks they take. "This is a combat environment, and we are here," he said. "The US here in 2016 is a lot different than the US here in 2007. But it doesn't mitigate how dangerous it is."
Sylvia, a father of five, served four tours in the Iraq War and has spent approximately two years in total deployed in the country. Walking through his growing base, he noted that his oldest son, now 18, was about to follow in his footsteps and join the Army. "Everything I do out here is so that my sons don't have to come out here," he said.

With additional reporting by Mitchell Prothero in Istanbul and Ali Watkins in Washington, DC.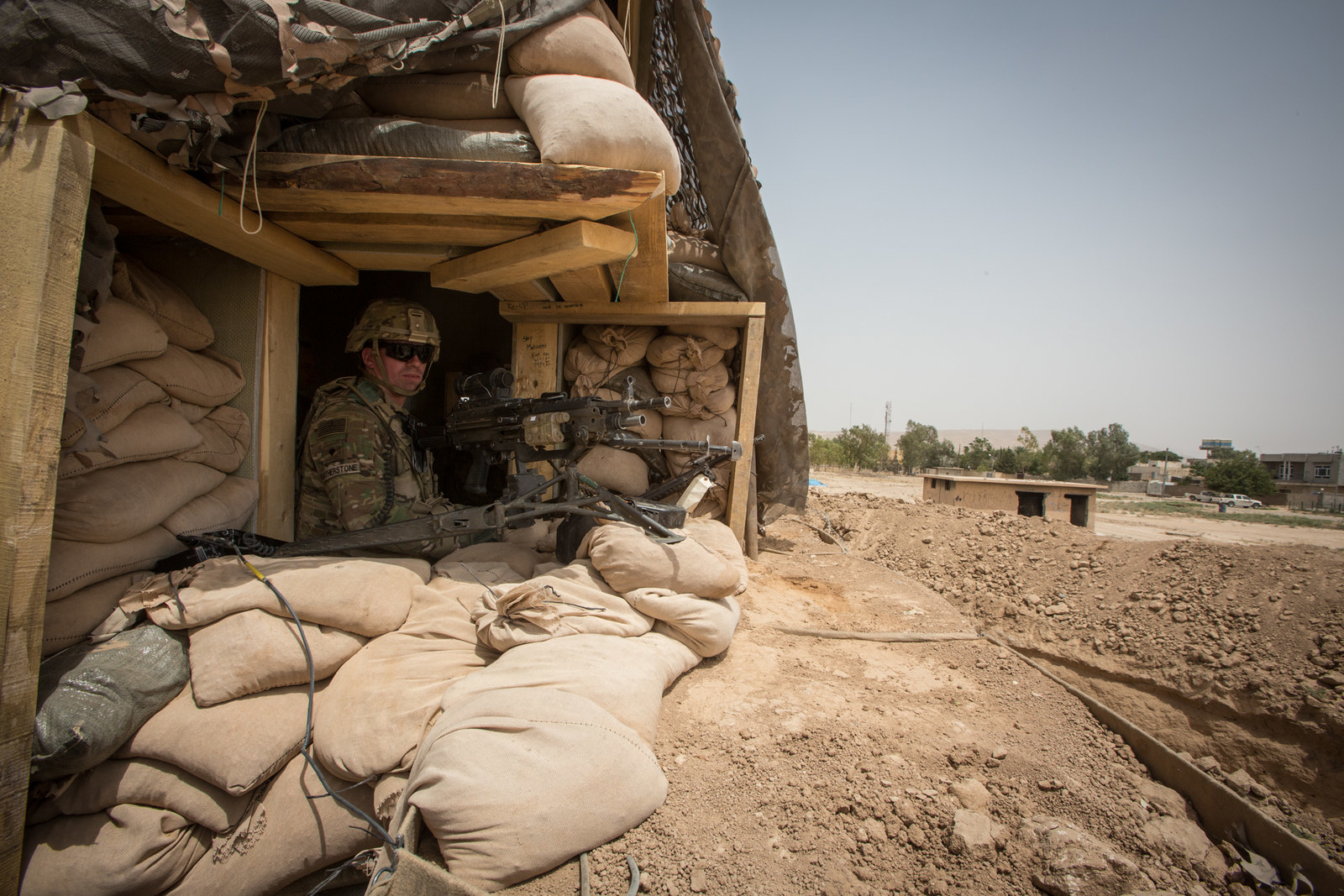 CORRECTION
An earlier version of this story said that the Obama administration did not request authorization from Congress for a new war. The administration did request it, but was not granted by Congress.
CORRECTION
Master Sergeant Joshua Wheeler's casket at a service in Erbil was draped with a US flag. An ISIS flag was folded and presented to Wheeler's US colleagues as token of his sacrifice. An earlier version of this story said that an ISIS flag was draped over Wheeler's casket.
UPDATE
An image showing the entrance to Camp Swift was removed at the request of the US Army.