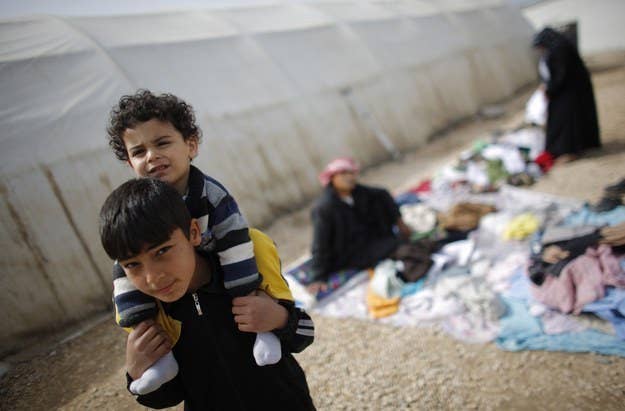 GAZIANTEP, Turkey — For one 15-year-old Syrian boy who lives in a refugee camp near the Turkish border, the calls to become an extremist fighter came from all around. He heard one on an afternoon this summer, while he and his friends played soccer around the tents. Taking a break from the game, the boys were approached by a man they knew as a sheikh, a term Syrians use to describe a learned religious man.
The sheikh was a supporter of the Islamic State of Iraq and Syria, or ISIS, a group of militants rampaging across the border as they try to establish a fanatical version of a modern-day caliphate. He told the boys they should cross over and help. "You are playing soccer at a time like this?" the sheikh scolded them. "It is better to go and fight for ISIS than to stay in the camp and play."
The boy already had his heart set on joining ISIS, in fact. After three years of living with his family in the camp, he was enthralled by the idea of helping to create what ISIS billed as a new Islamic state. Some of his friends had already joined the group, and in chats via Facebook they urged him to follow suit. So did other ISIS supporters whom the boy knew only online. Like-minded boys and young men, meanwhile, were leaving the camp for ISIS regularly.
But the boy had a problem: His father was vehemently opposed to ISIS and would try to stop his only son from joining if he caught wind of the plan.
One day last month, the boy linked up with a friend in the camp even younger than himself, who had an older brother fighting with ISIS in Syria. At the older brother's instruction, they snuck past the Turkish border guards and into the ISIS-controlled town of al-Bab. From there the boys joined a group of some 50 recruits for what they were told would be a three-week course on ISIS's brand of religious law. Their military training would come next. The boys were told that during their instruction they should have no contact with the outside world.
More than 20 camps like the boy's — whose location, like his name, is being withheld for his safety — sit in Turkey, mostly along its 565-mile border with Syria. They hold more than 200,000 refugees, many of them young men and boys approaching fighting age. The conditions in the camps are relatively good, but they're still heavy with the bleakness of waiting out a war without end. Together with ISIS's recent surge in publicity, this is fueling what some residents describe as a rising tide of young recruits.
One man from the boy's camp, a smuggler aligned with rebels that are at war with ISIS, said the group's presence in the camp had grown as it gained ground in Syria. "When ISIS gets stronger in Syria, it will get stronger in the camps," said the man, who asked not to be named, citing security concerns.
Many residents, he added, now ally with ISIS openly among the camp's residents, while its opponents have been frightened into silence: "They are watching us."
The man said ISIS targets young men and boys for recruitment, claiming that a group of about 10, including an 11-year-old, had left to join ISIS in the last week. He said the group offered to pay salaries, which went to the recruits from the camp as well as their desperate families. These claims couldn't be verified.
An activist in his twenties who lives in another camp, in the Turkish border town of Kilis, gave a similar account of ISIS recruitment and offers of financial support. Turkey's longstanding policy of letting rebel fighters cross freely between the camps and the war, he added, was being exploited by ISIS now. He said the ISIS fighters claimed to be members of more moderate rebel groups, but he questioned whether Turkey was trying hard to determine the truth. "They say they are against ISIS," he said. "But they allow them to cross and come back to Turkey."
From the Turkish border town of Yayladagi, a well-connected activist living in the refugee camp there also described ISIS recruiters infiltrating the camp. So did two men living in a camp in Nizip, in the border province of Gaziantep, who also described ISIS offering money to new fighters and their families. All requested anonymity, fearing retaliation.
In the case of the 15-year-old who left his camp for ISIS last month, one thing could disrupt his plans: his father.
When he realized his son was missing, he employed the trick used by parents of troubled teens everywhere — logging into the boy's Facebook account and reading his chat history. Once he discovered the boy's plans to join ISIS, he launched a frantic campaign to convince him to return home, calling him repeatedly, sending photos of his weeping mother. Finally he brought up the boy's uncle, a commander in a moderate rebel battalion that is fighting ISIS, and threatened to grab a weapon himself. "One day you will be fighting your uncle or your father. So put that in your mind," he said.
Soon after, the boy snuck away from his new instructors and returned to the camp.
But the father's fears of losing his son to ISIS were far from relieved: At home in the camp, he continues to fight off its pull over the boy.
Eating lunch in the Turkish town near the camp one recent afternoon, the father put an arm around his son and argued passionately against ISIS for its brutality against Syrians and extremist religious views. "This is not the real Islam," he said.
The boy was unconvinced. He said he was uncomfortable with ISIS's practice of beheadings but dismissed most other criticism of the group as lies. It was exciting for him to follow news of the group's exploits amid the refugee camp's drudgery. Though ISIS had offered him money, he added, it wasn't why he wanted to join. "I found something that I like, and I just want to know more and more," he said.
"Why did you choose to do that — to go without telling me?" the father asked.
"I feel something inside me calling me to go, because this is the real Islam and the real jihad," his son replied.
Tears briefly filled the father's eyes. "I don't want him to go again," he said. "But he thinks this is the real Islam. So I don't know how to talk to him about it."
Men from ISIS were taking groups of new recruits from the camp every week, the boy said, and two of his friends had already joined this way. It was clear who to approach inside the camp if he wanted to do the same. The boy said there were several sheikhs in the camp who backed ISIS, like the one who had approached him and his friends playing football last month. "We went to fight in Syria," he said, "and he is still in the camp."
With additional reporting by Munzer al-Awad in Turkey.