Hostage Taker Pledged Allegiance To ISIS In Video
"You attack the Islamic State, we attack you."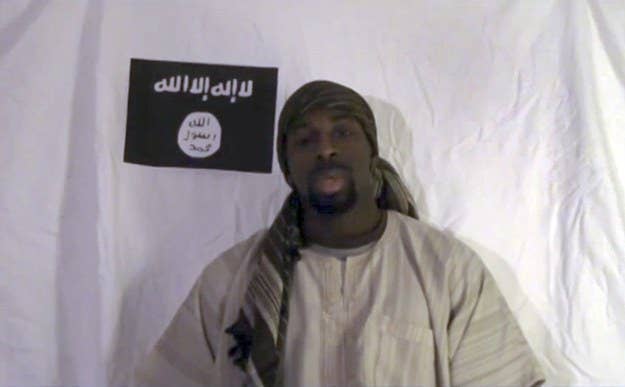 ISTANBUL — French police reportedly confirmed that Paris attacker Amedy Coulibaly pledged allegiance to ISIS in a video that surfaced on the internet after his death on Friday.
The amateurish video begins with footage of Coulibaly exercising, followed by a pan of a small arsenal of guns. He then appears before the camera in front of a white sheet and an ISIS sign. (One commenter on Twitter suggested that it looked like he was pledging allegiance inside "a blanket fort under the dinner table.")
Calling himself Abou Bassir AbdAllah al-Ifriqi, Coulibaly said in French that he swears allegiance to ISIS' self-declared caliphate.
He then claimed that his attacks on a French policewoman and a kosher market in Paris were connected to Wednesday's deadly rampage at the Charlie Hebdo newspaper, which was carried out by brothers Said and Cherif Kouachi. "We did things a little bit together, a little bit apart," he said of the supposed coordination.
He added that his attack came in response to U.S.-led airstrikes against ISIS in Iraq and Syria — "you attack the Islamic State, we attack you"— and called on "my Muslim brothers everywhere, but especially in Western countries" to carry out similar attacks.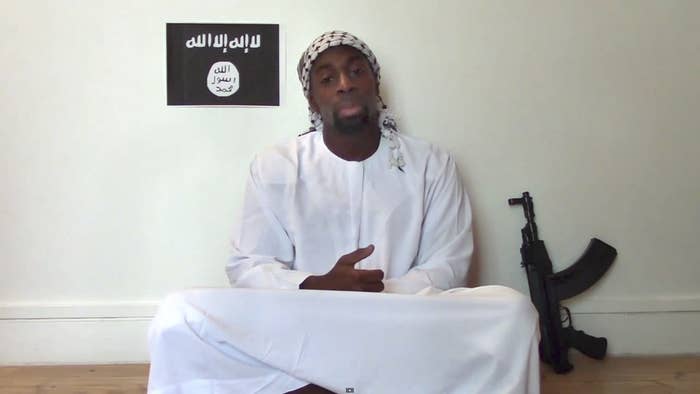 There have been no confirmed links between Coulibaly and ISIS. Nor has ISIS claimed responsibility for his attacks. This raises the possibility that Coulibaly was a version of a "lone wolf" attacker: an aspiring terrorist with some connections in the jihadi worlds who acted largely on his own.
Analysts tracking ISIS questioned whether Coulibaly had any real ties to the terror group. "The video shows no signs of being produced by ISIS and it was not released through one of their official outlets, although it will probably be picked up by the official outlets at some point soon," said J.M. Berger, a fellow at the Brookings Institution and the author of an upcoming book on ISIS. "It is also unclear whether Coulibaly did what he did with explicit coordination with the Kouachis, or if he saw an opportunity and took it. But the nature of the video suggests he did not act with direction from ISIS."
"I think the ISIS angle is nothing more than this Coulibaly pledging allegiance to them," said Clint Watts, an analyst with the Foreign Policy Research Institute and former FBI agent. "Don't give these guys too much credit; a lot of these guys are just idiots. Coulibaly is in the network, ISIS is the thing to pledge to, [and] in the absence of a connection you pledge to the most popular group."
Despite their alleged cooperation, the two sets of French attackers were representing competing international terrorism groups.
During their attack on Charlie Hebdo, the Kouachi brothers represented themselves as members of al-Qaeda in the Arabian Peninsula (AQAP), the Yemen-based affiliate that once counted U.S. cleric Anwar al-Awlaki as a senior member. French authorities have since confirmed that one of them, Said Kouachi, received training from the group in Yemen, where he reportedly met Awlaki in 2011.
Al-Qaeda's Syrian affiliate, Jabhat al-Nusra, is currently engaged in an internal war with ISIS in the country. And globally, al-Qaeda and ISIS are seen as engaged in a
competition for supremacy, battling for recruits, resources and publicity.
With additional reporting by Adam Serwer in New York.