Is Russia Stirring Unrest In Ukraine's East?
"The same forces that provoked the intervention in Crimea are trying to do the same here in Donetsk."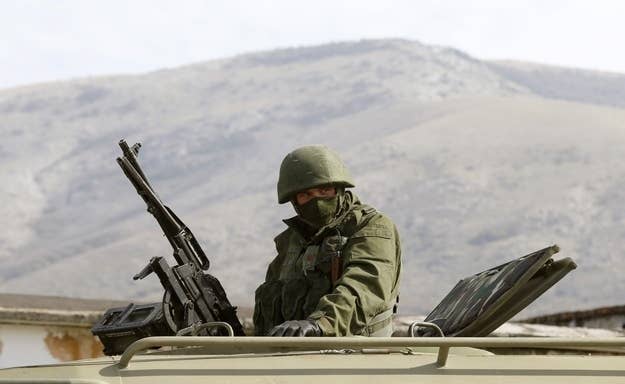 DONETSK, Ukraine — Was the stabbing death of a 22-year-old man here on Thursday night a horrific incident resulting from the passion of protest — or was it due to deliberate provocations from Russia? No one in this eastern Ukrainian city knows the answer, and that's why they're all on edge.
Some think the man's death, coming at the tail end of a protest between pro-Ukraine and pro-Russia activists, can be blamed on unrest stirred by Moscow, seeing it as the next step in its designs on the country, following its occupation of the Crimean peninsula. The man died from stab wounds sustained after pro-Russia demonstrators attacked their rivals, in jarring violence that left at least 17 more people injured, some critically.
"The same forces that provoked the intervention in Crimea are trying to do the same here in Donetsk," said Nikolai Yacubovich, an advisor to Ukraine's minister of police and the head of a local group of pro-Ukraine activists who have organized themselves for what they call civil defense. "Nobody knows how serious the threat is."
Yacubovich puzzled over reports that police stood idly by as the attack unfolded. Were the cops just afraid — or was their inaction part of something bigger? "We cannot explain why the police did that," he said.
With reports of Russian military amassing on the country's western border with Ukraine, fears that the Kremlin could move into the east have grown. Vladimir Putin, the Russian president, reserved the right to deploy throughout the country in war powers he sought from Russian lawmakers late last month. And early Friday, the Russian foreign ministry issued a harsh statement and flipped Thursday night's events on their head, claiming that the fatal attack — the first in this city — had been initiated by "right-wing groups" against a peaceful pro-Russia side. The statement concluded with a warning: "Russia is aware of its responsibility for the lives of compatriots and fellow citizens in Ukraine and reserves the right to take people under its protection."
As in much of Ukraine's east, there are close ties to Russia here — in language, in culture, in business and in extended family. The fear is that Russia will use the same pretext to send in troops — that of protecting the locals said to self-identify with it — as it did in invading Crimea.
The fears extend beyond Russia and Ukraine. A senior diplomat based in the region for a NATO power said he believed Russia could stir tensions or send troops into eastern Ukraine if the crisis continued much longer. "It's not a chess game — it's more like a game of chicken," the diplomat said. "Both sides are trying to pressure each other into stepping back."
Echoing the concerns of many in Donetsk, he expected the crisis to reach a head on Sunday, when Crimea holds its disputed referendum on joining Russia. "After a certain amount of time you can no longer find a face-saving formula — or an off-ramp, as the Americans are calling it," he said. "And in the mean time, we are seeing, as yesterday, provocations in eastern Ukraine that could develop into a possible trigger."
Signs of this tension are on full display in Donetsk. Konstantin Lavrov, the leader of a local civil defense group, said he fully expected an invasion — and spoke of responding with violence. He also ticked off the unproved rumors that have made many activists in the city increasingly suspicious of the pro-Russia camp ahead of a large march it has planned for Saturday: people with Russian accents pouring into the city; misbehaving on public transportation; struggling to buy a ticket for the trolley. "You don't need to be a military analyst to see how many Russian troops are gathered near the Russian-Ukrainian border here. But the plan is the destabilization of the whole situation first," he said. "Our country is in a great danger at the moment, even though it might look like things are calm."
As one activist put it after Thursday night's violence, which badly shook many in Donetsk: "I feel like someone is playing his cruel games with us."
Speaking in London on Friday after a five-hour meeting with Secretary of State John Kerry, Lavrov said Russia had no plans to invade eastern Ukraine. Russia has also denied having troops in Crimea, and has presented all its actions in Ukraine as motivated by humanitarian concerns.
Donetsk's new authorities — appointed only recently after the government in Kiev fell following month of sustained protests — were scrambling to get a handle on the crisis. On his first day on the job on Wednesday, before the deadly attack, Nikolai Frantovsky, the city's chief prosecutor, said he suspected that some officials from the old government had collaborated with the Russians. He said he and his colleagues would be working to root out conspirators who hadn't already been replaced. Frantovsky said he worried Donetsk would face a scenario like Crimea — "prepared well in advance, and the authorities let it happen."
Amid the competing factions in Donetsk, Alexander Kruschev, an official with a local NGO, said: "I have never seen our civil servants so scared."
Alexander Efremov, a senior regional official with the Security Services of Ukraine (SBU), the country's national agency focused on anti-terrorism and intelligence, said in an interview Friday that the city's pro-Russia movement had been small and scattered before the momentous events of last month. But after protesters toppled the government in Kiev, many in Donetsk became suspicious of its Western sympathies, and a counter-movement quickly grew.
Efremov said he believed it was likely helped along by Russian agents. "We are investigating the appearance of members of the Federal Security Service [the SBU's Russian counterpart] who are engaging in shadow activity and meeting with citizens around the Donetsk region," he said.
Their purpose, he said, was to instigate protests, and to make "the promise of Russian support [for these groups], as in Crimea."
Efremov also said that members of the Russian parliament had met with pro-Russia activists in Donetsk, and that citizens from the nearby Russian region of Rostov-on-Don had likewise been collaborating with these activists. He presented an information sheet on Pavel Gubarev, a local activist who had been calling for a referendum to join Russia, and whom the SBU arrested on charges of separatism last week.
He also said that the SBU had arrested one Russian man in Donetsk that it believed to be a spy: "We have some proof, but he is not saying anything to us at the moment."
These are the kind of charges that Donetsk's pro-Russia activists deny — for the most part, at least. Andrei Porgin, the co-founder of Donetsk Republic, one of the pro-Russia groups against whom opponents often cast suspicions of conspiracy, said his group had never taken money or direction from Russia. "The only support we've received is moral support, in the Russian media," he said.
As to accusations of Russian citizens helping to fill out the ranks of the pro-Russia demonstrations: "Maybe there are 20 or 50, but they don't make the weather."
Porgin said there were more hardline pro-Russia groups in Donetsk than his, and that he supported decentralizing power from Kiev, not joining Russia. But if Russian troops came to Donetsk, he added, "I would be calm."
"The Russians are acting according to their own interests and own security questions," he said. "If the situation gets worse here, it will impact Russia, so Russia would be forced to react."
As Irina Popova, a deputy in the regional government from Ukraine's Communist Party, put it: "The Russians are not our enemies. We will not fight against them. If they will come, they will come. We consider them our family."
Popova has been accused of being a separatist, but like Porgin said she wants only federalism. Most of those who were looking to Russia in Donetsk, she said, did so because they felt threatened. "The government in Kiev is the question. The West is the question," she said. "Russia is a consequence. When people are afraid and have nowhere to turn, they ask the assistance of Russia."