Disappointed Syrians Warn Ukrainians Not To Seek U.S. Help
"Do not develop strategies that are based on any assumption that the U.S. or EU will demonstrate assertive leadership to deter Russian aggression."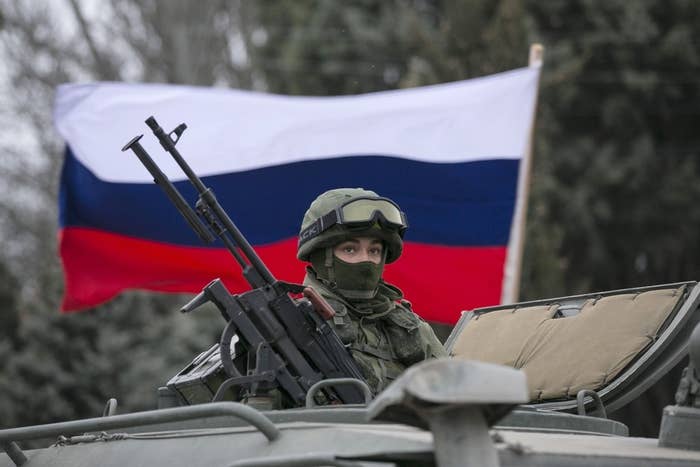 KIEV, Ukraine — Some Syrians have a simple message for Ukrainians waiting for a response from the U.S. and the West as the crisis in Crimea unfolds: Don't get your hopes up.
The Syrian uprising grinds into its third year this month, and many in the opposition see a long string of broken promises from an international community that voiced support for their fight to overthrow their Russia-backed president, Bashar al-Assad.
With Russia now sending its forces to the Ukrainian region of Crimea, and with worries that it might invade the mainland, western leaders have been swift with recriminations. President Barack Obama warned Russia on Friday that there would be "costs" for its aggression.
But Syrian rebels and activists reiterated one piece of advice for the Ukrainians whose protest movement toppled the country's president, a Russian ally, last week. "Make sure that you achieve whatever you're aiming for with your own hands," Abdullah Ismail, a rebel coordinator based on the Turkish border, told BuzzFeed. "That's the only way to avoid relying on promises."
"Ukrainians must believe only in themselves," said Barzan Iso, a Syrian-Kurdish journalist and activist.
In interviews, each of the Syrians was quick to point out the sea of differences between the two countries and between their two revolutions. Their advice was meant not to draw a comparison, but to help those Ukrainians against Russian intervention better understand their enemy — and, even more so, their supposed allies in the west.
The Syrian opposition had long held out hope for significant U.S. support for their uprising, from heavy weapons and surface-to-air missiles to a no-fly zone. They argued that Assad's main allies — Russia and Iran — had been steadfast in boosting his regime with arms and money, and in the latter case, with boots on the ground.
Many Syrians were deeply disappointed when Obama failed to enforce his famous "red line" on the Assad regime's use of chemical weapons with air strikes — opting instead for a Moscow-initiated deal for the regime to give up its stockpile of chemical arms. "Do not develop strategies that are based on any assumption that the U.S. or EU will demonstrate assertive leadership to deter Russian aggression," said Amr al-Azm, a U.S.-based member of the Syrian opposition and a professor at Shawnee State University.
(Quipped one post on a Facebook group of Syrians offering advice to Ukrainians, often tinged with black humor: "If Obama has said that Ukraine is a red line, this means that Russia will attack you.")
"Putin smelled blood in the water when the airstrikes against the Assad regime were suddenly called off," Oubai Shahbandar, a senior advisor to the Syrian National Coalition, the U.S.-backed opposition group, said of the Ukraine invasion. "We've seen this movie play out before, sadly, as Russian-supplied planes, tanks and even some mercenaries continue to arrive in Syria uninterrupted."
"Hope won't stop Russian aggression," Shahbandar added.
A veteran rebel fighter who goes by the nickname Abu Obaida said he thought the U.S. and the West might be more likely to help in Ukraine's case — there is already a new government in Kiev in place, for example, and the country is of critical strategic importance. But he said he'd given up on the idea of getting meaningful support in Syria.
"We don't wait for this anymore," he said. "Our expectations are very low."
Samer Kanjo, an activist from Aleppo, said Ukrainians should be wary of any promises from abroad.
"We got a lot of promises from a lot of countries at the beginning of the revolution," he said. "I would tell the Ukrainian people not to put their hopes too fully on such promises — because at the end of the day, [countries] could change their minds, and there could be deals done, and the Ukrainian people could be left alone, just like the Syrians."
Obama and Secretary of State John Kerry have floated a host of options to punish Russia for any aggression, including sanctions.
"The last thing anybody wants is a military option," Kerry said Sunday.
EU countries and the IMF have meanwhile considered offering Ukraine aid for its financial situation.