Deadly Protest In Eastern Ukraine Spreads Fear Of Russian Retaliation
"He was covered in blood. His whole face was covered in blood."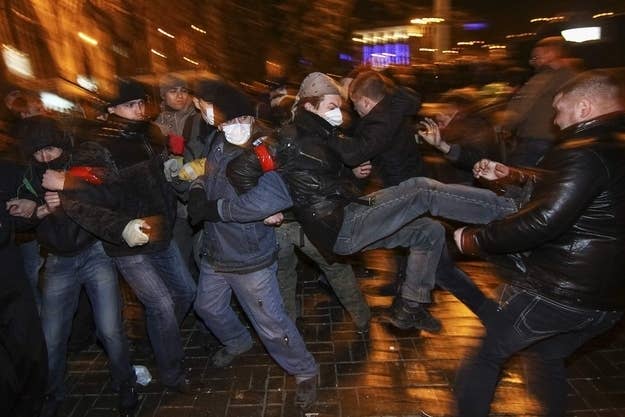 DONETSK, Ukraine — At a hospital waiting room on Thursday night, Larisa Bilocerkovec fought back hysterics. The 60-year-old retiree had been standing in the main square in the eastern city of Donetsk at a protest in support of Ukraine's new government, when some of the activists around her began warning the women there to leave.
An attack was coming, they said.
On the other side of a thin line of riot police, a pro-Russia crowd had gathered in counter-protest. Some had been lobbing eggs and firecrackers over the police line, while others gathered around the city's Lenin statue, chanting "Russ-i-a!" But as the demonstrations wound down and the police began to disperse, some had started to advance.
Soon some of the pro-Ukraine protesters were surrounded, according to Bilocerkovec and other activists. Bilocerkovec ran off down the street, but some people stayed, including men who had designated themselves as citizen defenders. They were quickly overcome.
Horrified, Bilocerkovec watched as a group of about ten men beat one protester, then moved onto another, stomping on him with all their might. "He was covered in blood. His whole face was covered in blood," she said in the waiting room, having accompanied the man to the hospital, speaking frantically at times as she described the scene, and fighting back tears.
"We screamed 'We are for peace!' And they screamed 'Putin! Russia!'" she recalled.
Donetsk has seen protests and counter-protests ever since Ukraine's crisis morphed from an anti-government movement that eventually felled Viktor Yanukovych into a standoff between the country's new government and its Soviet-era master, Russia. Some have turned violent, but the riot on Thursday saw the first death in Donetsk since the crisis in Ukraine began. According to a statement by the city government, a 22-year-old died of knife wounds on Thursday. A further 17 people had sought medical attention.
Tensions have run high since Russia occupied Crimea, fueled by regular, if unconfirmed, reports of Kremlin designs on the east of Ukraine, which is traditionally closer to Russia. Those tensions rose further after Russia announced on Thursday, for the second time in the past month, that it was holding war games near its border with Ukraine. Some 8,500 troops are said be involved.
Many fear the wrong move could unleash catastrophe. Activists worried on Thursday what the protest fatality might mean.
"The situation is unpredictable," one activist said. "It's the first death in Donetsk. And after the first, I fear there will be others."
There were immediately concerns that pro-Russian protesters had provoked the attack, amid constant rumors that Moscow would seek a reason to enter eastern Ukraine.
"They were very aggressive. And they were prepared for this battle," said Konstantin Lavrov, a coordinator of the so-called "self-defenders" who try to protest protesters from attack. Lavrov described being surrounded as the protest wound down and then set upon with clubs and bats.
The police, he and others said, stood idly by. "We have no police. We have fought alone."