Calls On U.S. To Withdraw Support For Iraq Over Alleged Use Of Barrel Bombs
"This is a big problem ... I am very angry — because I'm human. This is not fair warfare."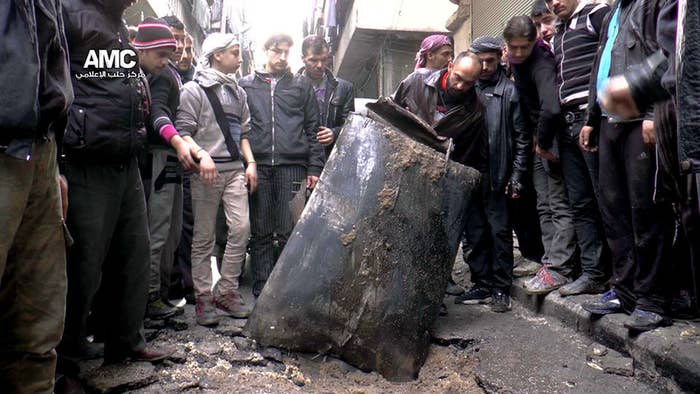 ISTANBUL — Allegations that the Iraqi army has been using barrel bombs, which cause widespread civilian casualties, have led human rights activists to call on Washington to withhold military support until the practice stops.
U.S. officials have also expressed their concern to the Iraqi government on the subject of barrel bombs. "The bottom line is that [they] are an absolutely unacceptable munition," said a senior U.S. military official in Iraq, speaking on condition of anonymity due to the sensitive nature of the subject, but he declined to confirm whether the U.S. had determined the Iraqi government had deployed the weapons. "We've highlighted this to the senior levels across the Iraqi security forces and to the government."
Reports of the Iraqi military's use of barrel bombs — crude and imprecise explosive devices dropped from helicopters — began to emerge early this year. The bombs were being used in Anbar province, much of which had been overrun by Sunni militants, including members of the extremist Islamic State of Iraq and Syria (ISIS), the same group that stormed the northern city of Mosul and declared a caliphate last month.
Barrel bombs were made infamous by the Bashar al-Assad regime in neighboring Syria. And now their use over Sunni areas of Iraq — along with allegations of other indiscriminate attacks by Iraqi forces that have killed civilians there — have brought warnings that Nouri al-Maliki, the Shiite prime minister, will follow his ally Assad's sectarian-tinged counter-insurgency strategy.
The U.S. official said that while Washington was concerned about civilian casualties "as we would be in any place on the planet where conflict exists," he didn't believe that Iraqi forces were targeting Sunni civilians or see a "sectarian agenda directed by Iraqi leaders."
The Iraqi military, he added, is facing an extremely murky and deadly enemy. "The challenge is that the fighting that is ongoing in [northern and western Iraq] is uniquely mixed with ISIS alongside former Baathists and others," he said. "And then how do you target those that are directly the cause of the violence and trying to establish this caliphate and positively identify an adversary that are in and amongst the people? This is an historic problem and challenge."
Brett McGurk, the deputy assistant defense secretary for Iraq and Iran at the U.S. State Department, told Congress last week that ISIS is a "full-blown army". Iraqi forces melted away in the face of an ISIS-led push across northern and western Iraq last month, and its military has limited air power as it awaits the delivery of Apache attack helicopters and F-16 fighter jets purchased from the U.S.
"When any people are desperate they are going to look for desperate measures, and the Iraqi military is up against an absolutely horrific and ruthless adversary in ISIS," the official said. "And we've got to be very cautious. Because of the horrific violence at the hands of ISIS, that can turn anyone to have a hardened view in their hearts."
The U.S. has not publicly acknowledged that the Iraqi military is using barrel bombs. But concerns over their potential use were apparently strong enough to spark discussions between U.S. officials and Iraqi leaders. "I think our counsel to them has been positive and has been appropriately considered," the official said.
Yet reports of the use of barrel bombs — which the Iraqi government has always denied — have emerged from civilians and soldiers alike since last month's ISIS surge.
Two mid-level Iraqi officers said in recent interviews they had deserted the military due to its attacks on civilians — and both named barrel bombs as a major concern. One, a pilot with the armed forces who requested anonymity due to safety concerns, said he'd seen his colleagues deploy the weapons but had not used them himself. "This is a big problem," he said. "I am very angry — because I'm human. This is not fair warfare."
A Human Rights Watch report published last week said its researchers had documented six cases of the Iraqi military using barrel bombs since early June. All were in Anbar province, leading to 17 deaths, including seven women and two children.
The use of barrel bombs fits into a pattern of indiscriminate airstrikes on Sunni civilians, the report said. It documented such attacks in Anbar as well as Mosul, Tikrit and the oil-refinery city of Baiji. They included the use of unguided "dumb bombs" and had wounded hundreds of people and killed 75, including the 17 that resulted from barrel bombs. "There was a consistent pattern of aerial bombardments in residential areas by government forces using helicopters, jets, and other aircraft," the report's authors wrote. "The attacks hit areas surrounding mosques, government buildings, hospitals, and power and water stations."
Joe Stork, the deputy Middle East director at Human Right Watch, said in an interview that the U.S. government should halt all military support to Iraq until it puts an end to the use of barrel bombs and other indiscriminate attacks. "The U.S. and any other party that is assisting the government militarily should not be doing so until the government shows convincingly that it's no longer carrying out these practices," he said.
Stork dismissed the idea that the Iraqi military's use of barrel bombs wasn't intended to harm civilians. "These are indiscriminate weapons being used in populated areas," he said.
The U.S. has sent Iraq Hellfire missiles, ammunition and surveillance drones to Iraq since the conflict with ISIS flared in Anbar early this year. It has also sent military advisors in increasing numbers since Iraqi forces lost Mosul to ISIS last month — and the Obama administration has considered Iraqi government requests for air and drone strikes against the militants. Delivery of the Apache helicopters, currently slated for September, was initially delayed over congressional concerns that Maliki would use them to target his political opponents.
Donatella Rovera, a senior investigator for Amnesty International who recently completed a fact-finding mission to Mosul, said civilians there feared airstrikes generally, not just barrel bombs. "Clearly the Iraqi security forces are not very worried about civilians in the areas controlled by ISIS," she said. "There haven't been an awful lot of airstrikes yet in Iraq. Some have certainly caused civilian casualties. And there is every reason to fear that if they have more recourse to airstrikes the risk of civilian casualties will increase significantly."
The United Nations has accused ISIS of mass executions, rape and other war crimes against civilians in Iraq. Taking shelter amid civilians — and increasing the likelihood for civilian casualties at the hands of government forces — may well be part of its strategy. Intisar al-Juburi, a member of parliament from Nineveh province, said in a recent interview that ISIS is "using the children and the women of Mosul as human shields."