Amid Syria's Chaos, Assad Plans A Presidential Vote For Next Year
A U.S. state department official calls the idea "a farce." Iran thinks otherwise.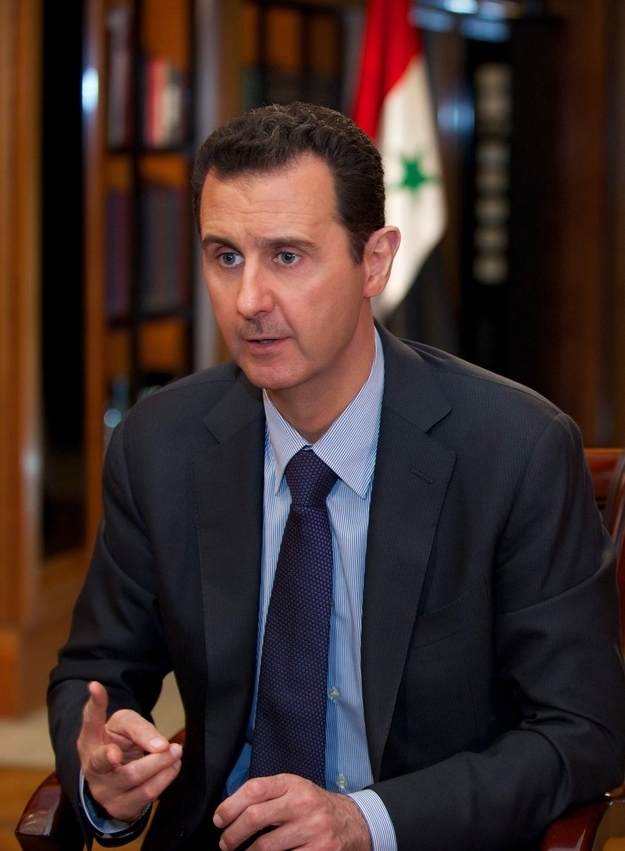 ISTANBUL — The idea that Syria will follow through with presidential elections planned for next year amid a grinding civil war is met with derision from many of its citizens, including Samir Mattini, an opposition television host and commentator, who nearly shouts words like "shameful" and "joke" when the subject is broached.
Even before the war, the country's elections were widely seen as rigged: President Bashar al-Assad claimed 97% of the vote when he last ran, uncontested, in a 2007 referendum. Now Syria is mired in a conflict that has seen at least 100,000 people killed and millions displaced. "There is no such thing as a valid election in a country like this where people are dying daily," Mattini says.
Yet Assad is sending signals that he plans to press ahead with the vote — most recently in a TV interview that aired in Lebanon on Monday, during which he said he doesn't "see any obstacles" to running again next year. Russia, one of Assad's two main backers, has stuck fast to its insistence that he not be forced from office. Iran, the other, has gone further, with its foreign minister saying this spring that Assad "will take part" in the election "and the Syrian people will elect whomever they want." An Iranian diplomat was keen to press this idea: "The Syrian people need to decide at the ballot box," the diplomat said in a recent interview. "So, let's put it to the Syrian people."
These messages from Assad and his allies — and the fact that his forces have regained momentum — have many in the West, including U.S. officials, paying close attention to the prospect of next year's vote. They doubt an election would be fair, and warn that Assad could use it to further strengthen his hand. "They're not going to be in a position to say they can hold credible elections, but that doesn't mean they won't try to hold a show election," said Firas Abi Ali, the head of Middle East and North Africa forecasting at IHS Country Risk, a research firm in London. "It buys time, and it legitimizes the regime. And it allows Assad — and the Iranians and Russians behind him — to say, 'I want a democratic Syria, and I want to resolve this conflict through elections, and my rivals don't.'"
Assad wouldn't win over opponents with that line, Abi Ali adds, but "in front of his own supporters he would look a lot better, and in front of the people who just want this conflict to end he would look a lot better. It would also have an impact abroad, in that the Russians and Iranians could hold [the election] up and say that it legitimizes their policy."
A U.S. State Department officials says any election in Syria would almost certainly be a "farce" that couldn't "pass a laugh test." On top of longstanding concerns about fairness, Assad has lost control of much of the country, and more than 2 million Syrians now live abroad as refugees, further undermining the possibility of a credible vote, the official notes. But Assad might still succeed in using the election to boost his narrative. "There are many ways that the regime is winning the messaging war. The fact that we now see this conflict increasingly as extremists vs. the regime — that has been a regime narrative from the beginning. They have been masterful at handling that," says the official, who declined to be named in line with department policy. "I'm sure [Assad] will use the elections in a similar way."
At the same time, the official says the elections also present a unique — if slim — opportunity for negotiations on ending the conflict. "I don't think anyone has ruled that out," the official says. "I think a lot of people are zeroing in on this and saying, 'What can we do with the idea?'"
The United States and Russia have been pushing to convene a peace conference in Geneva next month, though both Assad and his opponents have been skeptical about the idea. "Elections offer a moment that is already built into the calendar," the official says. "And if there were a way to position them so that they could be held under legal auspices that would allow some form of genuine competition, and you could let the Syrian people vote, that would be an incredible way to end this conflict. It's just that the hurdles to get there are enormous."
The Syrian opposition's leaders in exile have rejected the idea of negotiations with Assad, calling his departure a precondition for any talks. While some may be "starting to come around to the idea that they're going to have to talk to the regime," they'd be extremely unlikely to trust an election deal, says a State Department official familiar with the opposition. "They generally feel that any election would be totally illegitimate, because it would only be held in the areas the regime holds, and they would rig it, which would ostensibly be correct," the official says. "They see it as another gambit by the regime."
Many fighters on the ground, especially among the rebellion's extremist elements, "are saying they will fight Assad to the death no matter what," another State Department official adds.
Islam Alloush, a Damascus-based spokesman for the Army of Islam, a powerful coalition of rebel groups, dismisses the idea of a vote being held in areas under rebel control. "It's impossible to have a polling station in my area. It's completely liberated," he says. "Everyone should know that Assad will not be removed from power unless it's by military force."