For Me, The Cuba Embargo Has Always Been A Human Embargo
For decades, the U.S. embargo against Cuba has torn apart families like mine.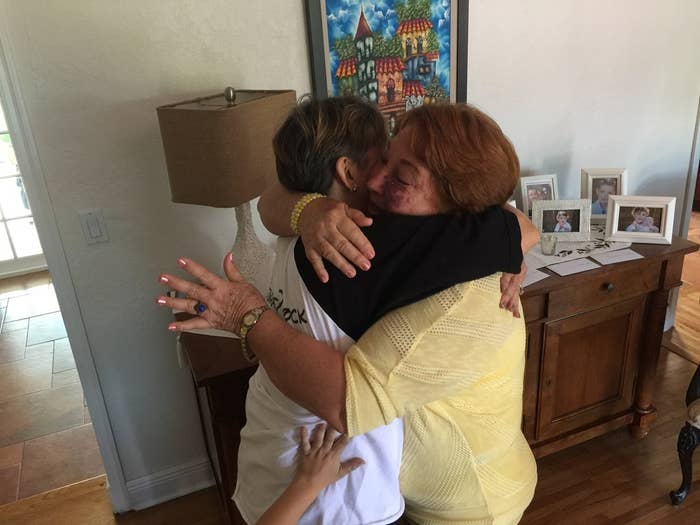 I'm 39 years old, a Miami native whose Cuban parents came to America as teenagers fleeing the harsh realities of Cuba's totalitarian socialist system. Arriving in the U.S. with little more than the clothes on their backs, my parents and grandparents have lived nearly 50 years in limbo, leading a life in mourning. What was supposed to be a temporary diaspora in el exilio has dragged on for nearly five decades. That is the unspoken truth of life as a Cuban exile.
And while I observe the debate surrounding President Obama's decision to relax the embargo against Cuba, I am reminded that the only embargo that truly exists is a human embargo — the one that has torn apart thousands of families like mine. The professional pundits from Washington to Havana and the amateur ones from El Malecon to Calle Ocho can continue to dissect and contradict each other on the embargo's perceived successes or failures. I, however, know this embargo has failed my family.
Each day, tens of thousands of U.S. dollars and goods are couriered to Havana by mulos, or human mules who earn their living transporting much-needed clothing, shoes, electronics, and assorted sundries across the Florida straits. Yet, for my 95-year-old grandfather, Luis "Pipo" Moreno, the ideological divide between him and his family, who he believes "chose" to stay, calcified into his own personal iron curtain. In his eyes, they were no longer family. They grew to represent the very system that he despised. When he left Havana on that gloomy October day in 1966 he pledged he would never return — a promise I fear he will keep.
Last weekend, my heart was shaken to its core as I witnessed my grandparents come face-to-face with the legacy of this embargo and the pain of their own divided family. As I was leaving my grandparents' house in Miami during one of our regular weekend visits, an unfamiliar car pulled up to the curb and asked me if Luis Moreno lived there. I was confused as to why someone would ask if this was his house — they don't usually have visitors, and those who do stop by to check in on them know they have lived there for the past 47 years.
My grandfather's mind has been slowly eroded by the effects of dementia, and I watched as he struggled to reconcile what was happening. His beloved niece Nancy, who he partly raised until the age of 15, got out of the car. He hadn't seen or spoken to her since 1966, and if she hadn't been fortunate enough to receive approval for a temporary two-month travel visa to the U.S., she would have continued to be nothing more than a distant memory to him.
Nancy is no longer his fresh-faced niña linda. She is now a 63-year-old woman showing wear from a life spent trying to survive in Cuba. As he stood there staring into her eyes, unsure of who she was, I felt that deep down he somehow knew she once held a very special place in his heart.
While the scene unfolded, my grandmother, who was standing just feet away, could not connect the dots in her stroke-addled brain. In frustration or maybe in fear, she broke down in tears because she simply couldn't remember the connection.
This was all too much for Nancy to take in; she later told me that she had little hope of finding his house and even less hope that he would still be alive. At 92, her dad, my grandfather's younger brother, saw her off just a day earlier with only one wish, which she recounted:
"Nancy, mi amor, espero que puedas abrazar a mi querido hermano, Luis, y a mi bella hermana Bellita — algo que yo sé que nunca voy a poder hacer otravez." His only wish was for his daughter to embrace his beloved brother, my grandfather, and his beautiful sister-in-law Bellita, my grandmother, as he knows he never will.
This reunion was gut-wrenching and heartwarming at the same time, but I wasn't prepared for my mom's reaction when she saw Nancy for the first time. My mom, an only child, was raised with Nancy and saw her as more of a sister than a cousin. Their reunion needed no words. The long embrace was raw and long overdue.
So, while I may have been born in the U.S., and feel a deep allegiance to this country, my heart still bleeds Cuban. And as a son of exiles, I am not afraid to say I don't care where you stand on the Cuban embargo, because I choose to stand with families like mine, being reunited, no longer divided.
Miguel Piedra is an Emmy Award-winning former broadcast journalist who now runs RockOrange, a full-service marketing, communications and branding agency in Miami, with his life-long best friend. Miguel visited Cuba as a journalist in 1998 and produced the multi-part series "Born into Exile."

Contact Miguel Piedra at miguel@rockorange.com.

Got a confidential tip? Submit it here.