How Live Sex Will Save The Porn Industry
DVDs are dead, pay sites are struggling and porn is free and unlimited. Why live cams, Twitter and Skype may be the porn industry's last hope.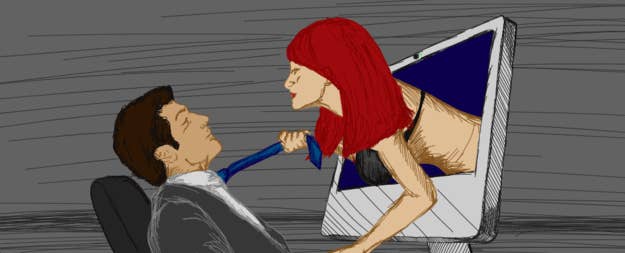 Ruby Knox moved to Los Angeles six years ago to become a porn star. The free-spirited Native American, now 27 (though her online profile at SquirtNetwork.com gives her age as 25), says she was in it as much for the self-exploration as the money — and for a while, she found both. For much of the last decade, the San Fernando Valley — porn's longtime hub — was flush with cash from DVD sales and an online streaming boom. Knox shot for studios like Hustler and Vivid, picking up a few AVN Award nominations in the process.
But this past April, she packed up her computer and and left the Valley. Now, from her home in Baja California, Knox does private webcam sessions for up to $15 per minute.
Knox is not alone. Webcams — or "cams" as they're more commonly referred in the industry — were once an online backwater populated by Eastern Europeans and low-quality, stop-and-go videos. In the past few years, they've emerged as the driving force of a new internet porn boom.
For those at the top, the rewards are incredible. A popular model on a large cam site can generate over $40,000 in a single month. There are multiple revenue streams for a cam star, including group chats, but for many the goal is to find a "whale," an online sugar daddy who might spend $20,000 a month on you or, even better, a member of "the platinum club" — the high-net worth fans who spend more than $100,000 a year.
Webcams have been around for almost as long as the commercial internet, but the days of watching a monitor-lit star hunched over a keyboard are long gone. In the past few years, prosumer electronics, HD video-streams and hands-free operation have turned the cams from an also-ran to the porn industry's financial front-runner. And thanks to programs like Skype, cams have become much more of an interactive experience. If the appeal of those first webcams was voyeurism, the appeal of today's cams is their intimacy.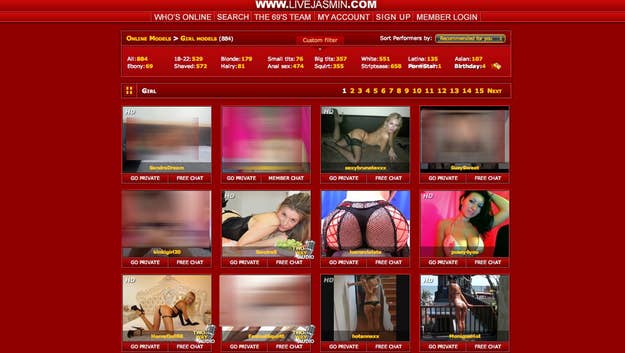 The cam industry owes as much to phone sex as it does to porn. After all, the goal with cams isn't to get the customers off, but to seduce them into staying online — at $15 a minute, the sizzle is worth much more than the steak.
Alec Helmy, publisher of the porn industry trade magazine Xbiz, calls cams "one of the industry's few bright spots." While the rest of piracy-plagued porn is struggling to survive, he says top cam companies have been growing by as much as 20 percent annually. Douglas Richter, a rep for Adult Webmaster Empire (AWE), one of the industry's largest cam companies, estimates industry revenues at between $1.5 and $2 billion a year.
And where the money goes, the stars have followed. Cams are drawing increasingly high-profile stars, who are attracted to both the money and the adulation. A recent cam show by Jenna Haze* on AWE's LiveJasmin.com attracted 10,000 paying followers. That's a lot of cash, even in an industry used to quick fortune.
It's one reason a site like Live Jasmin can now operate in the same cultural space once reserved for luxury brands like Chandon or Bentley: Flo Rida name checked the site in his recent single, "Hey Jasmin."
Hey girl I see you online, show me your sign
You're a wild one that's what I like
You can be screaming, and I maybe beat it
But we still gonna be on Live Jasmin dot com
Live Jasmin may not yet have the name recognition of Playboy, but that won't last for long. The site currently holds an Alexa ranking of 46, making it one of the 50 most popular sites in the entire world. On an average day, LiveJasmin.com attracts more online viewers than the New York Times, Netflix or ESPN. By traffic — and possibly revenue — it's the largest adult company in the world.
The key to cams' success is the interaction with the star — so unlike traditional porn, there's little incentive to pirate. A taped cam show is like a taxidermied pet: It might look the same, but it's a little lifeless. So while the rest of the porn industry fights to keep its content off torrent sites, cams are exploding. They may share a lineage with filmed porn, but it's a Darwinian offshoot that has suddenly found itself immune to the virus that's killing off its competitors.
It's also changing the nature of the entire business.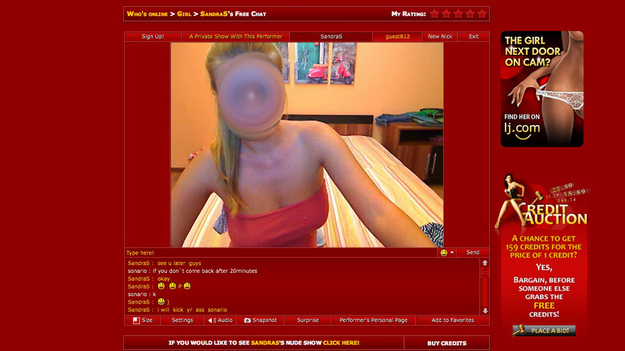 GIVING IT AWAY
In the traditional system, a porn producer would shoot a movie and try to move as many copies as it could. With cams, the goal isn't so much to go wide as it is to find a few "whales" willing to spend big. It's porn for the 1%.
"It's a different kind of profit. It's a different kind of customer," says Randy Blue. Blue launched his eponymous gay porn site nearly a decade ago and quickly became one of the biggest players in the industry — a streaming video success story. At one point, he considered using his success to buy up traditional brick-and-mortar porn studios, but he couldn't see the long-term value. Two years ago, he decided to invest heavily in cams.
"If anybody works in the industry and they see their profit shrinking monthly and they haven't caught the clue they might be obsolete in two years, I don't know what to tell them. We're going through the biggest technological change that this industry has ever gone through, much more than reel-to-reel to VHS to DVD — that was nothing," he says.
The porn industry, he says, is on the same trajectory as all media: content itself no longer holds value. "When you look at the money that's made by most recording artists, they make their money in concerts. What used to be a $30 ticket is now $125 ticket. Sometimes they do a smaller venue with fans who are willing to pay more."
If you're an artist who wants to remain independent — whether as a filmmaker, a rock band or a porn star — your success is your direct connection, and the only commodity worth selling is the live event.
Take Clerks director Kevin Smith, who abandoned traditional distribution for his film Red State in favor of a traveling roadshow. Or a comedian like Louis C.K, who self-distributed his concert album Live at the Beacon to his fans at a steep discount — and now uses that direct connection to sell concert tickets without a middleman. Acts like Radiohead essentially give away their albums — and make it up in live performance.
Filmed porn may continue to exist, but many in the industry say it's likely to become a loss leader, a way to make ancillary revenue. Faced with thousands of tube sites giving away their content, companies from Pink Visual to Kink.com have even looked into giving away their movies for free in order to sell advertising for things like sex toys, dating sites — and cams.
Blue says he's not sure that free is the answer, but he hasn't ruled it out. "There is a whole generation of guys who aren't going to pay for music, porn or anything. So if there are 10,000 people who won't pay, you have to find a thousand who will."
And, he says, the 10 percent that is still willing to pay for porn is willing to pay a lot more for a live event.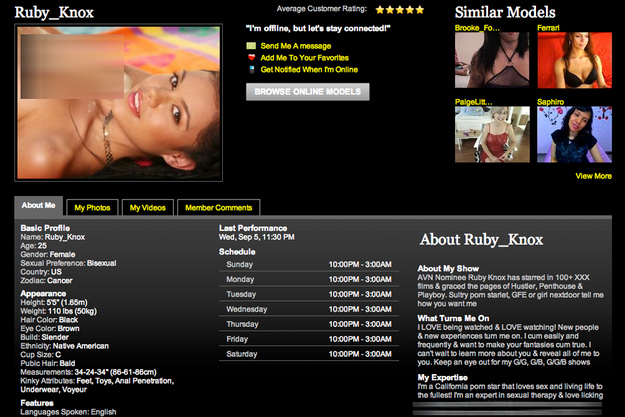 THE GIRLFRIEND EXPERIENCE 2.0
That same 10 percent is also changing what defines a star in this new universe. It's no longer enough to have a pretty face and a tight body. A cam star needs to be able to connect — and to sell.
The connection is what originally drew Ruby Knox to cams, and one reason why she thrives here. "With porn you can't really relate to your audience, really. You're just a figment of their imagination," Knox says. Her fans are as likely to talk with her about items on Reddit as they are about sex.
Knox is a geek, and most of her audience is people like her: gamers, hackers, young professionals who work from home. The very people you wouldn't expect to pay for porn are spending plenty on her.
A good cam star is part Scheherazade, part carnival barker. Shows always start out free, of course, and often include a countdown clock. The star will tease and flirt; she might talk about her day or how horny she is or what she's got planned for the show. She could bring out a sex toy or introduce a special guest. Through it all, she's the consummate hostess, greeting old fans as they log on and batting her eyes at the new ones. But there's only so much she'll give away for free.
When the show begins the screen goes blank for anyone who hasn't ponied up. A show can be anything from lower-priced group chat — sometimes called a circle jerk, where anyone who pays can log in and talk to her — to a personal cam-to-cam show with a single dedicated fan. Sometimes it's explicit sex, and sometimes it's just company. (AWE's Richter says some of the highest paid stars barely get naked.)
For the performer, the cam business model is more akin to dancing — the exotic kind — than it is to traditional porn work. And like a strip club, the house — in this case the cam site — takes a substantial cut, sometimes as much as 40 percent.
Some individual stars do run their own cams, but it's nothing compared to the money that can be made on a heavily trafficked site like Live Jasmin. While every star has dedicated fans, it's access to new ones that makes it financially sustainable in the long term. If you want to land a whale, you have to sail in deeper waters.
But even on a site with a lot of traffic, the hustle is still up to the star. A good cam star recognizes your name, remembers what you like, feeds you compliments, and sends you personal messages in the off-hours. This is the Girlfriend Experience 2.0.
"I talk to them," says Samantha Ryan, who shot for studios like Pink Visual and Vivid, but now cams almost daily from her home in Los Angeles. "I bring them into the show. You're trying to eliminate the space between you."
The era of the untouchable porn diva is over, Ryan says. Cams require an entirely different skill set. "The girls that are just into themselves? "It can be fun for awhile..."
She trails off, as if not wanting to offend. Many cam stars still look for traditional scene work, both because it pays better on an hourly basis and because it acts as an advertisement for their cams. And many top porn stars still regard the cam business as unglamorous. If you're doing well in traditional porn, cam work can be risky.
"A webcam show can kill the fantasy," says Knox, carefully choosing her words. "What if someone shows up on cam and is crazy, or taking shots and passing out with a dildo? It's not for everyone."
It's also harder on the psyche. Cam stars have to interact with fans for three or four hours a day, and when they're not on camera, they have to keep it bubbly on Facebook and Twitter. If download speeds defined the streaming porn boom, the omnipresent grind of social networking defines the cam boom.

While most porn stars have online profiles, cam stars have made social media an art. In their off-hours, stars use it to monitor and interact with fans, to increase familiarity and to get them excited about upcoming shows. When they go online, they send out tweets and emails to their fans; regulars and big spenders might get text messages as well. And they've learned to steel themselves against mob mentality and trolls.
"You really have to be on 'on'," says Ryan. "Not just on your personal game, but in knowing how to talk to everybody, how to deal with the haters."
Cams, like comment boards and Facebook threads, are magnets for malcontents and trolls.
"I'd rather get herpes than watch you," one told her during a recent show. Ryan says she laughed it off publicly because she didn't want to appear difficult. But the attacks can be vicious. "I understand the psychology. It's the opportunity for a live one-on-one with us, which they haven't gotten before."
For new stars like Jessie Andrews, Best Actress at this year's AVN Awards, the trouble isn't worth the trade off. Studio work can pay several thousand dollars for a few hours' work, and if you're young and live in Los Angeles, that may be enough.
"Cams are great," she wrote over email, but says she rarely does them. "I think that girls should make a higher percentage."
Some cam companies do attempt to lure models with better percentages, especially as performers from Eastern Europe, India and Colombia drive down rates. Ryan used to make more than $1000 per show, but estimates that her profits have dropped by half in the past year because customers are becoming used to getting more for less.
Still, for performers Ryan and Knox, the opportunity to control their own destiny is worth it. Hard work, not just looks, determines how much money you make. It's not a lucrative on an hour-by-hour basis, but it offers something for the performer that porn never did: predictability.
For Ryan, that means allowing her to go back to school for computer engineering. She has a regular income, and more importantly, a regular schedule. When she was dependent on film shoots, she could hardly schedule yoga, let alone a school semester. Now, sets her own hours and can make a budget.
Knox agrees. She still looks for scene work — she calls filmed porn a "lucrative hobby," and still shoots when in LA — but cams gave her a life.
"I love that freedom. It's the American dream. It's so cool," And then she excuses herself to have a late lunch, poolside in Mexico.
Top illustration by BuzzFeed's Chris Ritter

Update: Flo Rida lyrics and SquirtNetwork.com screencap corrected.

*Douglas Richter says he misspoke when he said Jenna Jameson recently had a show on Live Jasmine — he meant Jenna Haze.
Michael Stabile is a writer and filmmaker based in Los Angeles.

Got a confidential tip? Submit it here.