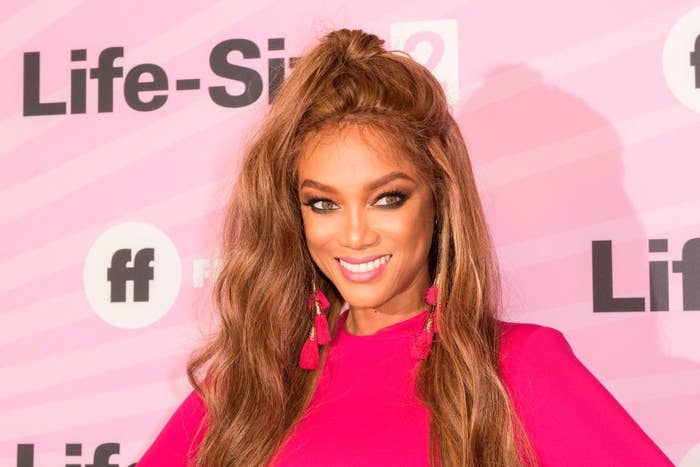 Look out, Walt Disney! You've got some new competition.
Former supermodel Tyra Banks announced on Tuesday that she's developing a 21,000-square-foot theme park in Santa Monica, California, called Modelland. It's set to open in late 2019.
On Twitter, Banks tweeted a link to her upcoming venture's website. In an interview with Women's Wear Daily, she shared details about her next big phase.
"It's my calling to bring modeling to the masses," the America's Next Top Model host told the outlet. "And now with Modelland, I'm taking it 10 steps forward, giving people the opportunity to engage with the elusive world by opening it up to everyone."
We're not 100% clear how this will work exactly, but according to Banks, the establishment will allow visitors to "be the dream version of themselves," in addition to including interactive entertainment, retail, dining, and user-generated content.
This dream has been 10 "very intense" years in the making, Banks told Variety.
Banks, who has worn many hats over the course of her decadeslong career, said she kept this project "close to [her] heart and dedicated a lot of energy and time to it."
Back in 2011, Banks wrote a book called Modelland, which focused on a young woman named Tookie De La Crème, who dreamed of attending a boarding school to become one of the Intoxibellas, the most revered models in the world.
The book was pretty much panned by readers, but Banks clearly believes the idea may get a second wind as a theme park — and she seems to be going all out when it comes to making it a success.
"This is not a pop-up," said Banks, who told WWD that she was inspired by Disneyland.
"It's a permanent attraction anchoring the mall. ... Anybody can enter and feel like a model," said Banks, who envisions the Santa Monica location of Modelland to be the first of many more to come.
Banks told Variety that she and her team have a "robust strategy to expand globally."
"Yes, it is indeed a franchise," said Banks.
Last year on BuzzFeed News' Profile, Banks hinted a top secret project that she was working.
Banks, who has long prided herself on being "first, unique, or best" when it comes to new creative opportunities, said, "A lot of my projects have been very female-focused; I'm really interested in family."
"I have a massive project launching next fall that I can't talk about," Banks teased.
"And nobody done nothing like this before," she said. "It's first, unique, and best."
Representatives for Banks did not immediately respond to BuzzFeed News' request for comment.