Netflix on Friday released a teaser trailer for its upcoming third season of The Crown, giving viewers a glimpse of Olivia Colman's Queen Elizabeth II as a "settled sovereign."
The teaser opens with Colman as the Queen looking at two images of herself. In an image on the left, she's younger, and in the one on the right, she's an "old bat," according to the Queen herself.
"A great many changes," Colman says in the trailer, seemingly referring to more than just her appearance. "Nothing one can do about it. One just has to get on with it."

As most aficionados of The Crown know by now, the cast of the show is being replaced every two seasons to reflect the various periods of the Queen's long-running reign.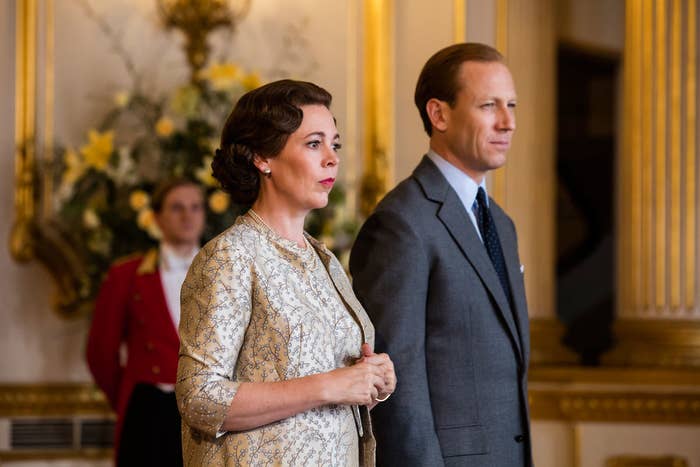 Oscar winner Colman has replaced Emmy-winning actor Claire Foy as Queen Elizabeth II, and Matt Smith's Prince Philip was swapped out for Tobias Menzies.

According to a press release, here's what people can expect in the upcoming third season:
The third season of The Crown sees a new guard sweep into Downing Street, as Queen Elizabeth (Olivia Colman) and her family struggle to meet the challenges of a rapidly changing Britain. From cold-war paranoia, through to the jet-set and the space age - the exuberance of the 1960s and the long hangover of the 1970s - Elizabeth and the Royals must adapt to a new, more liberated, but also more turbulent world. Written by Peter Morgan, The Crown also stars Helena Bonham Carter as Princess Margaret, Tobias Menzies as The Duke of Edinburgh, Josh O'Connor as Prince Charles, Erin Doherty as Princess Anne, Ben Daniels as Lord Snowdon, Jason Watkins as Prime Minister Harold Wilson and Charles Dance as Lord Mountbatten.

It's been almost two years since Season 2 of The Crown aired, and fans have been ravenous for more British monarchy drama.
That said, there are only a few months left until The Crown launches globally on Sunday, Nov. 17.

CORRECTION
Prince Philip's name was misspelled in an earlier version of this post.