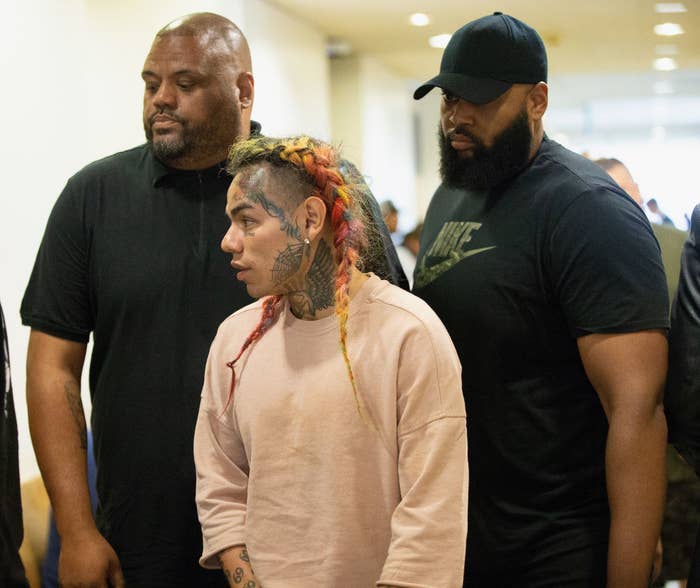 Rapper Tekashi 69 on Thursday named fellow rapper Jim Jones as a member of the Nine Trey Gangsta Bloods gang, an admission that stunned the court and people following the trial on social media.
Tekashi, whose birth name is Daniel Hernandez, is on trial for racketeering, drug trafficking, and other crimes, and was asked by prosecutors who Jones was.
"He's a retired rapper," Hernandez said in a Manhattan federal courtroom.
"Is he a member of the Nine Trey Bloods gang?" prosecutors asked.
Hernandez replied, "Yes."
Hernandez also named Cardi B as a member of the gang. She has publicly talked about her affiliation with the gang before, most recently in a 2018 profile by former GQ writer Caity Weaver.
"I used to pop off with my homies," Cardi said. "And they'd say, 'Yo, you really get it poppin'. You should come home. You should turn Blood.' And I did. Yes, I did. And something that — it's not like, oh, you leave. You don't leave."
However, in a statement to BuzzFeed News, a representative for Cardi said, "This news is not true."
Cardi herself, seemingly responding to the allegation, posted a video on Instagram of the much-used meme where actor Keke Palmer says, "Sorry to this man."
In a now-deleted tweet, Cardi said she was associated with a different set of Bloods called Brim, not Nine Trey.
Jones' representatives did not immediately respond to a request for comment.

But people on Twitter had plenty to say.
Hernandez, 23, was a rising star with a polarizing image. His single "Gummo" — which included members of the Bloods in the music video — was a viral success, but his association with Nine Trey may have clipped his wings before he was able to fully soar as an artist.
Nine Trey is a street gang associated with violent crimes, including attempted murder and armed robbery. In court on Wednesday, Hernandez was asked to decipher the lyrics of "Gummo," which is laden with gang-related words like "Blicky."

"It's a song toward, like, somebody who I didn't get along with," he said. "I don't know. I thought it was cool at the time."
On social media, when word of Hernandez's decision to out members of the gang began to circulate, he was roundly criticized by folks who dubbed him "Tekashi Snitch Nine." Other rappers chimed in as well, including Meek Mill and Snoop Dogg.
"Message of the day don't be a Internet gangsta," Meek Mill said Tuesday on Twitter, mocking Hernandez. "be yourself! #cloutisnottheroute get money."
Snoop Dogg, creatively choosing to weigh in via emojis, essentially called Hernandez a "rat" earlier this week.
Details of Hernandez's plea deal revealed that he would be given a lighter sentence if he cooperated with authorities.
Prior to the deal being made, Hernandez was looking to spend a minimum of 47 years in prison.
And because of the sensitivity of the matters discussed in the defendant's testimony, the deal stated that he may require witness protection at a later date.