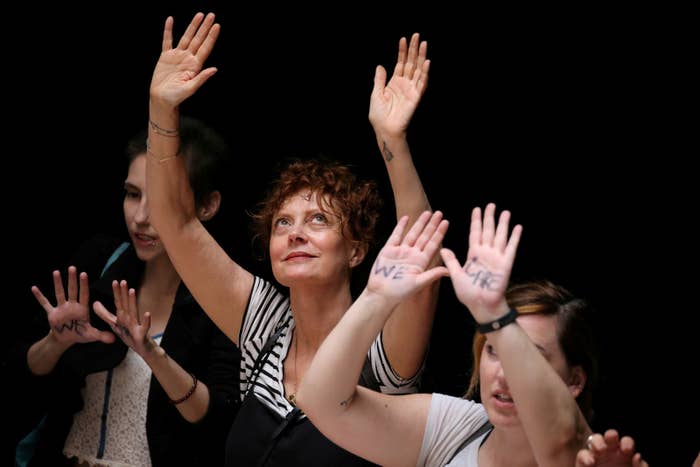 Susan Sarandon was among hundreds of women arrested Thursday in Washington, DC, for protesting against President Donald Trump's immigration policy.
Sarandon, 71, took part in the rally at the Department of Justice, staging a sit-in at the atrium of the Hart Senate Office Building.
A representative for the Women's March, which helped organize the protest, confirmed Sarandon was among the 630 women who were apprehended by the US Capitol Police.
"Arrested," she tweeted. "Stay strong. Keep fighting. #WomenDisobey."
Also among those arrested was Rep. Pramila Jayapal, a Seattle Democrat.
Officials with the Capitol Police did not respond to multiple requests for comment about how many women were arrested and if they will be charged.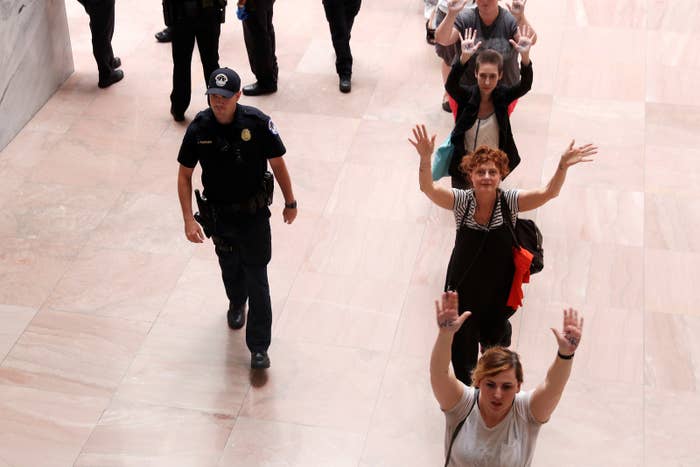 Sarandon and the other protesters were at the rally to criticize the Trump administration's immigration policies, which have caused more than 2,000 immigrant children to be separated from their parents at the US–Mexico border.
"I was moved by the passionate, committed response to ending the separation of families seeking asylum and the incarceration of children," Sarandon said in a statement to BuzzFeed News through her publicist. "This is a moral, not political question and I'm proud to have stood with the hundreds of women to say that we do not accept this. Unite families and abolish ICE."
The hundreds of protesters donned foil blankets similar to those seen in photographs of the immigrant children in caged detention facilities.
On Twitter, Sarandon retweeted protesters chanting "We care, we care," intended as a response to first lady Melania Trump's ill-timed fashion moment last week when she left to visit children at the border while wearing a jacket that read "I Really Don't Care."
"Our fight won't end until all mothers are reunited with their children, which is why we are demanding an end to immigrant detention once and for all," Tamika Mallory, cochair of the Women's March, said in a statement.
Sarandon's political leanings have previously been the subject of heated debate. Some liberals criticized her for siding with Green Party nominee Jill Stein in the 2016 election, after her preferred candidate, Sen. Bernie Sanders, failed to win the Democratic nomination.
Sarandon said she believed Hillary Clinton was "very, very dangerous" for the future of the country.
Last year, Sarandon said she stood by her words.
"We would still be fracking, we would be at war [if she were president], she said. "It wouldn't be smoother. Look what happened under Obama that we didn't notice."