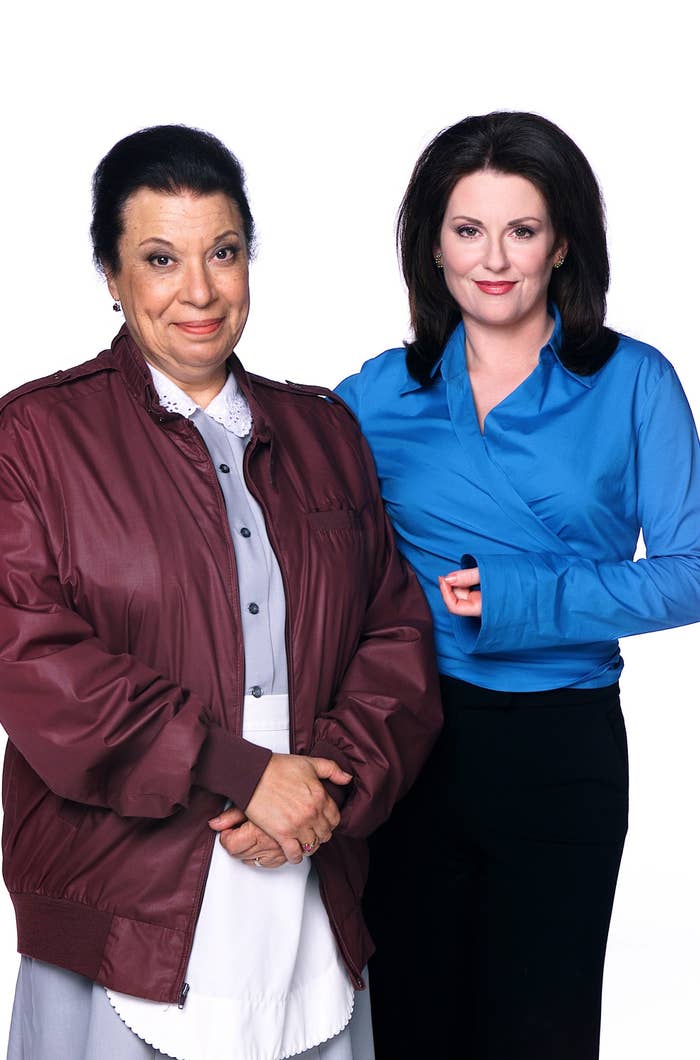 Actor Shelley Morrison, whom fans of the long-running NBC series Will & Grace came to know as Rosario Salazar, died Sunday. She was 83.
Morrison's publicist, Lori DeWaal, told the Associated Press that the actor died of heart failure at the Cedars-Sinai Medical Center in Los Angeles.
Though Morrison had a career in acting that spanned more than 60 years, it was her role as the no-nonsense maid Rosario — played opposite Megan Mullally's sometimes out-of-touch Karen Walker, who was the character's boss — that turned her into a star.
Mullally, whom Morrison often shared screentime with, reacted to her former colleague's death via social media.
"My heart is heavy," Mullally said. "Putting Shelley, her beloved husband Walter & their children in the light."
Mullally went on to thank Morrison for her "friendship & partnership," adding, "you accomplished wonderful things in this world. You will be missed."

The other stars of Will & Grace followed suit, offering statements on how much Morrison meant to them.

Debra Messing, who played Grace Adler on the show, said Morrison "was a kind soul with a huge heart and always had a smile on her face." Eric McCormack, who played Will Truman, called Morrison "a beautiful soul & a wonderful actor." Sean Hayes, who brought laughs to the show as the effervescent Jack McFarland, echoed the sentiments of his costars and offered condolences to Morrison's family.
When Will & Grace was revived in 2017, Morrison's character was noticeably absent from the series, though she was asked to participate, according to the series co-creator Max Mutchnick.
"Shelley has decided to retire," Mutchnick said at the 2017 Television Critics Association. "It was with a heavy heart that she gave us that information and that we received it, but it is the way that it goes. It is a choice that she has made. We really wanted Shelley to be a part of this series so we find ourselves having to figure that out moving forward. It was not an easy decision to make but it's one that she made."

The same year the revival premiered, the show dedicated an entire episode to Morrison's character, who, as it happened later in real life, died of a heart issue.
In a statement, Morrison's husband, Walter Dominguez, praised his wife's legacy, saying, "Shelley's greatest pride as an actress was in playing the indomitable Rosario in a comedy series that furthered the cause of social equity and fairness for LGBTQ people."
"She believed that the best way to change hearts and minds was through comedy," he said.