Another Scott Baio Costar, Alexander Polinsky, Has Accused Him Of Misconduct
Two Charles in Charge actors have now made allegations against Baio. He's denied all the claims, describing them as a "horse and pony show."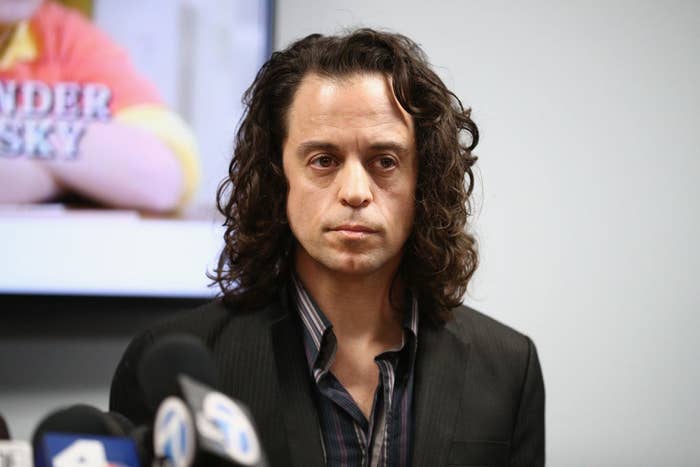 A second former Charles in Charge actor on Wednesday accused the show's star, Scott Baio, of misconduct on the set of the 80s sitcom when they were underage. Baio has vehemently denied all the claims against him.
Alexander Polinsky, who played Adam Powell, said he was harassed by Baio, who was then in his twenties, and "ultimately assaulted by him, between the ages of 12 and 15 years old."
Flanked by attorney Lisa Bloom at a Los Angeles press conference, Polinsky, now 43, said he was called a "faggot" by Baio and told about "gay sex acts" that he would "grow up to perform."
"Scott pulled down my pants in front of over 100 people," Polinsky said. "Another time, he laughed as he cut a hole in the canvas wall of my private dressing room on set and exposed his genitals to me."
Describing Baio's behavior as "unrelenting" and "sexual-themed hazing," Polinsky also said Baio threw hot water in his face at one point.
He said the abuse began when he was 11 after he stumbled upon Baio acting inappropriately with costar Nicole Eggert, then 14.
"I want a public apology," Polinsky said. "If children are going to continue working in entertainment, they must be protected."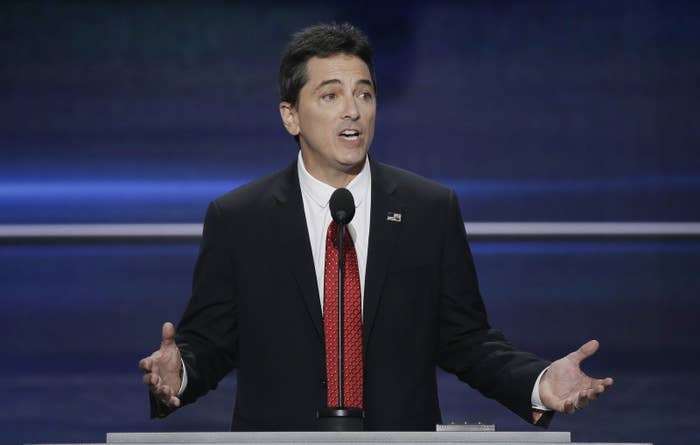 Baio responded to Polinsky's allegations in a statement through his represenatives.
"For reasons I don't understand, I am the target of false claims that threaten everything that is important in my life," he said in his statement. "I'm hurt and I'm angry, but mostly I am stunned that anyone could be so cruel as to attack not just me, but my entire family with lies. I will not let this continue unchallenged and will use every ounce of strength and faith in god that I have to defeat the people behind this. This story is just beginning to be told."

Baio's representatives added that they have gathered multiple statements from people involved with the show that refute Eggert and Polinsky, and showed pictures of Polinsky at a party thrown by Baio seven years ago.
Joining Polinsky at Wednesday's press conference was Eggert, the first Charles in Charge actor to accuse Baio of misconduct.

Eggert told NBC last month that Baio manipulated her into intercourse when she was 17. She also said he penetrated her with his finger when she was 14.
Polinsky also told NBC in January that Eggert had previously told him of the abuse.
Baio, who has been most prominent in recent years for his vocal support of conservative politics, has denied all the allegations against him.
He has admitted to having sex with Eggert, but said this happened after she turned 18 and that she seduced him.
On Twitter on Wednesday, Baio wrote, "I've tried my best to let the proper authorities handle this matter. It now seems they want a 'horse & pony' show."
The actor said he would hold his own press conference later on Wednesday afternoon.
Eggert, 46, expressed remorse at Wednesday's press conference for not standing up for Polinksy.

"As an adult I carry huge guilt that I was a part of this in any way," Eggert said. "I feel horrible and guilty that I didn't stand up for him at the time, but I myself was a child. We were children."

"It was hard for me to stand up for anyone else when I was trying to find my own truth," Eggert said.

She said Polinsky was "consistently picked on" by Baio. "[He was] tripped, pushed around, berated with horrendous, horrendous homosexual slurs — all because he was in the wrong place at the wrong time and witnessed something he wasn't supposed to see."

"Our innocence was robbed of us," Eggert said. "What was supposed to be the best time of our life was a living nightmare."