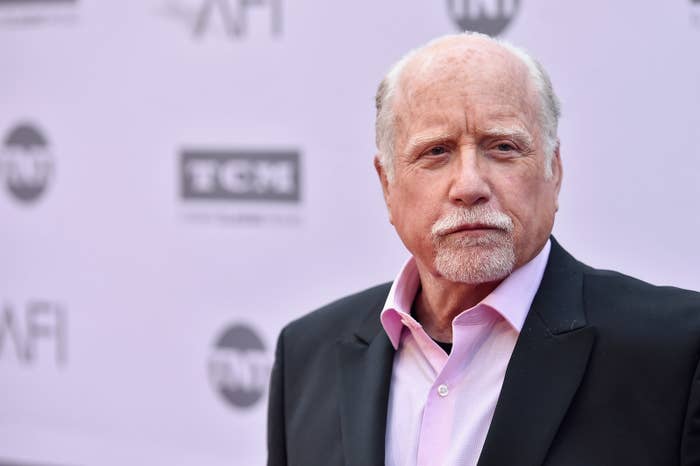 Actor Richard Dreyfuss was accused Friday of sexually harassing a female colleague in the 1980s, but he "emphatically" denied the claim.
Jessica Teich told Vulture she first met Dreyfuss at the Mark Taper Forum theater in Los Angeles and they eventually worked on developing a comedy together. She alleged that in 1987 he told her to come to his trailer on the set of a film he was shooting, where she found the actor with his penis out "and he sort of tried to draw" her closer to it.

Teich said Dreyfuss didn't ask her to perform oral sex on him, but she said the situation was unambiguous.
"He was hard. I remember my face being brought close to his penis," she told Vulture. "I can't remember how my face got close to his penis, but I do remember that the idea was that I was going to give him a blow job. I didn't, and I left."

Teich also alleged that she endured two to three years of constant sexual harassment from Dreyfuss, saying, "He created a very hostile work environment, where I felt sexualized, objectified, and unsafe."
Teich told Vulture that she decided to tell her story after seeing Dreyfuss's tweet of support for his son, Harry Dreyfuss, who recently wrote a piece for BuzzFeed News, accusing Kevin Spacey of groping him when he was 18.
"When I read about his support for his son, which I would never question, I remember thinking, 'But wait a minute, this guy harassed me for months,'" Teich said.
BuzzFeed News reached out to Dreyfuss's representatives for comment, but in a statement to Vulture, Dreyfuss "emphatically" denied Teich's claims of harassment.
"I emphatically deny ever 'exposing' myself to Jessica Teich, whom I have considered a friend for 30 years," he said. "I did flirt with her, and I remember trying to kiss Jessica as part of what I thought was a consensual seduction ritual that went on and on for many years."

"I am horrified and bewildered to discover that it wasn't consensual. I didn't get it. It makes me reassess every relationship I have ever thought was playful and mutual," he said.

Dreyfuss also said there was a "sea-change" happening in society and said he hoped people would re-examine their behavior.
"We all of us are awakening to the reality that how men have behaved toward women for eons is not OK," he said. "The rules are changing invisibly underneath our feet. I am playing catch up. Maybe we all are."