People on Twitter are calling out Fox News anchor Laura Ingraham, accusing her of making racist remarks toward NBA star LeBron James during a segment on Thursday evening.
"NBA superstar LeBron James is talking politics again, and this time it's R-rated," Ingraham began, speaking in a sarcastic tone. "Here's his barely intelligible, not to mention ungrammatical, take on President Trump in a new ESPN podcast."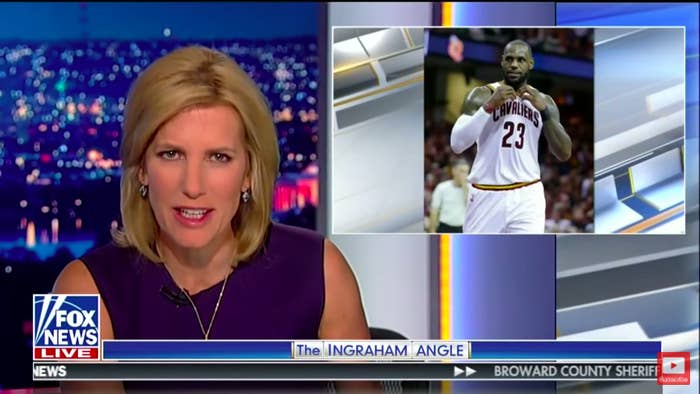 Ingraham then introduced a clip of James, along with fellow NBA star Kevin Durant, and Cari Champion, host of Rolling With the Champion, a video series where athletes talk about everything from pop culture to politics with unfiltered opinions.
"The number one job in America, the point of person, is someone who doesn't understand the people, and really don't give a fuck about the people," Lebron said in the clip talking about the president. "But wait, there's more gripping insight," Ingraham added before launching into the clip once more.
James, Durant, and Champion then began to address their feelings on racist comments the president has made in the past.
"I feel like our team, as country, is not ran by a great coach," Durant said.
"It's not even a surprise when he says something. It's, like, laughable, and it's scary," James added.
"I shouldn't be numb to your racist comments," Champion said, agreeing with the NBA players. "I shouldn't be numb to your behavior."
"I'm numb to this commentary, like," Ingraham said mockingly after the clip ended. "Must they run their mouths like that?"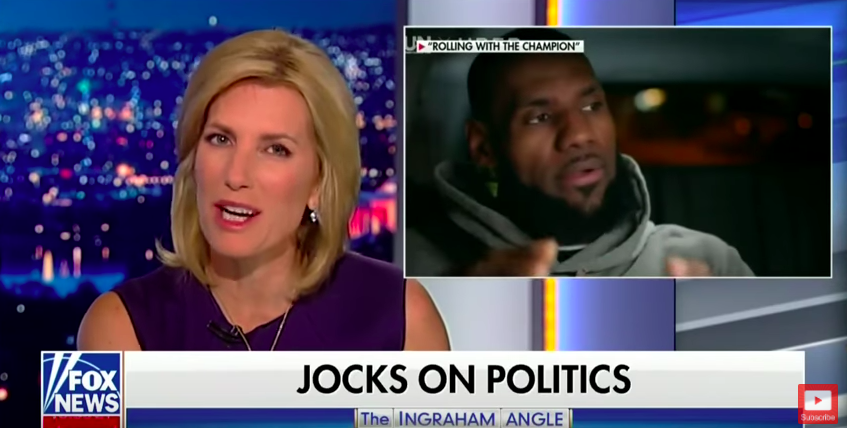 "Unfortunately, a lot of kids and some adults take these ignorant comments seriously," Ingraham continued.
"Look, there might be a cautionary lesson in LeBron for kids," the anchor continued. "This is what happens when you attempt to leave high school a year early to join the NBA, and it's always unwise to seek political advice from someone who gets paid $100 million a year to bounce a ball."
Ingraham completed the segment saying, "Oh, and LeBron and Kevin, you're great players, but no one voted for you. Millions elected Trump to be their coach, so keep the political commentary to yourself or, as someone once said, shut up and dribble."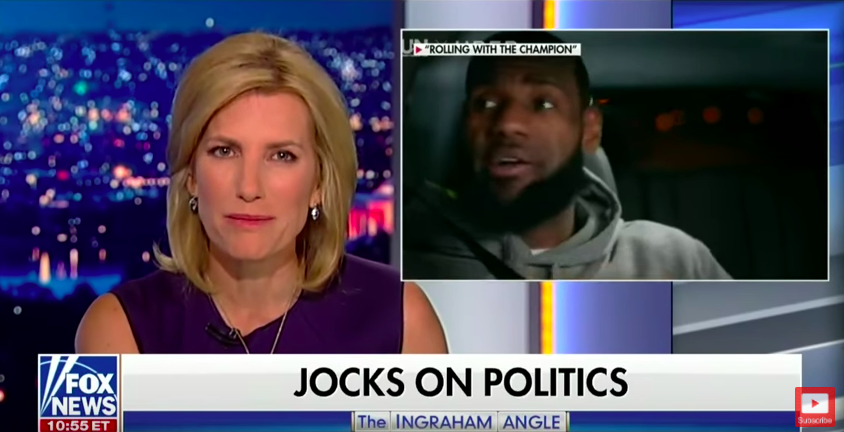 Shortly afterward, the clip went viral and people took to the internet to express their anger at Ingraham's words. Ellen Pompeo, star of Grey's Anatomy said, "Someone tell this bitch to meet me outside... I'm so not in the mood for playing nice or polite this week."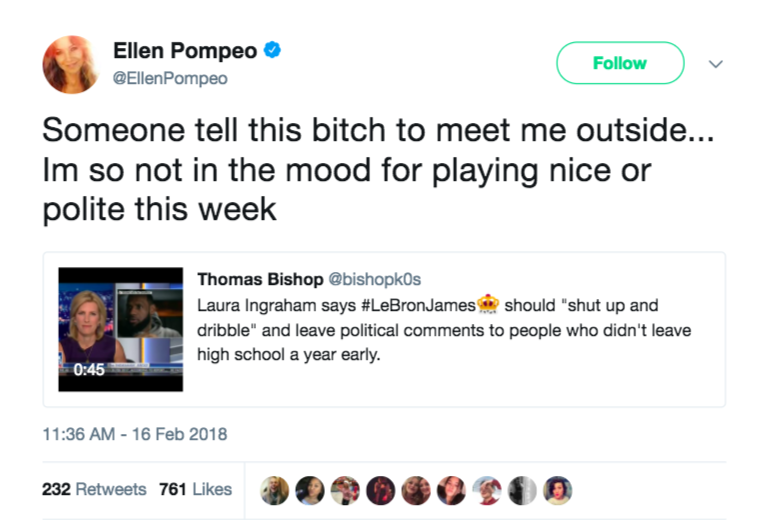 Others likened her to another right-wing commentator, Tomi Lahren, calling Ingraham "despicable."
Others countered Ingraham's take by standing up for James, acknowledging the athlete as "an American success story" who "has given more back to kids and a city than any of us could ever imagine."
One person added that while they disagreed with James on politics, "He is an American and has a First Amendment right to speak and a platform to do it."
More folks responded by saying Ingraham's words were "blatantly racist."
One Twitter user highlighted an awkward wave Ingraham made during the 2016 Republican National Convention.
👀👀👀👀👀👀👀👀
In all, people were pretty incensed, and now all eyes are on James to see if he'll respond to Ingraham's comments.
James responded to Ingraham via a post on his Instagram late Friday. The image featured words that said, "I am more than an athlete" and a caption which noted, "We will not shut up and dribble."
James was asked Saturday if he thought Ingraham's comments were racist. He responded by saying the comments could be seen as racist, or at least reflective of racial tensions in the country, adding that Ingraham's network — Fox News — "doesn't have a great rap sheet when it comes to, you know, race in our country."
"There's been many people that [are] not African American that spoke upon the same issues that I spoke upon and [Fox News] didn't say anything to them," James told reporters. "So you could look at it as being, you know, racist, or you could look at it saying it's just racial tension, which we already know that."
James said he planned to continue to use his public platform to "shed a greater light and a positive light" on important issues.
"So me having this platform, I'm just trying to shed a positive light on what I feel is right," he said. "Am I always right? Can I have everyone follow me? I don't think so. But I feel what's right."