President Donald Trump tweeted a Game of Thrones–related image Friday with text that read "Sanctions are coming."
The president was referring to an announcement that the US will be fully reinstating sanctions against Iran, which comes nearly six months after Trump backed out of the Iran nuclear deal.
According to the White House, these are the "toughest sanctions ever on Iran, targeting many of the corrupt regime's critical sectors." The restrictions will be put back in place Monday, as noted in the president's tweet.
Though Trump's love of Twitter is well known, people had a lot of feelings about him invoking Game of Thrones to relay his message.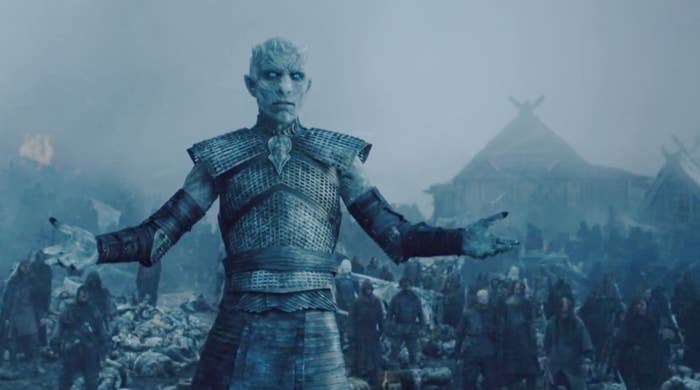 HBO was not pleased.
Now, if you've never seen Game of Thrones, you should know that the statement "Winter Is Coming" is a bad thing.
It refers to White Walkers, a group of undead men, women, children, and animals who are intent on making the world a frigid place.
Oh, yeah, and they pretty much kill everything in their path.
When reached for comment, a spokesperson for HBO told BuzzFeed News: "We were not aware of this messaging and would prefer our trademark not be misappropriated for political purposes."
The network also tweeted, "How do you say trademark misuse in Dothraki?" a reference to one of the languages spoken in the show.
Some on Twitter were confused about the president seemingly positioning himself as a White Walker.
Writer Dave Itzkoff said, "i'm starting to question whether we are a grown-up, adult country."
The Full Frontal Twitter account said, "Joffrey grew up."
Joffrey is a reference to a young king on the show who took pleasure in torturing others.
Others called the president an "insane demagogue."
A man named Richard Nephew, who wrote the book The Art of Sanctions: A View from the Field, said he was "responsible" for US sanctions against Iran "for a long while."
He called the president's tweet "disgusting."
"Having to do this is lamentable and will impose very real, human costs," he wrote. "Take this seriously, please."
One of the many people who blasted the president for this tweet was Maisie Williams, who plays Arya Stark on the show.
"Not today," she wrote.
And the Sophie Turner, Williams' costar, followed that response with a simple "Ew" directed at the president's tweet.