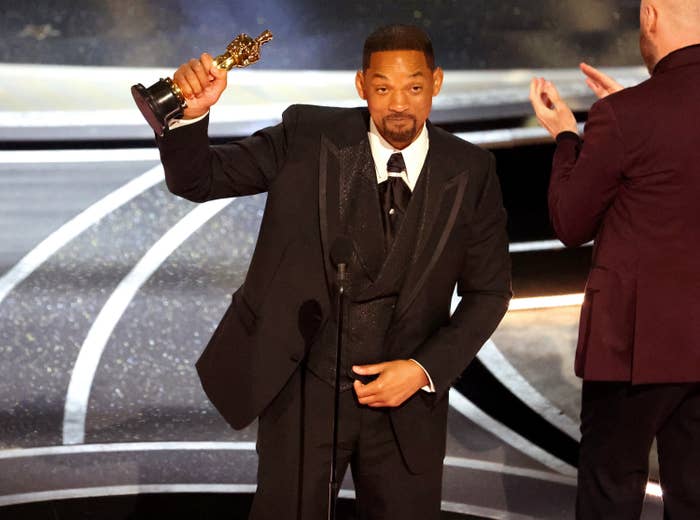 For some time now, the Oscars have been dwindling in popularity and cultural relevance.
With A-list talent like Bradley Cooper openly admitting how "meaningless" the awards circuit has become, to actors like Kristen Stewart basically expressing indifference about the Oscars and its hold on what constitutes good art, the Academy Awards are down bad. And with diminishing returns year after year in terms of audience retention (last year's ceremony was the worst on record, with a paltry 10 million viewers), the one awards ceremony that has held a viselike grip on pop culture for nearly a century seemed to be on life support.
So what's a prestigious awards show to do when it seems as though no one cares about its existence anymore? Well, I don't really have an answer for that, but I'll tell you what last night's show did well. It leaned into absurdity, which seemed to work in its favor — for the most part. There was obviously the slap heard round the world, a moment so wild no one could tell for like 45 minutes if it was real or part of a skit. But the madness didn't start — or end — with that unforgettable scene. Amy Schumer called Kirsten Dunst a seat filler and Megan Thee Stallion randomly appeared to rap a verse on the song "We Don't Talk About Bruno." The show was a lot, to say the least, trying its hardest to satiate an audience with varying interests
The show was a lot, to say the least, trying its hardest to satiate an audience with varying interests
Venus and Serena Williams kicked off the ceremony by introducing a performance by Beyoncé, who sang "Be Alive" from King Richard, a film based on the lives of the iconic tennis star sisters and their father who aided them in their rise to fame in the early '90s. Instead of taking the stage at the Dolby Theatre, Beyoncé and her team performed on a Compton tennis court, an obvious tribute to the Williams sisters' roots. And while a fine production overall by Beyoncé and the dancers, I would have preferred for the show to begin at the actual ceremony, mainly because it didn't feel like an awards ceremony and so took me out of the moment. Why not open with something like "We Don't Talk About Bruno" from Disney's Encanto, which clearly has the mass appeal the Oscars crave given its weekslong stint atop the Billboard Hot 100? But I get it, it probably took a lot for Will Packer and Shayla Cowan, producers of the show, to snag Beyoncé, so they likely OK'd everything it required to make that blessing happen, and they deserve props for that.
Once the show introduced its hosts, Wanda Sykes, Regina Hall, and Amy Schumer, it felt like the ship was sailing pretty smoothly. They addressed certain controversies head-on, like Rachel Zegler not getting an invite, the awards that weren't televised, and perceived snubs, like the lack of acting nominations for House of Gucci — or as Sykes put it, "house of random accents." Hall, who is typically laugh-out-loud funny, seemed to take a little time to warm up, which makes sense considering she's not a stand-up comedian. But as the show progressed, she definitely held her own alongside her cohosts. (I could have watched Hall playfully frisk Josh Brolin and Jason Momoa for hours, just saying.) Schumer, for her part, was unexpectedly good. (Are we at the start of a Schumer renaissance?!) "The innovation to make a movie about Lucille Ball without even a moment that's funny … not your fault, Nicole," Schumer said, lightly poking fun at Aaron Sorkin's Being the Ricardos. "It's like making a biopic of Michael Jordan and just showing the bus trips between games." The jokes landed and were actually funny without punching down. In a way, the start of the ceremony felt in line with something you might've seen during the heyday of the Oscars, when Bob Hope would host.
The whiplash of the ceremony added to its appeal, honestly. One moment, I was beaming about Ariana DeBose and Troy Kotsur's historic wins and their triumphs for the queer agenda and Deaf community, respectively; the next moment I was baffled watching Will Smith slap Chris Rock over the comedian's insensitive joke about Jada Pinkett Smith's lack of hair. Or the decision to have athletes Tony Hawk, Shaun White, and Kelly Slater introduce a segment celebrating the 60th anniversary of the James Bond films when Judi Dench, an actor in the franchise, was right there.
And who can forget about the random countdowns, reminiscent of something you might have seen on TRL or 106 & Park, to big, crowd-pleasing movie moments that honestly seemed geared to people who maybe started watching movies two years ago. Aired clips from Avengers: Endgame and Spider-Man: No Way Home were just two films that exemplified this obvious and somewhat pathetic grab for attention from younger audiences. And yet, I still reveled in the chaos because it was all so preposterous. The Oscars felt less like the ceremony people once knew and more like a transmogrified version of less prestigious awards shows, such as the Golden Globes (Schumer even joked about that ceremony, at one point saying, "You know what's in the in memoriam package this year? The Golden Globes.")
Though the pandemic is not yet over, the sense that things were getting back to normal permeated the show — the energy was palpable. Hardly anyone was wearing masks and the venue appeared to be pretty packed. Stars were out again, and for all of last night's missteps, this is one place the ceremony excelled — from seeing Wesley Snipes, Rosie Perez, and Woody Harrelson reuniting 30 years after White Men Can't Jump ("Nominated three times, but this is the most words I've ever spoke here," Harrelson joked on stage), to witnessing Francis Ford Coppola, Robert De Niro, and Al Pacino share the stage again, all capped off with Lady Gaga and the Tinseltown royalty that is Liza Minnelli bridging the gap between the old guard and the new while introducing Best Picture. This was the kind of pandering movie lovers want more of. What better way to end an utterly disorganized evening than with Minnelli swiftly saying, "OK, CODA"? At that moment, we were all Minnelli, exhausted and flustered and probably ready for bed.
It was simultaneously offbeat and familiar while still being engrossing.

The Oscars, for at least the last five years, have been confused about what the show should be and who its target audience is, so much so that it has verged on ushering in its own obsolescence. The ceremony wants to be everything for everyone. It demonstrates contempt for the people who have appreciated it for years, cutting categories from the live broadcast (while somehow still going overtime), all for the sake of bringing in younger viewers. But it's too late and the ceremony could ultimately save itself — and its reputation — by simply appealing to people who already love the Oscars.
"It just feels like this day of reckoning was going to come where either the network hosting the Oscars or the Oscars themselves basically realized they don't know why they're popular, and [would] start making rules to bring in people who don't care about the Oscars, and that's never going to work," said Louis Virtel, cohost of the Crooked Media podcast Keep It, in early March. A writer for Jimmy Kimmel who has hosted the Oscars red carpet and is an unofficial Oscar historian, Virtel continued, "I don't think there's such a thing as bringing in people whose primary association with cinema is only superhero movies."
But last night's ceremony, while imperfect, felt much closer to getting the program right than it has been in a minute, albeit chaotically. For every amazing speech, like Jessica Chastain's poignant moment while accepting her much-deserved win for Best Actress to talk about how suicide disproportionately affects LGBTQ youth, there was a strange moment that made you question what the hell you were watching, like the peculiar "In Memoriam" segment, which featured a dance break. The Oscars are clearly still figuring out what it should be at this moment in history, but the 94th showing was its most memorable since maybe the Moonlight Best Picture snafu. It was simultaneously offbeat and familiar while still being engrossing. The Oscars may be confused about how to make itself relevant again, but it was really fun watching the show try to figure it out.●