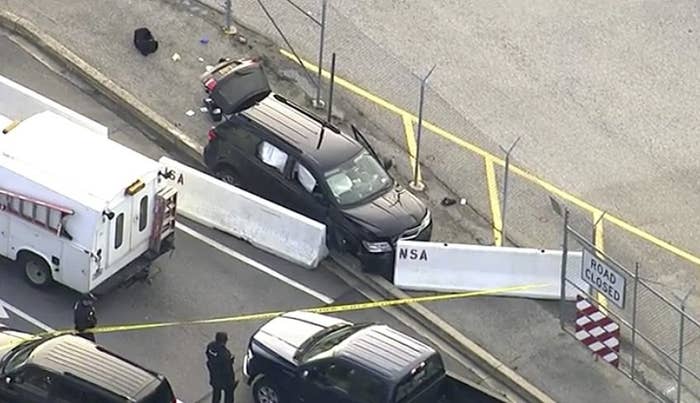 A shooting took place early Wednesday morning near the headquarters of the National Security Agency, one of the nation's primary intelligence agencies, after an unauthorized vehicle drove onto the Army's Fort Meade campus in Maryland.
"We believe there is no indication that this is anything more than an isolated incident that happened. No reason to believe there is any nexus to terrorism at all," said FBI special agent Gordon Johnson at a press briefing on Wednesday.
A black SUV was stopped at the barriers in front of the NSA facility at 6.55 A.M. The three men in the car, who have not been identified, are in custody. One of them, the driver, is being treated for injuries, but not from gunfire, said Johnson.

"Weapons were discharged in the course of the incident, which remains under investigation at this time," said the NSA in a statement to BuzzFeed News.
The gunfire seems to have been a NSA officer shooting at the car, but Johnson said it was currently unclear if there was return fire.

A NSA officer and a civilian, who was passing by when the incident happened, have both been treated in hospital for injuries which are not life threatening.

Currently the FBI is unsure of the motives of the men in the vehicle, which is believed to have been a rental, and is investigating possibilities including that it was a wrong turn or that they were lost.
"Question one is: what put these individuals on this compound?" said Johnson, noting the investigation is ongoing.
White House deputy press secretary Lindsay Walters said in a statement that the president "has been briefed on the shooting" and offered "thoughts and prayers to everyone that has been affected."
This is a developing story. Check back for updates and follow BuzzFeed News on Twitter.