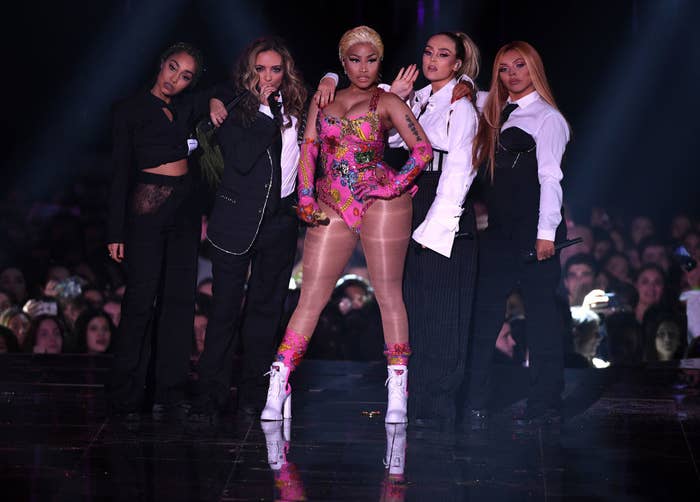 Rapper Nicki Minaj appears to have boarded a plane to China last weekend for a concert that ended up being a scam.

Minaj, 35, was scheduled to perform at an event called the Djakarta Warehouse Project festival in Shanghai on Nov. 18, according to Shanghaiist.
Djakarta Warehouse Project is an annual dance festival in Bali, Indonesia, and this Shanghai event was billed as its Chinese spin-off.

But as it turns out, the use of the DWP brand by the concert in China was "unauthorized," according to a statement from DWP International that appeared on the event's website days before the event was set to begin.

"The event rumored to take place in Shanghai on 17th & 18th of November 2018 is an unauthorized use of DWP trademark," the notice read. "DWP as a brand, has no association with the event."

Minaj has remained mum about the purported incident, and BuzzFeed News' requests for comment from the rapper's team were not returned.
But in a video circulating online, Minaj apparently addresses the issue, telling her "real fans" in Shanghai and China that she loves them and she'll be back "with a better partner."

According to Australia's ABC News, fans who were eager to see the star were upset when the show was canceled after they'd spent hundreds of dollars to see her perform.
Photos of Minaj posing with fans — presumably while she was in China — have been posted on entertainment sites.
And because we're talking about the internet, some found humor in the issue.
Others considered this to be another "L" for the star, who's had a series of professional setbacks this year, including her album Queen, which was delayed many times before being released in August.
There was also the ongoing feud the rapper had with Cardi B, which reached a tipping point at a New York Fashion Week party this year.