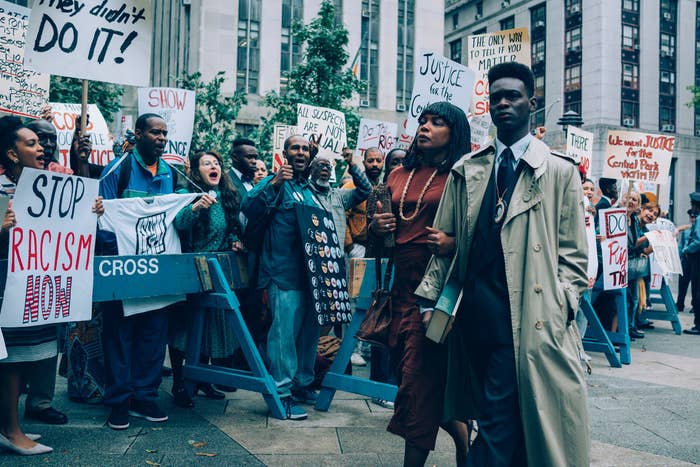 Netflix released the teaser trailer Friday for director Ava DuVernay's upcoming limited series When They See Us, which focuses on the Central Park Five, a group of men who served time in prison and were later exonerated for a 1989 rape allegation.
The series will focus on the five men who were at the center of the case — Antron McCray, Kevin Richardson, Yusef Salaam, Raymond Santana, and Korey Wise — and the story will be told from their perspective, according to Netflix.
"It is important to everyone involved in the project to give these men an opportunity to tell their story and the series should have a title that represents their story," Netflix said in a press release, noting that this year marks the 30th anniversary of the notorious case.

In a quote from the release, DuVernay said she wanted to "tell the story of many young people of color unjustly ensnared in the criminal justice system."

"We wanted to reflect this perspective in our title, embracing the humanity of the men and not their politicized moniker," she said.
The case, which came to symbolize the general lawlessness of New York City at the time, involved the brutal rape and beating of Trisha Meili while she was out for a run in Central Park. At the time, authorities blamed the incident on gang activity, chalking it up to "wilding," a term used to describe people who intended to terrorize strangers in the park.

The men accused, who were between the ages of 14 and 16 at the time, were arrested, and two separate trials were held for the crime in 1990. McCray, Richardson, Salaam, Santana, and Wise served full prison sentences, ranging from 5 to 15 years.
In 2002, a man named Matias Reyes, who was already serving a life sentence in prison for rape and murder, confessed to being the sole perpetrator of the attack against Meili. DNA found at the crime scene matched Reyes', but he wasn't convicted of the crime because the statute of limitations had passed.

As a result, the five men who were wrongly accused sued the city of New York and were paid a $40 million dollar settlement, calculated to be about $1 million for each year served in prison for the accused individually.

When They See Us will span 25 years and will chronicle the events from the teens being arrested to their settlement in 2014.

DuVernay also cowrote and directed all four parts, and the series boasts an incredible cast, including Michael K. Williams, Vera Farmiga, John Leguizamo, Felicity Huffman, Niecy Nash, Blair Underwood, and many more.

The limited series launches globally on Netflix May 31, 2019.