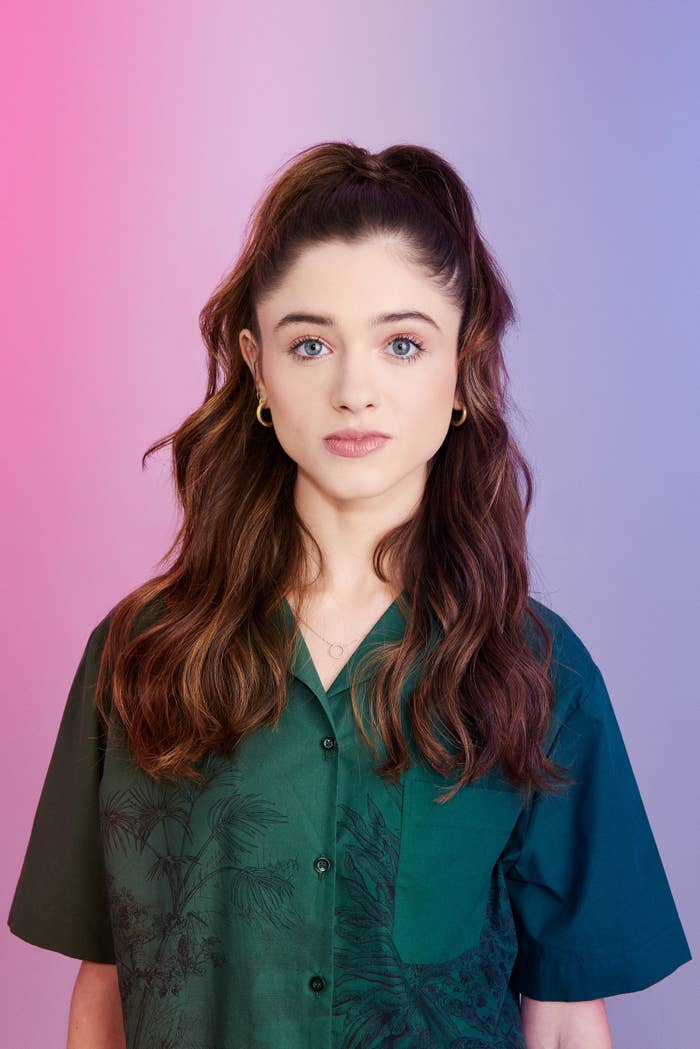 Actor Natalia Dyer of Stranger Things stopped by BuzzFeed News' AM to DM on Monday to discuss a few spoilers from the latest season of the hit Netflix show, including one character's unexpected coming-out scene.
So if you're not yet finished with Season 3 of the '80s-inspired sci-fi series, you may want to steer clear — there are some mild spoilers ahead.
This season, newcomer Maya Hawke, daughter of actors Uma Thurman and Ethan Hawke, came out as interested in women, though no specific label was used.
Dyer said she "was so happy to see that in the script," adding that Matt and Ross Duffer, the brothers who created the series, "really care about their characters a lot."
She said the Duffers "gave the women good, strong roles" this season.
In Episode 7, titled "The Bite," Steve Harrington (Joe Keery) confesses to Robin he has developed feelings for her while they worked alongside each other at the Scoops Ahoy ice cream parlor during the summer.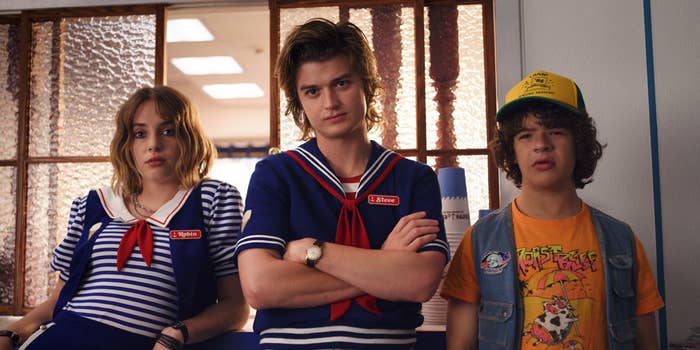 There's a bit about how Steve — who's plagued by the idea of popularity in high school — never asked Robin out because of that whole weird social caste system. Stunned by the admission, Robin clarifies something she'd said earlier in the season about being "jealous" of and "obsessed" with Steve.
"It isn't because I had a crush on you," Robin tells Steve during a scene where they're locked in a bathroom after escaping the clutches of some menacing Russians. "It's because she wouldn't stop staring at you."
"I wanted her to look at me, but she couldn't pull her eyes away from you," Robin says, revealing she had a crush on a girl named Tammy Thompson.
Dyer said the creators took a more natural route to fleshing out the characters.
"They don't make a huge point of it, like, this is, ya know," Dyer said, motioning with her hands, "'We're doing this issue.' It's part of that character, it's part of their story, and it's just there."
This scene in particular was praised by fans for showcasing men and women in a healthy platonic relationship.
"I LOVE THEIR PLATONIC DYNAMIC," said one viewer, who admitted to initially hoping Steve and Robin would go down a more romantic path.

And fans were thrilled that Robin, a queer character, found someone "who accepts her & is her best friend."
Dyer, whose character deals with her own troubles as a woman in the workplace this season, said that it "feels like a really good season for saying things and for giving women strong roles."
"I'm really happy about that."
Watch Dyer's complete interview on AM to DM below: