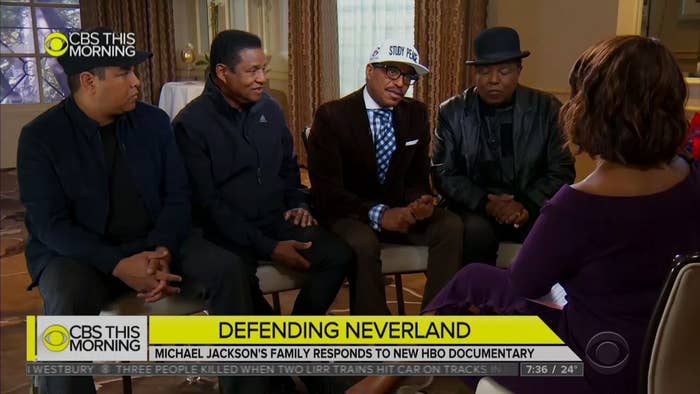 Four members of Michael Jackson's family defended the deceased pop star against the allegations of sexual abuse featured in the upcoming HBO documentary Leaving Neverland, saying the singer's accusers are motivated by money.

In an interview with Gayle King on CBS This Morning on Wednesday, Jackie, Marlon, and Tito Jackson, the star's brothers, along with Taj Jackson, his nephew, hit back against claims that the King of Pop sexually abused Wade Robson and James Safechuck when they were children.
"It's always been about money," Taj said when asked why they believe the men decided to come forward now with the allegations. "I hate to say it. When it's my uncle, it's almost like they see a blank check."
Robson and Safechuck say the alleged abuse with Jackson began when they were age 7 and 10, respectively. Robson first told the Today show that Jackson forced him to perform sexual acts, abuse he says lasted until he was 14 years old. Safechuck followed with a similar claim in 2014. Leaving Neverland goes into much greater detail on the men's claims.

When he was alive, Jackson denied allegations of sexual abuse against him.
King asked the Jackson family how they could be sure their brother and uncle never did anything untoward when it came to Robson and Safechuck, to which Marlon said, "The facts are public record," referring to his brother's trials in the past. "I mean, he testified under oath all the different things he said. Those are the facts."
Prior to making their abuse claims, both Robson and Safechuck defended Jackson against past claims of sexual abuse and said he never behaved inappropriately with them. Safechuck gave a sworn statement to authorities for a molestation case involving another child in 1993, and Robson defended Jackson in 2005 when the star faced criminal charges for allegedly molesting a 13-year-old boy. Robson now says he lied under oath to protect Jackson.

The Jackson family said they haven't seen the documentary and don't plan to watch it.

"We know our brother," Marlon said. "Michael wouldn't do anything like that."
The Jacksons expressed dissatisfaction with Dan Reed, the director of the documentary, saying he didn't reach out to them for comment on the film's claims.
"He took what they were saying at face value," Marlon said. "He trusted them — which there's nothing wrong with that — but you must verify."

"What is the other side of the story?" Reed told BuzzFeed News earlier this year.

"That there were people that Michael did not abuse? … If they're saying, 'You should've interviewed people who were not abused by Michael Jackson,' I would ask why, because this is a story about two young men who were abused by Michael Jackson. You can always find people who were not harmed by an individual who has done harm."
The four-hour documentary premieres in two parts on Sunday and Monday on HBO.
Immediately following the conclusion of the doc on Monday, Oprah Winfrey will sit down with Robson and Safechuck for an interview — After Neverland — which will air on HBO and OWN.