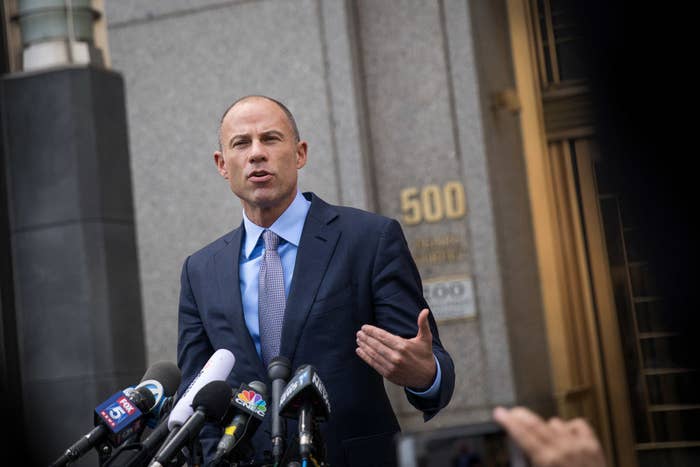 Attorney Michael Avenatti was arrested Monday on extortion and fraud charges in New York and California.
Prosecutors in New York allege Avenatti, who represented Stormy Daniels, the adult film star who said she had a sexual relationship with President Trump, conspired to extort $20 million from Nike by threatening to use his fame to inflict harm on the company's image.
"I'll go take ten billion dollars off your client's market cap...I'm not fucking around," Avenatti told Nike attorneys during a conversation on March 20, according to a criminal complaint.
Geoffrey Berman, the US Attorney for the Southern District of New York, told reporters the threat was Avenatti's "shot across the bow."
"A suit and tie doesn't mask the fact that at its core this was an old-fashioned shakedown," he said.
In New York, Avenatti was charged on four counts: conspiracy to transmit interstate communications with intent to extort, conspiracy to commit extortion, transmission of interstate communications with intent to extort, and extortion. He was ordered released on $300,000 bond Monday evening.
Speaking outside the federal courthouse, Avenatti told reporters he was "highly confident" that that he will be fully exonerated when all the evidence "is laid bare."
"As all of you know, for the entirety of my career I have fought against the powerful — powerful people and powerful corporations," he said. "I will never stop fighting that good fight."
The complaint filed by the US attorney for the Southern District of New York said Avenatti had threatened to hold a news conference on the eve of Nike's quarterly earnings call to announce allegations of misconduct by company employees unless he was paid millions of dollars.
In fact, Avenatti tweeted earlier Monday about the news conference, in which he promised to reveal criminal conduct that involved "some of the biggest names in college basketball."
Nike told investigators Avenatti claimed to know of rules violations by an amateur basketball team sponsored by the company, and called authorities when he made his alleged threat.

Prosecutors allege Avenatti and an unnamed co-conspirator demanded $15 million to $25 million, as well as $1.5 million for a client, in exchange for remaining silent.

"Nike will not be extorted or hide information that is relevant to a government investigation," the company said in a statement. "When Nike became aware of this matter, Nike immediately reported it to federal prosecutors. When Mr. Avenatti attempted to extort Nike over this matter, Nike with the assistance of outside counsel at Boies Schiller Flexner, aided the investigation. Nike firmly believes in ethical and fair play, both in business and sports, and will continue to assist the prosecutors."
The company added that it has been cooperating with an investigation into NCAA basketball for more than a year.
Court documents only described the co-conspirator as an attorney licensed in California who represents celebrities and public figures. But the Wall Street Journal, citing two sources, reported it was Mark Geragos, who has made a name for himself representing high profile clients. Shortly after the report, Geragos was dropped as a contributor on CNN, where he frequently appears for legal affairs commentary.
A representative for the Geragos did not immediately respond to a request for comment.
In a separate case in California, Avenatti is accused of wire and bank fraud.
According to the criminal complaint, Avenatti lied about his income to obtain more than $4 million in loans from a Mississippi bank in 2014 by using fake tax returns showing he made more money than he actually did. Prosecutors also allege Avenatti never filed returns for the three years prior to 2014 and owed the IRS $850,000 in back taxes.
Ryan Korner, Special Agent in Charge of IRS-Criminal Investigation, said in a statement on Monday that the complaint in California "shows a pattern of selfish behavior" by someone who "only represents his own self interests."
US Attorney Nick Hanna also said the allegations "paint an ugly picture of lawless conduct and greed."

A representative for Avenatti did not immediately respond to a request for comment.
In a statement on Monday, Daniels expressed disappointment about the charges, but said she wasn't "shocked."
"Knowing what I know now about Michael Avenatti, I am saddened but not shocked by news reports that he has been criminally charged today," Daniels said. "I made the decision more than a month ago to terminate Michael's services after discovering that he had dealt with me extremely dishonestly and there will be more announcements to come."