For much of Mariah Carey's life — and subsequently, moments in her legendary career — she has been powerless.

To think that one of the most accomplished singers in modern history, with scores of No. 1 hits and millions of albums sold, someone who has performed before thousands of adoring fans at sold-out venues across the globe, had virtually no agency for much of her life, is shocking. And yet, her newly released memoir, The Meaning of Mariah Carey, cowritten by Michaela Angela Davis, paints a picture of Carey not often seen or talked about. She's a person who, through sheer determination, talent, and, let's be honest, luck, (though Carey would call it "destiny") survived physical abuse, trauma, and manipulation at the hands of family, friends, and loved ones — over and over again, throughout her life — until finally, she was able to do what no one else could: emancipate herself.
As a card-carrying member of the Lambily, the name Carey's fans have christened themselves, I thought I knew all there was to know about the singer. In my earliest memories of Carey, she is smiling and frolicking in a grassy field with male dancers in tow in the "Dreamlover" video, and later, her infectious exuberance in the "Fantasy" music video, which she directed and featured Ol' Dirty Bastard on the remix. However, it was her 1998 compilation album #1's, which I stole from my mother (and who has never let me forget it!) featuring Carey's then-13 No. 1 hits — she now has 19, more than any other solo artist — and a few other songs, including her duet "When You Believe" featuring Whitney Houston, that made me a fan. I was enchanted by her unique, once-in-a -lifetime voice. As a young child, who knew I was different but did not yet have the language or courage to own the truth of my sexuality, her music felt like a safe space, like home.
"I saw how my voice could make other people feel something good inside, something magical and transformative," Carey writes in her memoir, after a childhood friend told her that "it sounds like there are instruments" in the background when she sang a capella as they walked down a street. "That meant not only was I not unworthy, valid as a person, but I was valuable. Here was something of value I could bring to others — the feeling. It was the feeling I would pursue for a lifetime. It gave me a reason to exist." Over the course of the book, the reader comes to understand how Carey was born into a world that had a hostile attitude toward people who didn't fit into easily recognizable boxes, and, being biracial (her mother was of Irish descent and her father was Black), she was, quite literally, unable to understand her identity at a base level. Her music would be the one thing that helped her find peace, as it did for her millions of fans.
The Meaning of Mariah Carey doesn't reimagine Carey so much as it reveals who she really is beyond the allure of her star persona, and there are many layers. That said, the memoir serves as a corrective of sorts, a way for the star to provide commentary on — and highlight — the stories behind some of her professional and personal moments, while choosing not to acknowledge others. (She still doesn't know J.Lo or Eminem, whom she famously has beefed with, and who aren't mentioned at all.) Then again, this is Carey's world, and now that she is controlling the narrative, she can finally define herself, for herself.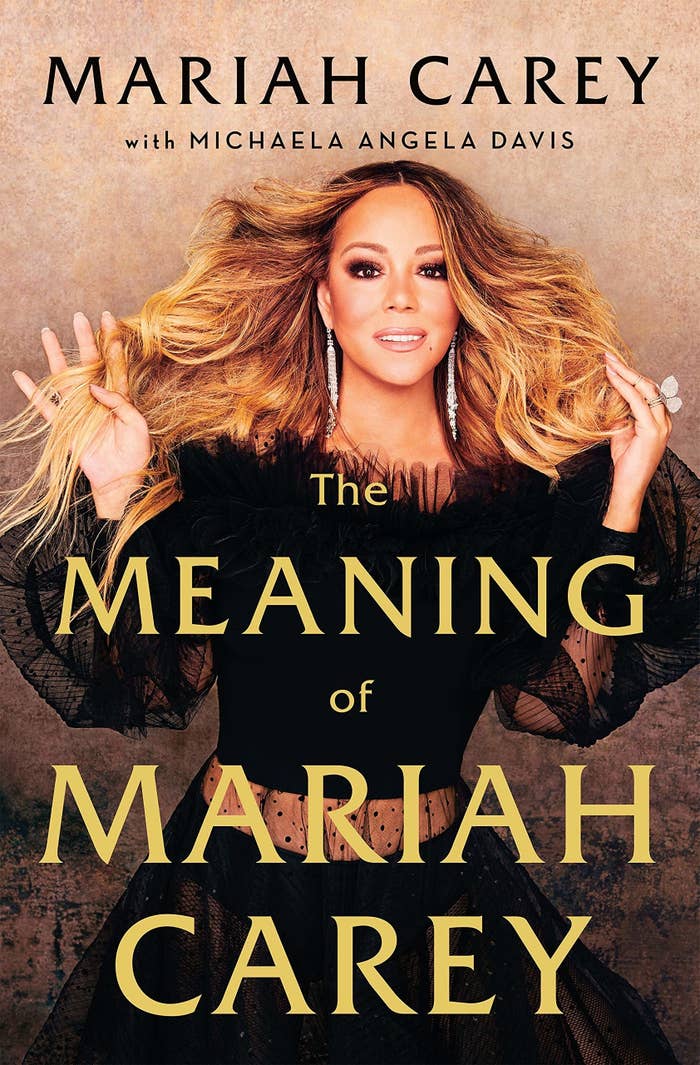 "Being a performer is a production. You build up and put on, you strategize, manipulate, accommodate, and shape-shift," Carey writes in one standout chapter about meeting the demands of the music industry while also feeling suffocated in her marriage to Tommy Mottola, who was more than 20 years her senior and the president of her label, Columbia Records, at the time. "It requires rituals (sometimes in the form of bad habits) to return yourself back to yourself." The passage is reminiscent of something Taylor Swift recently said in the documentary Mrs. Americana, which was released in January. Though the pop stars are separated by at least a generation, as women in the music industry, their perspectives seem like parallels. "Everyone is a shiny new toy for like two years. The female artists have reinvented themselves 20 times more than the male artists," Swift said. "They have to or else you're out of a job. Constantly having to reinvent, constantly finding new facets of yourself that people find to be shiny."
For much of Carey's career, she has been viewed as an over-the-top diva and, at times, cartoonish. She's been framed as someone who was so far removed from the struggles of everyday life that she couldn't possibly know what it's like to have endured true hardship.
Carey's memoir does an excellent job of illuminating how this came to be — it was a form of survival. The singer grew up in a home rife with abuse of all kinds. Her mother was negligent, sometimes leaving her home alone or in sketchy company, she writes; her sister once threw scalding hot water in her face, resulting in painful third-degree burns that caused her to "black out"; and her brother and father often fought each other, filling the home she grew up in with overwhelming tension. ( Her family has yet to publicly respond to these claims).
This is Carey's world, and now that she is controlling the narrative, she can finally define herself, for herself.
This is why she often refers to herself as "eternally 12," a way of simultaneously acknowledging her tragic youth and the childhood she never had. This caused the singer to adapt to tense situations, burying many of her own emotions for the sake of those around her and employing humor as a way to deflect while leaning heavily on songwriting and performing to bring her solace. This pattern continued throughout her life, including her marriage to Mottola, who, as she recounts in the book, was also controlling and abusive. "Captivity and control come in many forms, but the goal is always the same — to break down the captive's will, to kill any notion of self-worth and erase the person's memory of their own soul," she wrote of Mottola's viselike grip on her life.
Interestingly, the memoir fails to touch on several major moments in Carey's career, though some are addressed subtly and shadily. For example, though she doesn't call out Jennifer Lopez explicitly in the memoir, she alludes very clearly to the star, whom she is still definitely not very fond of. During the creation of the Glitter soundtrack, Carey, now divorced from Mottola, says her old label wanted to sabotage her. Upon finding out she sampled "Firecracker" by Yellow Magic Orchestra for the song "Loverboy," "Sony rushed to make a single for another female entertainer on the label (whom I don't know)." As if that dig weren't clear enough, she hammers her disdain for Lopez even further. Later in the book, Carey recounts how exhausted she was during that particular era, a result of being pushed to her limit by Virgin Records. "Loverboy" was reworked with Cameo's "Candy" and "ended up being the best-selling single of 2001 in the United States. I'm real."
In addition to her commitment to not acknowledging Lopez's existence, Carey also makes no mention of Stella Bulochnikov, her former manager. Last year the singer settled a sexual harassment lawsuit brought against Carey by Bulochniko, although Carey denied the charges. Shockingly, there is also no mention of Eminem, whom the star famously parodied and seemed to characterize as an obsessed stalker in her 2009 video "Obsessed," which wasn't the first song purported to be about him. There's also "Clown" on 2002's Charmbracelet album, which features the lyrics, "You should've never intimated we were lovers / When you know very well we never even touched each other." (Though there have been reports of an alleged fling between Carey and Eminem, she has repeatedly denied them.) With his omission from her memoir, it seems she's decided to rewrite history and act as though he doesn't exist at all. That's also the same treatment given to James Packer, the Australian billionaire she was engaged to for a short time before splitting in 2016, reportedly requesting $50 million from him as an "inconvenience fee." The Meaning of Mariah, in a way, serves as a reintroduction of the superstar, and none of these people, it seems, made enough of an impact on her life to be mentioned explicitly, in the most intimate look at her life to date. Carey can do whatever she wants in her book, she seems to say, even create her own reality.
Fortunately, one thing that endures in both Carey's reality and the one everyone else inhabits is her music. Her new album, The Rarities, out today, is a compilation of several unreleased songs, including beloved b-side tracks like "Slipping Away," as well as the original version of "Loverboy," and live performances from the singer's 1996 Daydream World Tour at Japan's Tokyo Dome. The tracks span the length of Carey's career, from the early '90s until 2020.
In recent years, Carey has endured some not-so-great press about her live performances, like the 2016 New Year's Eve Times Square performance where she couldn't sing her song "Emotions,"because of technical difficulties. Carey said she couldn't hear due to problems with her earpiece — her team apparently hadn't done a soundcheck — and commenced awkwardly walking around the stage, attempting to be cheeky to offset the mortifying incident taking place. When she was pilloried by the press in the aftermath and responded on Twitter, saying, "Shit happens … Here's to making more headlines in 2017." Carey addresses the failed performance in her memoir with more candor. "To me, it's if I was a child playing the sandbox and I got sand in my eye, wept theatrically, and caused a scene—then arrived twenty years later at my class reunion, after having gotten a PhD and become a celebrated scholar only to have my classmates ask, 'Oh, but how's your eye?'" she said. It may have been a horror to witness for onlookers, but Carey doesn't seem too concerned — as she emphasizes in her memoir, she has persevered and overcome much more challenging obstacles throughout her career. "All debacles are not created equal, dahhhhling," she writes.
Her memoir reveals the grueling and isolating work that went into becoming a global superstar. Carey was always more than a record-breaking hitmaker, a diva who crashed TRL (which she reveals she did as a way of promoting the "Loverboy" single, as her new label was being slack), and yes, much more than her melismatic, goosebump-inducing voice. The memoir does an excellent job of illustrating that Carey is — gasp — a human being whose humble beginnings will likely resonate with anyone who has ever dreamed about using their talent to rise above their circumstances. ●