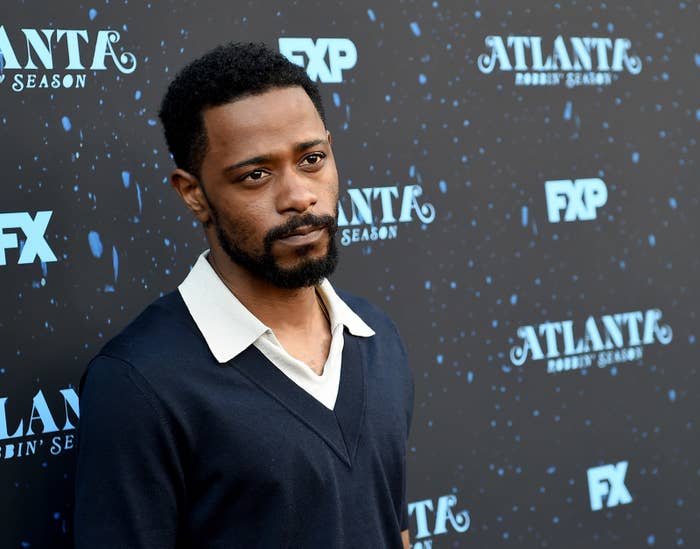 Get Out and Atlanta star Lakeith Stanfield told BuzzFeed News he's come to realize the harm of the anti-gay language he used in a rap performance he posted to Instagram.
"I can [acknowledge the words are hurtful], very much so," the actor told BuzzFeed News in a phone interview on Tuesday afternoon. "I realized the weight and scope of that word ['fag'] and that it can be very hurtful to people."
Earlier, Stanfield had upset some fans by posting (and subsequently deleting) a video of himself rapping the lines, "Boy, you're dressed like trash / You a eight six / Take that choke chain back / That's some gay shit," and "Fag, I don't really want to brag but I'm straight rich."
He later posted a subsequent video to Twitter in which he apologized for offending people and explained that he was performing as a character, whose views he did not share.
"I'm really disheartened by the fact that people are being affected by it," Stanfield told BuzzFeed News, "that people are feeling sad or anger or any of these negative feelings about the things I've done, because that wasn't my intention at all, to hurt people."
Stanfield's star has risen since becoming a regular on FX's Atlanta and appearing in Jordan Peele's horror film Get Out. He's also starring in Sorry to Bother You, directed by Boots Riley, set for release next month.
He told BuzzFeed News he is not anti-gay, citing his role in the 2018 drama Come Sunday, in which he played a gay character named Reggie.
"There's no way I could've gotten in touch with the feelings of that character if I had some sort of hate toward gay people," Stanfield told BuzzFeed News. "I do not whatsoever."
He stressed he was "not a person who hates."

"I'm a person that moves in love, and I'm concerned with everyone being able to tap into their universal freedom," he said. "And that's what I've always been about. That means freedom of expression, freedom to love who you want to love, freedom to be."
Moving forward, the actor says he will be "much more careful and thoughtful" about what he posts to social media, saying, "If I can't provide context, then I won't put it out."