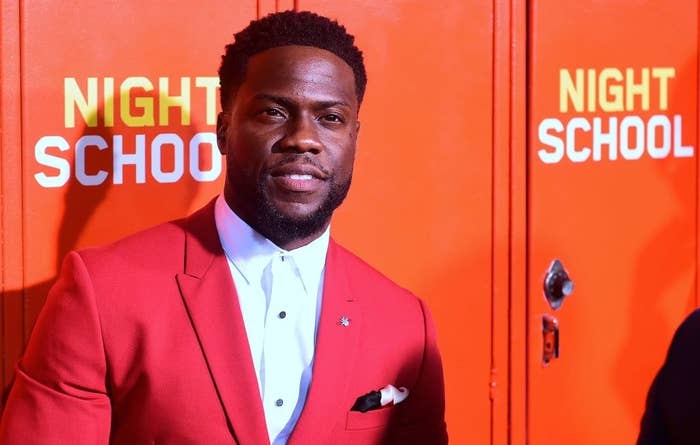 Comedian Kevin Hart is cleansing his social media feed after anti-gay tweets by the performer recently resurfaced following his announcement as the next Oscars host.
"Yo if my son comes home & try's 2 play with my daughters doll house I'm going 2 break it over his head & say n my voice 'stop that's gay,'" read a 2011 tweet that Hart deleted sometime on Wednesday or Thursday.
Benjamin Lee, an editor at the Guardian, was one of the first to point out Hart's old tweets following the Oscars announcement. "I wonder when Kevin Hart is gonna start deleting all his old tweets," Lee tweeted, adding screenshots from some of Hart's since-deleted tweets in which he said someone looked like "a gay bill board for AIDS" and called another person a "FAT FAG."
Lee wrote a piece documenting Hart's history of anti-gay sentiment, detailing the Night School actor's 2010 stand-up bit where he said, "One of my biggest fears is my son growing up and being gay."

Hart maintained that he wasn't anti-gay and had "nothing against gay people," but added that if he could prevent his son from being gay, he would.

"Hiring Hart is an indicative misstep that highlights how homophobia, casual or blatant, is still de-prioritised in comparison with other discriminatory belief systems," Lee wrote.
Representatives for Hart and the Academy did not immediately respond to BuzzFeed News' request for comment.

Although Hart denied being anti-gay in the past, a quick search through his tweets showcases his flagrant use of the word "fag," "homo," and "gay."
There were also tweets were he seemingly mocks gay men, including one tweet from 2009 where the star said, "I just saw the biggest gay guy ever! This nigga looked like hulf hogan with heels on! I can't lie I got scared!!!!!!"
The Oscars have removed celebrities from participating in the ceremony for similar transgressions, like when director Brett Ratner was forced out as producer of the 84th Academy Awards in 2011 after using the word "fags."

In a response to the Hart controversy, actor Billy Eichner said on Twitter, "What bothers me about these is you can tell its not just a joke-there's real truth, anger & fear behind these."

Eichner added that he hopes Hart has "evolved since 2011."

Rich Ferraro, spokesperson for GLAAD, the LGBT media monitoring group, told BuzzFeed News via email, "GLAAD reached out to ABC, The Academy and Kevin Hart's management to discuss his rhetoric and record as well as opportunities for positive LGBTQ inclusion on the Oscars stage. They have not yet responded."
Writer Jonah Weiner profiled Hart for Rolling Stone in 2015 and shared some of the transcribed notes from that interview on Twitter on Wednesday.

"I'd never apologize for what was never intended to be disrespectful — I'd never allow the public to win for something I know wasn't malicious," Hart told Weiner.

"I think people take things so serious — you send out a tweet, and I'm not apologizing for that," he said.
In the piece published in Rolling Stone, Hart also defended his joke about having a gay son.
"It's about my fear. I'm thinking about what I did as a dad, did I do something wrong, and if I did, what was it?" he said. "Not that I'm not gonna love my son or think about him any differently."
Hart also told Rolling Stone he wouldn't tell such a joke today because people are more "sensitive."
"I think we love to make big deals out of things that aren't necessarily big deals, because we can. These things become public spectacles," he said. "So why set yourself up for failure?"