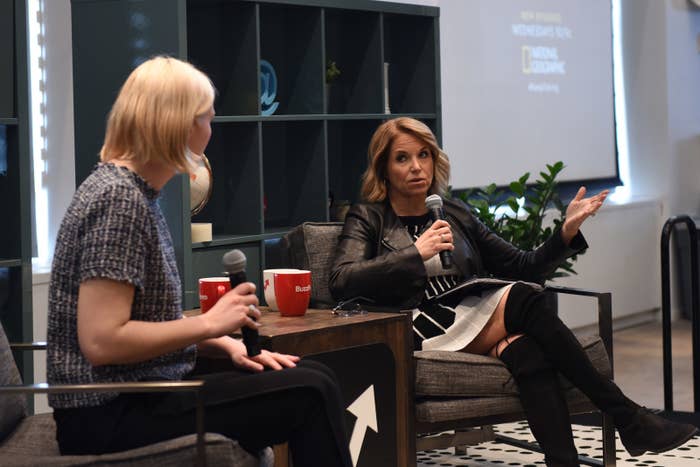 Katie Couric says she's still "separating truth from fiction" in the allegations of sexual harassment against her former Today show cohost Matt Lauer.
Couric said Tuesday she still has not been able to reconcile the man she knew with the claims from other women who say Lauer acted inappropriately toward them at NBC.
"I don't think I have reconciled it, honestly, because it's very upsetting and disappointing. I also really don't know the details of these incidents still," Couric said on Tuesday. "And I think a lot of people who worked on the show when I was there, and when Matt and I did the Today show, don't really understand the extent of these incidents or what exactly happened and, you know, separating truth from fiction."
Couric made the comments at BuzzFeed's New York City headquarters during a Q&A session to promote her new National Geographic show America Inside Out.
Lauer was swiftly fired from NBC in November following an HR complaint made by one woman staffer.
"We were also presented with reason to believe this may not have been an isolated incident," said NBC News chair Andrew Lack.
In subsequent Variety and New York Times reports, several women NBC staffers made allegations about the longtime anchor. In one instance, a woman accused Lauer of summoning her to his office, which reportedly included a button under his desk that locked the door, and had sex with her. The same woman said she felt helpless because she didn't want to lose her job. Other women said Lauer exposed himself or gave out a sex toy as a gift to a colleague.
"Some of what is being said about me is untrue or mischaracterized," Lauer said after his firing, "but there is enough truth in these stories to make me feel embarrassed and ashamed."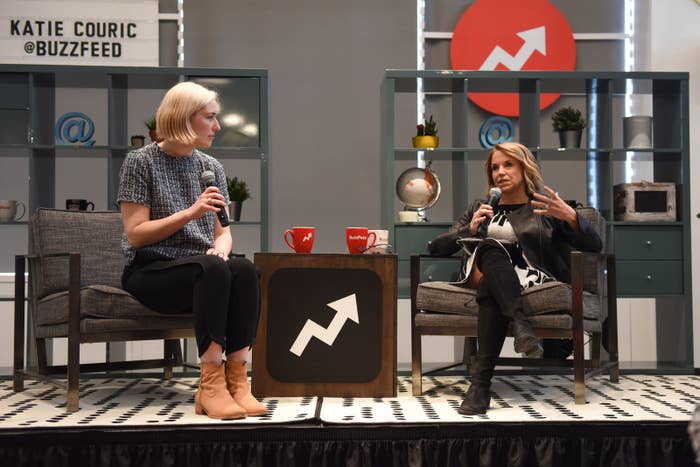 Couric, who worked with Lauer for 15 years, previously told People magazine she had "no idea this was going on during my tenure or after [she] left."
Asked about Lauer at BuzzFeed on Tuesday, she said it can be "very damaging" when a person in power exploits a power dynamic to put another person in an "uncomfortable situation."

"I think the whole notion that I've grappled with, for me is, what does consensual mean and can a relationship truly be consensual when there is this imbalance of power?" Couric said.
"So I'm still sort of sorting it out honestly in my mind and I think these ongoing conversations with other women of all ages — and men too, I think men need to be included in the conversation — are really helpful," Couric said.
When asked what workplaces could do to combat an unhealthy culture that fosters sexual misconduct, Couric replied, "I think we probably need to think about how human resources departments work and whether or not they're established to protect executives from liability or protect employees from predatory behavior by executives or people in positions of power."