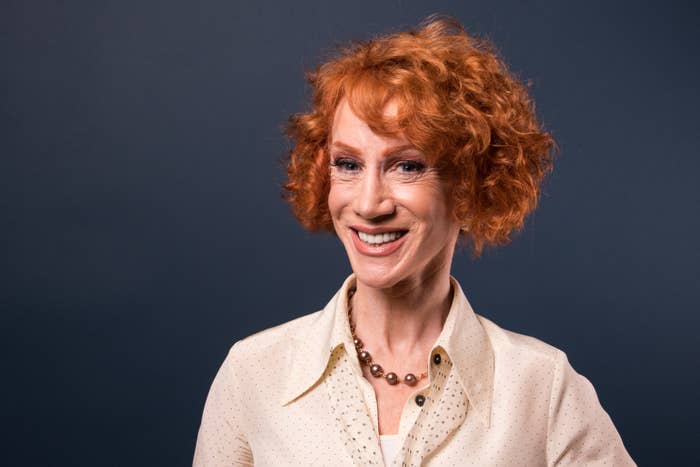 Kathy Griffin, who said she was "blacklisted" from Hollywood after a photo of her holding the decapitated mannequin head of President Trump emerged nearly two years ago, says she still gets death threats about the controversial image.
Speaking in an episode of BuzzFeed News' Profile set to air Sunday morning on Facebook Watch, Griffin said she was in London last month when a cab driver threatened her for mocking Trump.

"The driver that took me from the airport to the hotel recognized me from the photo and, you know, I thought he wanted an autograph," Griffin told host Ashley Ford, "and he said that if we were in Morocco, he would cut my tongue out."
"I'm confronted on the street almost on a daily basis," Griffin continued. "I'm getting more and more people that are nice and come up and say 'Keep fighting the fight' and stuff. But you know I'm the darling of Fox News."
Griffin said she believes the hatred against her has been weaponized by the NRA and the Republican Party, which have both featured her in their videos.
At the time of the May 2017 photo, taken by artist Tyler Shields, Griffin soon apologized for participating in the photo shoot, calling it "too disturbing" and saying that she had "crossed the line."
But she later deleted that apology from Twitter and has since reclaimed the controversy as part of her latest comedy special, Kathy Griffin: A Hell of a Story, which she said was "the first yes" she's gotten for a project since the controversy. A promotional video for her special shows the comedian introducing herself to the crowd by saying, "I'm Kathy Griffin and I never learned my lesson!"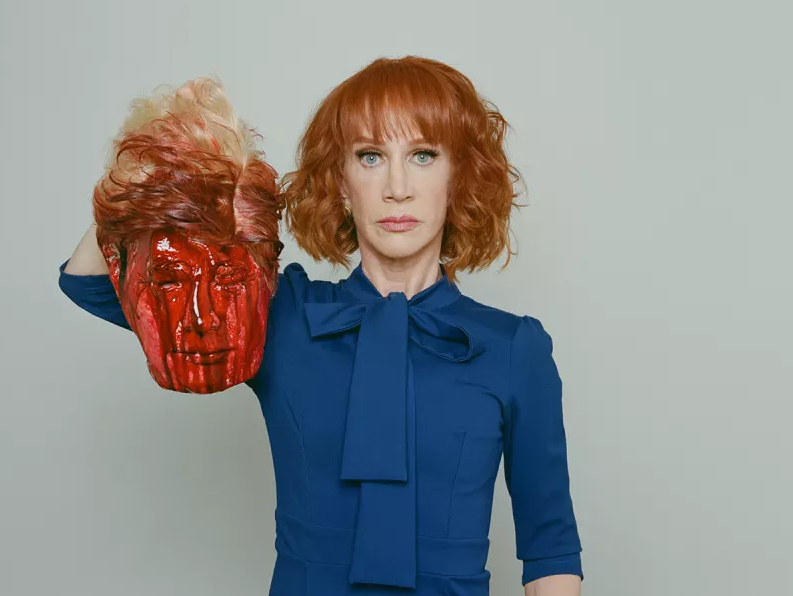 In the comedy special, Griffin also reads one of the death threats she has received to the audience. "[The death threats are] so crazy that you reached this tipping point where you just sort of have to laugh," Griffin told Ford.
Griffin, a comedy veteran, said she was investigated by two federal agencies and had to be interrogated under oath amid the controversy.
"A lot of people think, oh, I got a phone call from the Secret Service or something. No, this was a well-organized campaign," Griffin said. "I call it the Trump wood chipper, and it went wide really fast."
Griffin said that the scandal changed the kind of comedy she delivers and made her "a different artist overnight."
"I was one kind of comic, like I said, talking about the housewives, jokes about my mom," she said, "and then the Trump photo happened and that's what people want to hear about."
Through it all, Griffin says she never thought about quitting, because she was inspired to keep fighting, citing her late friend Joan Rivers.
"I really watched her go through several phases and ups and downs." Griffin said. "And I've had some ups and downs; I've never had the feds coming after me."