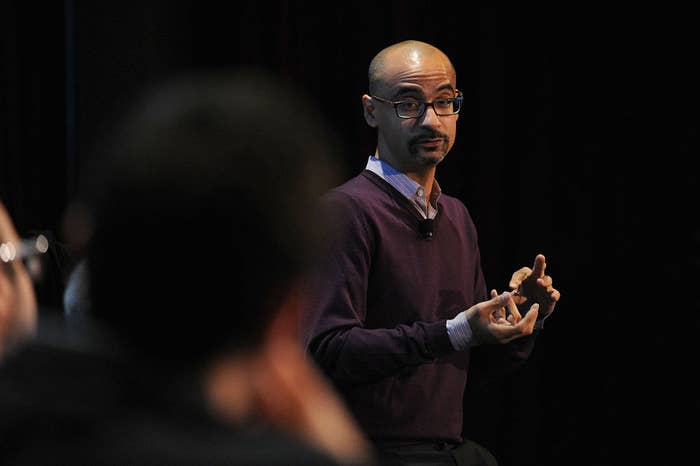 In an interview published Saturday, award-winning author Junot Díaz spoke for the first time about the allegations of sexual misconduct levied against him earlier this year.
"I was shocked," Díaz told the Boston Globe. "I was, like, 'Yo, this doesn't sound like anything that's in my life, anything that's me.'"
In May, Díaz was accused by writer Zinzi Clemmons of attempting to forcibly kiss her during a literary workshop years prior. Clemmons confronted Díaz about the alleged incident during the "Why We Read" panel in Australia at the Sydney Writers' Festival.
Clemmons later posted about the accusation on Twitter, which prompted other women to speak about their own alleged experiences with Díaz. Carmen Maria Machado said that Díaz bullied her after she asked about the male protagonist's behavior toward women in his book, This Is How You Lose Her. Author Monica Byrne also said that Díaz was verbally abusive to her at a dinner party in 2014.
Though Díaz has continued to deny the allegations, which he said made him feel "distressed," "confused," and "panicked," he said that he wishes he could rewrite the statement provided to the New York Times after the news began to spread. Díaz said that the statement he gave to the Times was "the worst thing" he's put his name to.

"Boy, I wish I'd had the presence of mind to rewrite the damn thing," he said.
Without question, the author maintains his innocence. "I did not kiss anyone. I did not forcibly kiss Zinzi Clemmons. I did not kiss Zinzi Clemmons," Díaz said. "It didn't happen."
According to the Globe, Clemmons stands by her words, though the newspaper said that she would not characterize the kiss, declining to comment on whether or not it was on the mouth.
Díaz also made the distinction that there's a difference between "being a bad boyfriend and having a lot of regret, and predatory behavior."
Before being one of the several men who've seen their world turned upside down in light of #MeToo, Díaz wrote a piece for the New Yorker in April that detailed his own abuse when he was a young child and revealed that he was raped.

The author explained how the abuse impacted his life for years, often making it difficult for him to sustain intimate relationships with women, but some saw his admission as a way of getting ahead of the imminent allegations of sexual misconduct and bullying.
Díaz, who won a Pulitzer Prize in 2008 for his novel The Brief Wondrous Life of Oscar Wao is at the center of an ongoing independent review of the allegations that have cropped up.

Similarly, MIT, where Díaz taught creative writing since the early 2000s, and the Boston Review, where he has been a longtime fiction editor, both conducted investigations into the accusations and found no evidence of wrongdoing.
CORRECTION
Monica Byrne's name was misspelled in an earlier version of this story.
CORRECTION
An earlier version of this post misstated the name of Junot Díaz's 2007 novel, The Brief Wondrous Life of Oscar Wao.