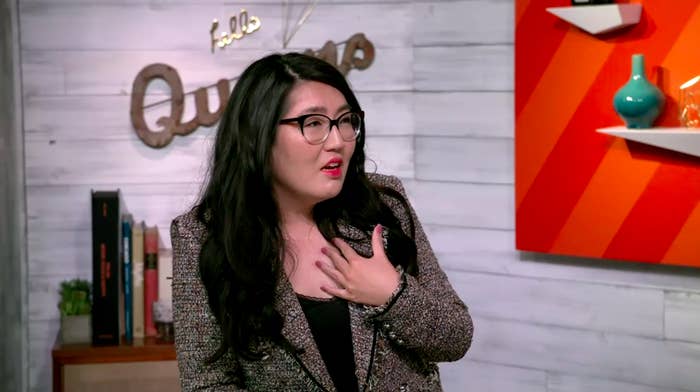 Jenny Han, author of the novel To All the Boys I've Loved Before, said she had "tears of joy" when she saw the hordes of costumes people wore over ~Halloweekend~ that paid homage to the young Asian American teenager at the center of her book.
On BuzzFeed News' AM to DM Monday, Han spoke about how a Twitter thread of the fabulous outfits made her feel after what was "such a dark weekend."
People began tagging Han over the weekend, while others opted to use the film's hashtag, which prompted the writer to share some of the ones she came across.
"I started sharing them because it was bringing me a little bit of sunlight," Han said.
The film, which stars Lana Condor as Lara Jean, has become a sensation (hello, Peter Kavinsky, aka Noah Centineo) since being released in late August. Some might argue that it revitalized the romantic comedy.
Part of why the costumes made such an impact on Han is best explained with a quote from Lara in the novel: "There are very limited options for Asian girls on Halloween. Like one year I went as Velma from Scooby-Doo, but people just asked me if I was a manga character."
Han said she loved seeing "the joy" on the many faces dressed as Lara on her timeline and added that "as an Asian American woman, I think there's a sense of just, like, belonging to something when I saw those photos — belonging to something but also knowing that something belongs to you."
When asked how the costumes made Han feel about the desire for more diversity in Hollywood, she said, "I think that it just made me think that this wasn't a character that was available to people to dress up as until she existed.
"And to see so many women sort of take that on and, like, embrace that and really proudly wear it was just very affirming," Han said.
You can watch the complete interview below: