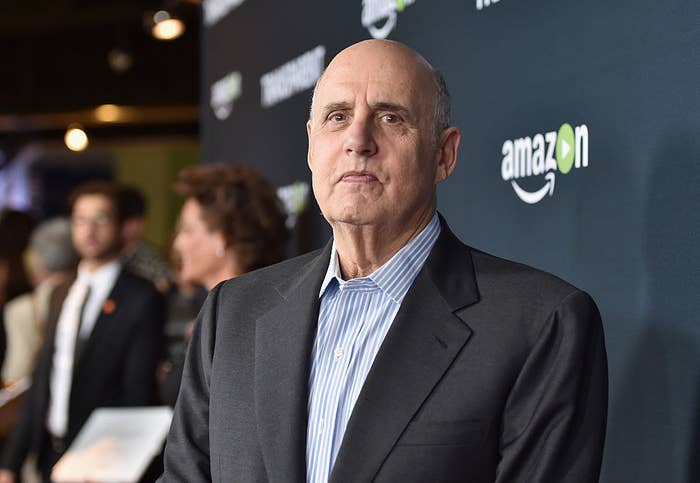 Jeffrey Tambor admitted in a report Monday that he was "difficult" and "mean" on the set of Transparent, but continued to deny the allegations of sexual harassment that got him ousted from the critically acclaimed show.
"I drove myself and my castmates crazy," Tambor told the Hollywood Reporter, adding that he was very passionate about the work, which would sometimes result in him treating people on set poorly.

"Lines got blurred. I was difficult. I was mean," Tambor said, while continuing to deny that he sexually harassed anyone.
In October 2017, just a few weeks after Hollywood's reckoning with sexual misconduct started after the Harvey Weinstein reports in the New York Times and New Yorker, Van Barnes said she was sexually harassed by an unnamed actor suspected to be Tambor.
Barnes, who identifies as trans and is Tambor's former assistant, wrote in a post that the unidentified man would give her "butt pats," was "subjected to listening to his porno" while she waited in a nearby room, and was sexually propositioned with questions about "taking care of him sexually."
Barnes also accused Tambor of watching her sleep naked — a claim Tambor said was made-up — on Megyn Kelly Today in early March.
She added that she told a producer about the alleged behavior, but no action was taken.
In addition to Barnes, Trace Lysette, who worked on Transparent with Tambor as the character Shea, alleged that the actor would make unsolicited advances and sometimes gave "kisses on the forehead, which was awkward."
Lysette, who is also trans, said she chalked this up to the actor possibly seeing her as a "daughter figure or something," but things changed when Tambor allegedly said, "My god, Trace, I want to attack you sexually," while the two were shooting a breakfast scene.
During the same setting, Lysette said Tambor also put his feet on top of hers and began thrusting on her hips.

"They were discreet and insidious and creepy," she said. "I felt his genitals on me. And I pushed him off."
In the Hollywood Reporter, Tambor was reticent when asked about specific details of the allegations.
"I don't want to characterize them," he said.
Tambor called Barnes a "former disgruntled assistant" in an initial statement about the ordeal, calling her claim a "baseless allegation."
"I dispute her account," Tambor told the paper. "I did raise my voice at times, I was moody at times, there were times when I was tactless. But as for the other stuff, absolutely not."
Tambor added that he hasn't spoken with Transparent creator Jill Soloway since February, when the showrunner sent him a text message notifying him that he would not be returning to the show. The decision was made after an internal investigation into the claims of harassment was conducted by Amazon Studios.
The actor made it known soon after that he was "profoundly disappointed" and called the outcome of the investigation "deeply flawed and biased."
"It's not a simple case of did he do it or didn't he do it," Soloway told the Hollywood Reporter. "Nobody said he was a predator — they said he sexually harassed people. He made enemies, and I don't think he realized he was making enemies. You have to be very, very careful if you're a person in power, and treat people very appropriately."
Although Tambor will no longer appear in Transparent, he will be featured in Netflix's Arrested Development, when its fifth season debuts on the streaming service on May 29.