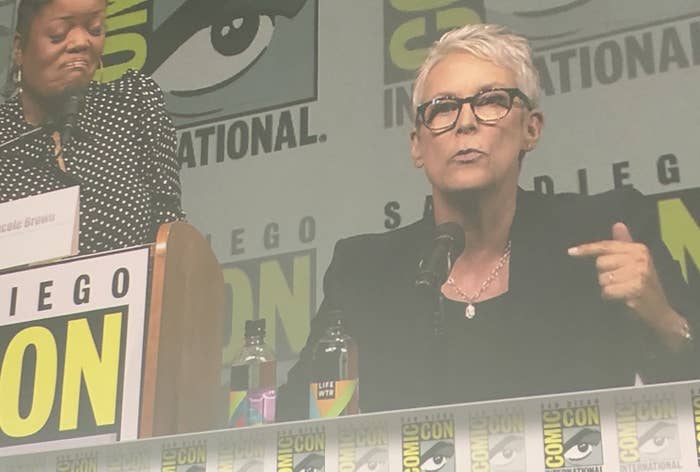 Jamie Lee Curtis, star of the upcoming Halloween movie, said she chose to return to the iconic horror franchise because she was inspired amid the #MeToo movement by the idea of a woman taking back "the narrative" of her life.

Speaking to the crowd at San Diego Comic-Con on Friday, Curtis reflected upon how her character, Laurie Strode, had been long tormented by a "random act of violence" when she was just 17. (The new film takes place 40 years after the original Halloween film and ignores the sequels completely.)
"This is a girl who, 40 years later, never had any mental health services. … She was raised in the Midwest. I'm sure they sent her back to school two days later," Curtis said. "And yet she has carried the trauma and PTSD of someone who was attacked randomly."

The actor said that returning to the role appealed to her because "there comes a point where you say, I am not my trauma — the narrative of my life is that I am not a victim."
"And that, weirdly enough, seems to be a bit of a thing in the world," Curtis said, highlighting a moment from Sunday's ESPY awards, where more than 100 women abused by disgraced USA Gymnastics doctor Larry Nassar took the stage to accept the Arthur Ashe Courage Award.
"When all of those women stood on stage, while that MF ... rots in prison, those women stood there and said, 'You do not control our narrative anymore.'"

As for the Laurie Strode fans will see in this new movie, Curtis said her character has been profoundly changed by her PTSD.
"Trauma is real, and the effects of PTSD and trauma on human beings is profound," she said. "And I think she did the thing that most people do: They drink too much, they bang into people, they try to do relationships.
"She lives in complete isolation, basically, waiting for him [Michael Myers] to come back because she knows he's going to."