Ja Rule reignited his longstanding beef with fellow rapper 50 Cent on Friday morning, after sending a deluge of tweets disparaging his former rival.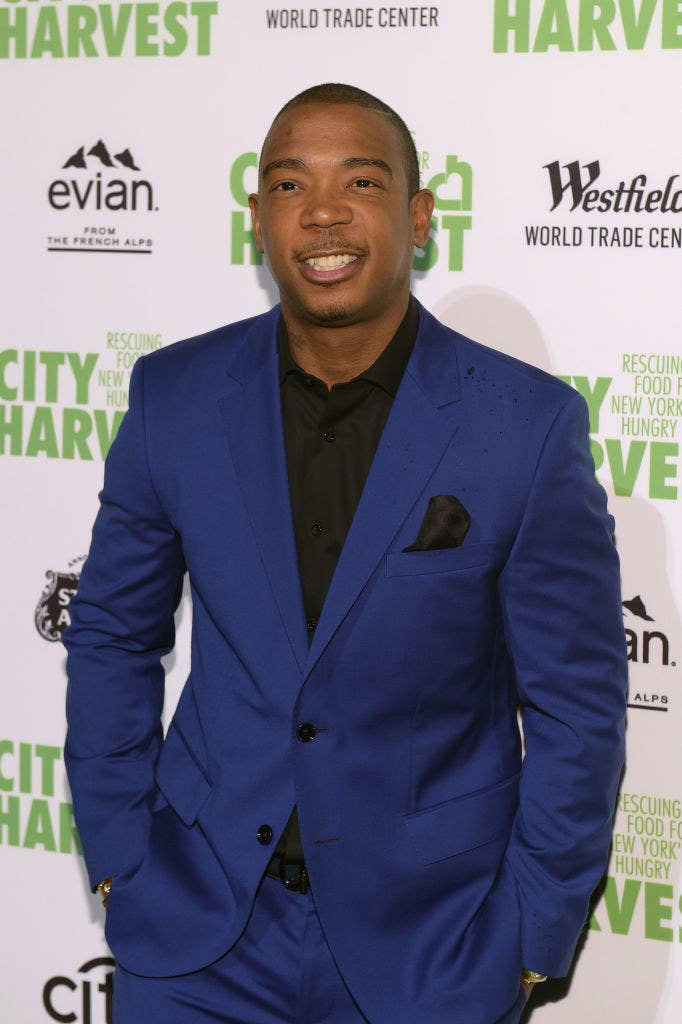 The drama between the rappers began in the early '00s, though it's been contested by both parties as to what the root of the problem was.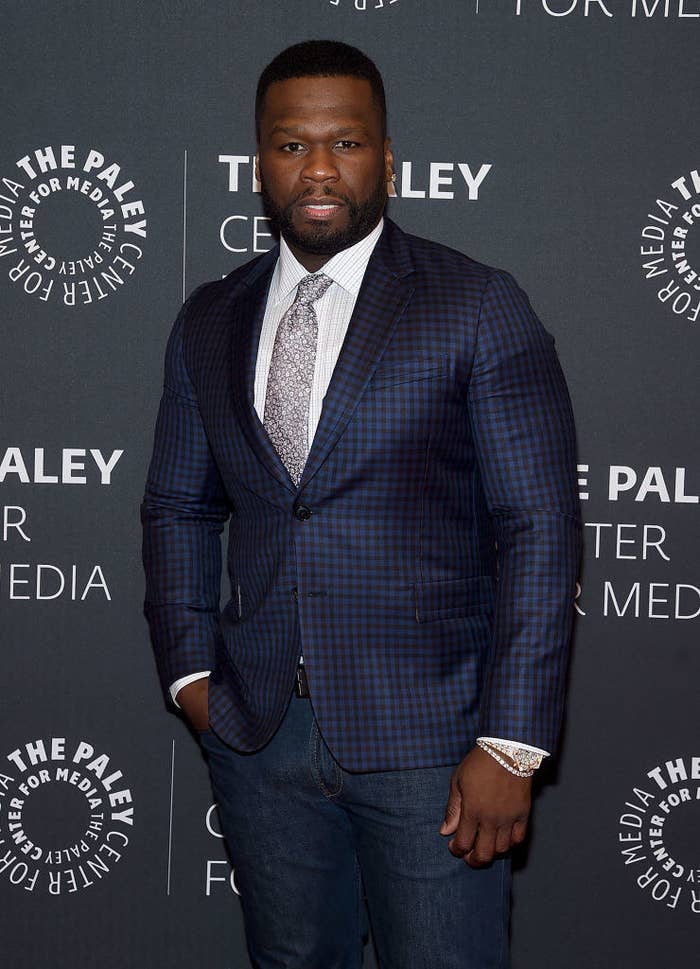 According to Rolling Stone, 50 Cent, whose given name is Curtis Jackson, says that Ja Rule, aka Jeffrey Atkins, incorrectly accused him of stealing his jewelry and brought it to the attention of Irv Gotti, the founder of Murder Inc. Records.
Ja Rule contends that the drama started between the two men during a video shoot in their hometown of Jamaica, Queens. 50 allegedly felt disrespected by the way Ja Rule greeted him on the shoot, which led to the former releasing several diss records aimed at Ja Rule.
Despite the lingering drama, it was still somewhat unexpected when Ja Rule on Friday tweeted, "Fun hip hop FACT: @50cent is PUSSY..."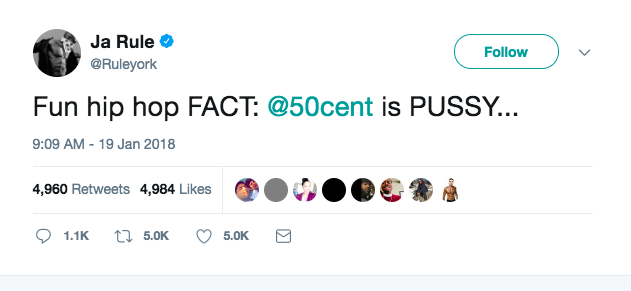 As Ja Rule continued tweeting, a Twitter user asked, "You sure you want to do this? You remember what happened last time?" To that, Ja Rule replied, "Yeah I do @50cent got beat up, stabbed and shot what do you remember???"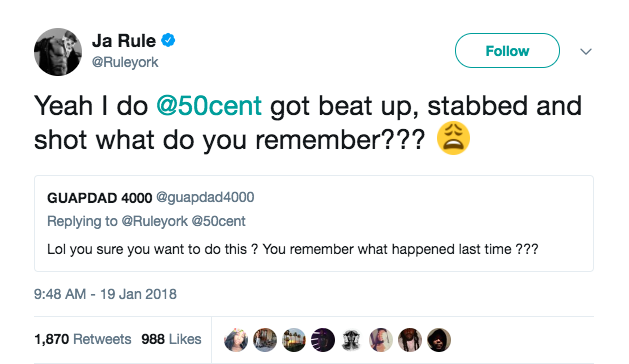 Here, Ja Rule is presumably addressing the scuffle that broke out in an Atlanta hotel in 2000 between the rappers.
In his book Unruly: The Highs and Lows of Becoming a Man, Ja Rule recalls an incident involving himself and members of his team.
"[50] pulls up. We get to talking, and the talk got heated because I got mad, and I start screaming at him and telling him that he was a bitch and this, that, and the third," Ja Rule said in an interview with Hot 97 in 2014. "And so he swings at me. He caught me a little bit, but I dipped it. And then hit him with the bat."
Ja Rule said this resulted in 50 taking out a restraining order on him.
Next, Ja Rule told actor O'Shea Jackson Jr. (Straight Outta Compton, Ingrid Goes West) to "stay sucker free my brother."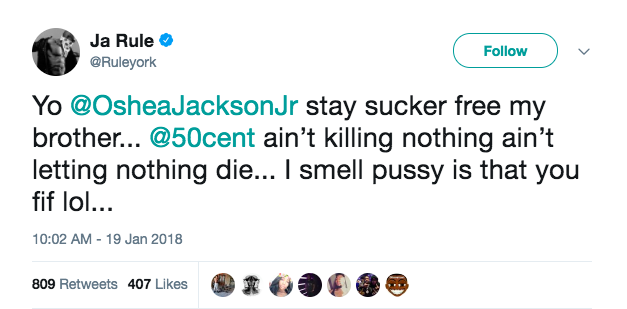 From there, Ja Rule continued to fan the flames, calling 50 a "young paddawan" [sic] and saying "you owe me your life boy."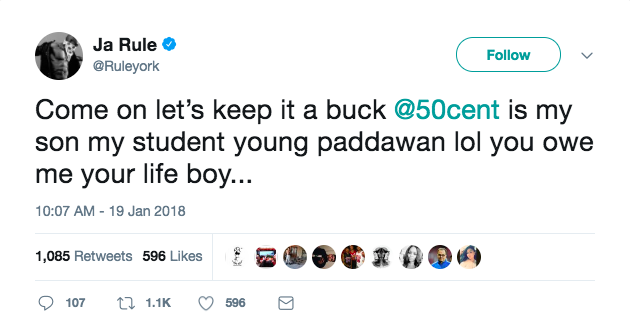 "I own your soul," the rapper wrote.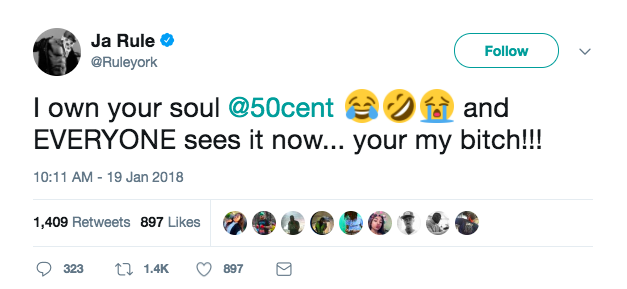 In the midst of Ja Rule's tweetstorm, 50 posted what many presume to be a shady Instagram. "When the checks stop and you go back to the hood, and everybody knows your broke," the caption reads. "It's not my fault."
Ja Rule was sentenced to a two-year stint in prison on charges related to gun possession and tax evasion in 2011, which took a major hit to his already faltering career.
BuzzFeed News has reached out to reps for 50 and Ja Rule on Friday about this latest flare-up.
But Ja Rule's tweets didn't stop. He started to come for 50's art, questioning the quality of his work.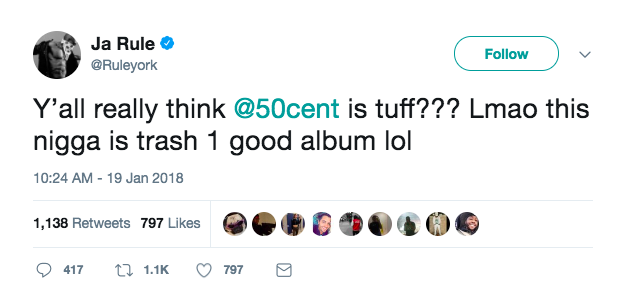 The internet was very much here for the debacle.
With many coming out of the woodwork to see just how far Ja Rule would go.
Most folks were just wondering what prompted Ja Rule to go off.
At it stands, Ja Rule is standing by his words.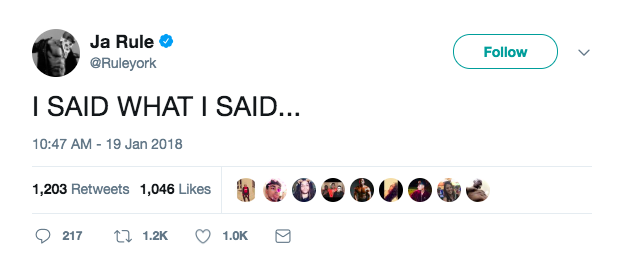 And so for now, the neverending drama continues... 👀
Amid the renewed interest in the beef sparked by the rapper's early-morning tirade, Ja Rule sent another tweet, saying people were way too "invested in this corny 100 year old beef."