Hillary Clinton Appeared On The Revival Of "Murphy Brown" And Threw Shade At Trump
"Emails? I do have some experience with emails."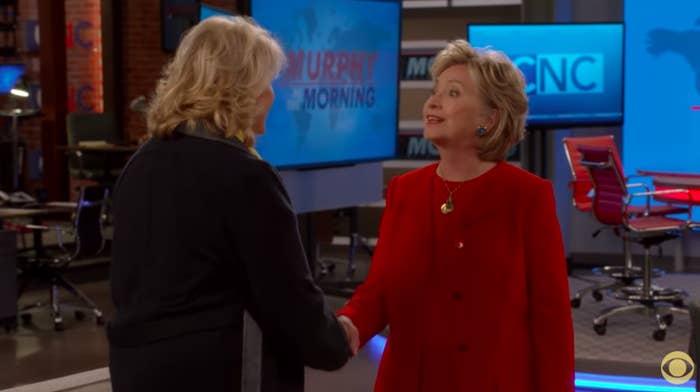 Thursday's premiere of CBS's Murphy Brown revival not only reintroduced Americans to the familiar face of actor Candice Bergen as iconic news anchor Murphy Brown — it also welcomed a familiar political face for a brief cameo: Hillary Clinton.
The 2016 Democratic presidential nominee and former secretary of state appeared in a surprise role to interview as Murphy's secretary, and there were more than a few jokes that alluded to real-world topics.
"I also assume you've had previous secretarial experience," Bergen's character said at one point during the interview.
"Absolutely. For four years I was a secretary...I...," said Clinton's character, who spells her first name with one "L."
"I was the secretary of a very large organization."
So coy, Hilary with one "L."
Naturally, those pesky emails came up too.
"And you have all the requisite skills, computer, email?" Murphy asks.
"Emails," Hilary says flatly. "I do have some experience with emails."
There was another moment that was particularly 👀, because it seems like Clinton took a dig at President Donald Trump.
Before Clinton departed, she gave Murphy her card, which read, "Hilary@youcouldahadme.com."
The joke hit particularly hard considering the show premiered on the same night as President Trump's Supreme Court nominee, Brett Kavanaugh, testified before the Senate Judiciary Committee along with a woman who accused him of sexual assault, Christine Blasey Ford.
Online, Clinton's appearance on the show's premiere received a warm welcome.
"Best cameo ever," one enthusiastic viewer said.
"Popular vote winner!" another added. "Night made."
Other fans addressed the naysayers who took issue with Murphy Brown injecting politics into the show.
"It's almost like they actually didn't watch the original run of the show," a fan said.
Others commented on how well-timed the premiere was.
"How timely and appropriate for her to return after 20 years too long, today," another viewer said.