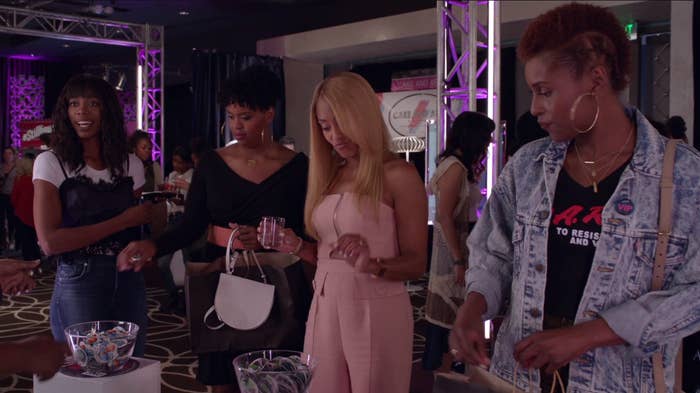 On Sunday night's episode of Insecure, Issa (Issa Rae), Molly (Yvonne Orji), Tiffany (Amanda Seales), and Kelli (Natasha Rothwell) attended a sex convention, which provided the perfect setting to discuss oral sex — blow jobs specifically. It's a topic the show has wanted to highlight for some time, according to Regina Hicks and Ben Cory Jones, two writers on the most recent episode, aptly and hilariously titled "Hella Blows."

Hicks told BuzzFeed News that the subject had come up before in the Insecure writers room, where there were varying perspectives on the matter. "Every time it comes up, people have very intense reactions to it, either negative or positive. So we kinda wanted to show a sampling of what we hear, even in the writers room, and put it on the screen because everyone doesn't feel the same way about this, so we're just trying to show a cross section of how people feel," Hicks said.
Jones agreed with Hicks and discussed how "heated" the writers room would become whenever the topic cropped up, especially when seven of the black women writers (including writing assistants who contribute to story ideas) all had wildly different thoughts on the subject. "One of the things we like about our show is that we want to present things that people can have a various array of opinions about. Like, we typically stay away from topics that everyone kind of agrees with. We want to do things that will challenge people and get people talking," Jones said.
According to the writers, Issa and her crew are representative of the diverse views people — especially black women — hold when it comes to performing fellatio. "Our show is not trying to be everything for everybody, and I think what I love about the scene between the four girls is they were really specific about how they feel about it," Jones said.
In the scene in which the girls are at the convention, Issa admitted that she's not too fond of going down on guys if she's not in a relationship because she's not great at it. Molly discloses that she does it, but only if her partner has gone down on her first. Kelli had a bad experience once while pleasing someone with poor hygiene and has not done it since. And Tiffany is all about it, even arguing that it's why she, unlike her friends, is married.
Tiffany also conveys that giving head is something that white women do — as opposed to black women — and performing the act makes a woman more marriageable. "I just don't understand black women and their hang-ups about oral sex," she says after her three friends admitted their reservations about giving blow jobs. "Girl, shut yo light-skinned ass up," Molly replies, while Issa cackles. Later, Tiffany flashes her ring in Issa's face and says, "Why do you think black men are out here chasing after white women?" She asks the question after Issa calls her brainwashed because she attended an all-white girls school, suggesting that's the reason Tiffany was more apt to give blow jobs. This conversation became a point of contention for people who thought it was stereotypical and not representative of millennials' — especially young black women's — sex lives.
When asked if the "sexplosion" scene was supposed to suggest that black women would be married if they were to be more adventurous in the bedroom, both Hicks and Jones said the scene was actually used to underline some cultural differences — right or wrong — that occur when oral sex comes up in conversation. In the scene, Issa discusses not wanting to be labeled a certain way for going down on a guy. "I think that word ho is so readily available for black women in a way that I think is not available for many other women," Jones said. Hicks added that Tiffany is not "amen-ing" the insinuation that she performs fellatio because she went to a really white school, because she brushes it aside and tells the ladies about the power she feels over her man while doing it.
Some still believe "Hella Blows" missed the mark. Though Insecure is loved for its depiction of complex, nuanced black characters, this episode was described by critics as "regressive," with a plot that seemed right out of the '90s.

But the writers of the episode stood their ground. "I would say that it's not dated if that's the conversation that we hear, even in the writers room, because everybody doesn't feel the same way," Hicks told BuzzFeed News. "I know people are in their feelings about it, but that just may be how you feel about it."
She added, "This is a real thing we feel with black women, that everybody feels some sort of way. The conversation you have that felt more 2017 is 'Oh, everybody's doing it,' but again, we don't feel that's necessarily true."

Further elaborating on why the topic isn't passé, Jones noted that while discussions about blow jobs have happened before in pop culture — such as on Sex and the City — it hasn't been viewed from the perspective of black women. "Our show is showing sexual intimacy from a black female perspective, and I think that's something that's very new because black women haven't had the opportunity to be so nuanced. Sex and the City had these conversations years ago, but it was from white women."
Jones said the show's writers aren't in the business of trying to tell people what to think or how they should feel about blow jobs; rather, they want to stay true to the women of Insecure. "We're also not trying to insinuate that there's weight attached to black women doing blow jobs. What we're trying to present is just based off who we've created these characters to be. This is what we feel like their response would be. We want everybody else to take that away." The writers are deeply familiar with these characters, Jones added, and do a good job of making sure they come across as specific people, with many layers.
Later in the episode, when Issa is hooking up with Daniel — her friend and one of the guys in her current "hoetation" of hookups — she decides to practice the blow job skills she learned at the "sexplosion" event she and her friends had attended earlier. The interaction was going well until everything literally came to a head and Daniel ejaculated on Issa's face. Issa immediately got up, briefly argued with Daniel, and bolted out of his apartment, seemingly out of embarrassment.

This led to a lot of internet banter:
The "visceral reaction," Issa had demonstrated the ways in which one begins "doing things outside of yourself because you're dealing with a heartbreak," Jones said.
"She feels it's very disrespectful," Hicks said, when asked why Issa had such a strong response to Daniel's ejaculation. In this moment, we see Issa grappling with assumptions of how her "ho phase" would go, she added. "Sometimes the ho phase may not be for everyone, but I think she had expectations about what the ho phase was going to be, and last night it was just blow after blow," Hicks said.
However, some viewed Issa's reaction as an example of how discontent she was with her sex life in general:

Though we don't know if this spells the end for Issa and Daniel, the main players on the show ended the episode with different perspectives than they had at the beginning. "Everyone's self-awareness took a blow," Hicks said. "Everyone left being a little bit more self-aware, from Lawrence to Molly to Issa."