On Saturday at San Diego Comic-Con, fans were treated to new footage from the upcoming Black Panther film, and the scene — which was teased in the trailer — was nothing short of incredible.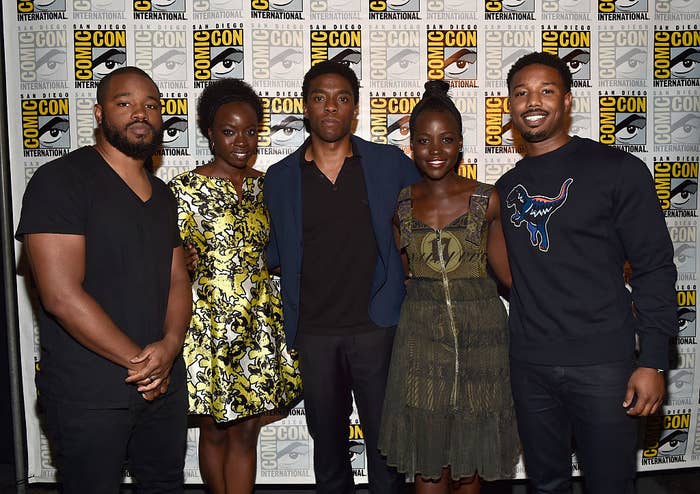 Since the clip hasn't been posted online, here's a detailed account of everything that happened in the thrilling scene.
The scene is set in a fancy casino, a dimly lit establishment with people playing pool and blackjack. T'Challa (Chadwick Boseman) walks through a doorway accompanied by Nakia (Lupita Nyong'o) and Okoye (Danai Gurira), two members of the Dora Milaje.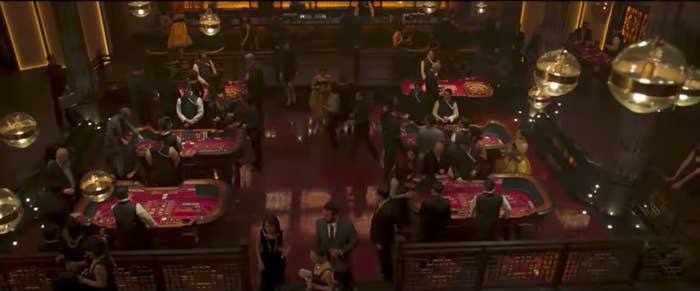 The three are overlooking a balcony, inconspicuously scoping out the casino. Two men enter the building — Ulysses Klaue (Andy Serkis) and Everett Ross (Martin Freeman) — who just so happen to be the folks our three heroes are keeping a watchful eye on.
Everett is there to do some sort of deal with Ulysses. The transaction has Everett trading his suitcase filled with diamonds for a huge chunk of vibranium from Ulysses, which he uncomfortably pulls from inside the fly of his pants using his prosthetic arm.
By this point, Okoye has become irritated and plans to do something, ignoring T'Challa's urging to let the situation play out a bit more. Okoye goes after one of the henchmen observing the deal between Ulysses and Everett, and then all hell breaks loose.
Okoye shows off her expert spear-wielding skills (she even throws a man over the balcony at one point), Nakia let's it be known that she definitely knows her way around a gun, and T'Challa kicks ass like we've never seen before. It's glorious.
The scene comes to a head when T'Challa is preparing to attack Ulysses, but the villain has one more trick up his sleeve: his prosthetic arm, which turns into a weapon. T'Challa does his best to shield himself from the blast with the nearest piece of furniture.
After the clip was shown, it transitioned into a series of shots, two of the most notable ones being Ramonda, the Queen Mother of Wakanda (Angela Bassett), looking regal as ever, and an intense battle scene with the film's main villain, Killmonger (Michael B. Jordan).
One thing's for sure: February 2018 cannot get here fast enough.
CORRECTION
Danai Gurira's name was misspelled in a previous version of this post.