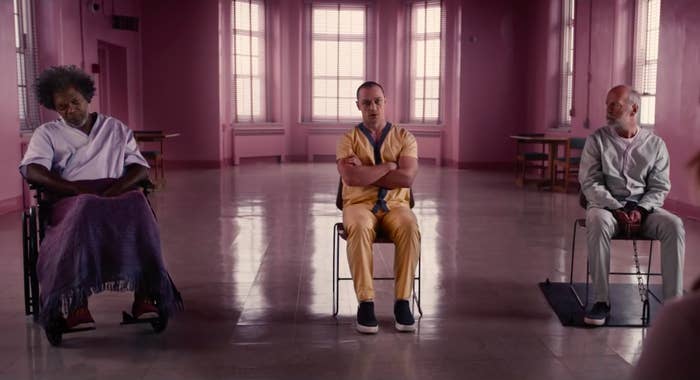 The first trailer for Glass, the third film in M. Night Shyamalan's Unbreakable series, debuted at San Diego Comic-Con on Friday.
The film, a sequel to 2016's Split and 2000's Unbreakable, sees James McAvoy return as Kevin Wendell Crumb, a man with 24 split personalities, including the animal-like The Beast, who abducts and devours women.
Also receiving top billing is Bruce Willis as David Dunn, the security guard from the 2000 film who survived a deadly train crash to discover he has superhuman strength.
And, of course, Samuel L. Jackson is back as Elijah Price, aka the super smart, yet super fragile, Mr. Glass.
Jackson told fans at a Comic-Con panel he was proud to sign on to the film because of the complexity of the character.
Sarah Paulson from American Horror Story also makes her debut in the series as a doctor treating people with delusions of being superheroes.
When it was released in 2016, Split wasn't marketed as a sequel to Unbreakable, but (spolier!) Willis's surprise appearance at the end of the film confirmed they take place in the same universe.