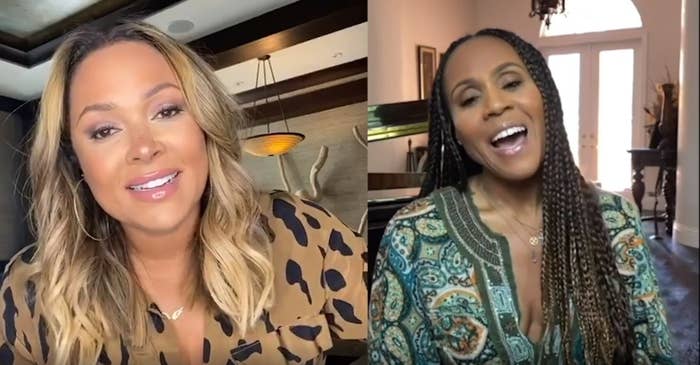 The journalists at BuzzFeed News are proud to bring you trustworthy and relevant reporting about the coronavirus. To help keep this news free, become a member and sign up for our newsletter, Outbreak Today.
It's hard to believe that the universally pilloried video in which various celebrities "sing" John Lennon's "Imagine" — ostensibly meant as a sincere gesture spearheaded by Wonder Woman actor Gal Gadot — took place only two weeks ago.

Life under quarantine has rendered time, as well as most of our daily routines, obsolete. At this point, days practically blend into one another (What day is it now, anyway?!) so you'd be forgiven if you don't remember Sarah Silverman, Jimmy Fallon, Natalie Portman, and several other entertainers attempting — and failing terribly — to invoke a digital kumbaya for our pandemic-stricken world. Those were, after all, the early days, and many people, not just celebrities, were struggling with how seriously the virus should be taken. But America is now knee-deep in crisis mode — at the latest White House press conference President Donald Trump warned that between 100,000–240,000 people could die from COVID-19 despite social distancing.
And for people who quite literally thrive on attention from the masses, the coronavirus has put many celebrities into a prickly predicament. As my colleague Tomi Obaro pondered a few weeks ago, "What is the role of the entertainer in a snowballing public health crisis?" What's been made clear is that even celebrities themselves do not know the answer to that question. In a New York Times article about how celebrity worship has begun to falter, Amanda Hess writes that the pantheon of famous people in the "Imagine" video seemed to believe their "contributions suggest that the very appearance of a celebrity is a salve, as if a pandemic could be overcome by star power alone."
Thankfully, there are some stars, mostly musicians, who are cognizant of the fact that what people really crave right now is community and connection, even if the moment is fleeting.
This past weekend, the vocalists Tamia and Deborah Cox posted an Instagram cover of "Count on Me," which was featured on the Waiting to Exhale soundtrack and originally sung by Whitney Houston and CeCe Winans. "Even though we're apart I love that we are all finding creative ways to keep connected and stay together during these times," Tamia wrote on Instagram in a caption about the rendition, adding that it was a song that brought her and her friends "comfort." The post, which got nearly 400,000 thousand views, seemed to resonate beyond Instagram too. Essence magazine picked it up, and various Twitter users posted the cover, which also went viral on Twitter. One particular reason this video seemed to hit is that both Tamia and Cox are professional singers, and the song felt sincere rather than a manufactured attempt to say we're all in this together. Of course, nostalgia also played a role in the success of Tamia and Deborah's collaboration, and they're not the only celebrities making the most of that ever-reliable feel-good longing for simpler times to bring people a modicum of good cheer.
On Sunday night, a faction of Twitter users were excitedly tweeting about a song battle between producer and songwriter Johntá Austin and singer-songwriter Ne-Yo. The task was simple, the two, via Instagram Live, would play a few of their most memorable songs — 20 each — and the fans would decide which song they liked best. (Austin won, hands down.) The livestream topped out at nearly 80K people watching as the two artists walked down memory lane, reminiscing about how old they were when they wrote certain songs and giving fans a deeper appreciation for their craft. The producers Swizz Beatz and Timbaland had come up with the format for the battle last week when they went head-to-head in the first song battle. Since then, the competition has taken off, featuring The-Dream vs. Sean Garrett, Boi-1da vs. Hit-Boy, and most recently, Austin and Ne-Yo. Among the thousands of fans tweeting and commenting about Austin and Ne-Yo, prominent musicians like Tyrese, Bryan-Michael Cox, and Wale were just as engaged. And naturally, people have been imagining their own ideal songwriter/producer battles, like Jermaine Dupri vs. Diddy or Diane Warren vs. Babyface.
Celebrities who have always embraced their wackiness have been the ones best-equipped for helping people get through quarantine, like Mad Men star January Jones, who has truly been leaning into weird self-isolation content. Similarly, actor Leslie Jordan has been a reservoir of happiness for people stuck inside. Jordan, in his distinctive Tennessean accent, consistently charms people with bright opening lines in his videos, like "Well, hello pilgrims and fellow fitness fanatics!" Other times he's just making random skits that'll surely make you burst out laughing in delight. Take a scroll through the comments on any given video, and you'll find lots of people thanking the star for putting a smile on their face, people who say they look forward to his videos every day. Network television has also gotten inventive as shows have been shut down because of the coronavirus. Celebs like Mariah Carey and the Backstreet Boys each sang one of their '90s hits as part of the Living Room Concert for America, hosted by Elton John, an event which came together after the 2020 iHeartRadio Music Awards were postponed due to the ongoing pandemic.
But celebs aren't just relying on their talent to foster joy and hope for their fans. They've been doing Instagram Lives like regular folk, which effectively become fan-servicey moments for their loyal followers. See: Justin Bieber and Tom Holland or Demi Lovato and Miley Cyrus. Basketball star Steph Curry, who can't play his sport because of the pandemic, also participated in a livestream with Dr. Anthony Fauci, the director of the National Institute of Allergy and Infectious Diseases, to ask questions about the coronavirus. The stream was watched by at least 50,000 people and drew the attention of Bieber, as well as former president Barack Obama, who urged people to "take care of each other." Lizzo, with her flute in hand, led a meditation session to "promote healing" which people can access whenever they please; Taylor Swift personally DM'd and donated money to fans amid the ongoing outbreak; and actor Josh Gad volunteered to read — to you and your children — as a way of supporting people during the crisis. Rihanna has donated millions of dollars to help medical workers receive PPE while pledging to personally cover the cost of ventilators for people in her home country of Barbados.
The last month of the ongoing pandemic has given fans unprecedented access to their favorite celebrities and illuminated the stark differences between their lives and those of everyday people. Celebrities often have more resources that allow them to be tested for the virus and likely don't have the same level of worries when it comes to finances, which is far from the reality facing the average American. Stars, unequivocally, aren't just like us. But when they dial back the unnatural veneer of celebrity, it certainly feels like we're all on the same playing field, trying to find hope and connection where we can. If only for a moment.●