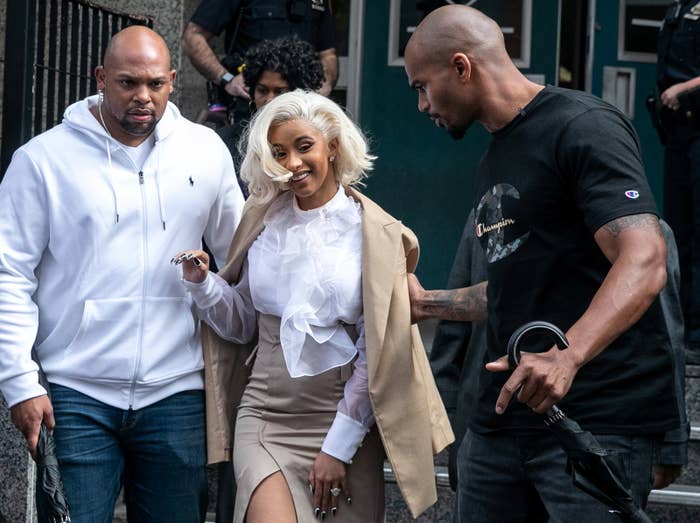 Rapper Cardi B was a no-show Monday at her arraignment on charges of assault and reckless endangerment that she racked up at a New York City strip club in October.
The star's lawyer, Jeff Kern, attended the court proceeding in her place.

He told the judge that, while Cardi, whose real name is Belcalis Almánzar, was aware of the court date, there were extenuating circumstances that made it difficult for the artist to attend the hearing.
After Kerns stressed that his client hadn't had a history of criminal behavior, the judge adjourned the proceeding for Dec. 7 at 11 a.m., giving Cardi a "one-time opportunity to show" or else the court would pursue a bench warrant for her arrest.
In August, siblings Jade and Baddie Gi, whose real names are Rachel and Sarah Wattley, respectively, were two employees of Angels strip club in Queens.
The women said they were attacked by members of Cardi's team with bottles and chairs because of accusations that they'd slept with the rapper's husband, Offset.
In early October, Cardi turned herself in to the New York Police Department's 109th Precinct in Queens, where she was charged.
When asked, a spokesperson for the Queens County district attorney told BuzzFeed News they had no specific information on why the rapper's arraignment didn't take place when she was initially charged.
Representatives for Cardi B did not immediately respond to BuzzFeed News' request for comment.
CORRECTION
Cardi B's lawyer is Jeff Kern. An earlier version of this story misspelled his name.
CORRECTION
Jade and Baddie Gi's names are Rachel and Sarah Wattley, respectively. An earlier version of this story transposed their names.