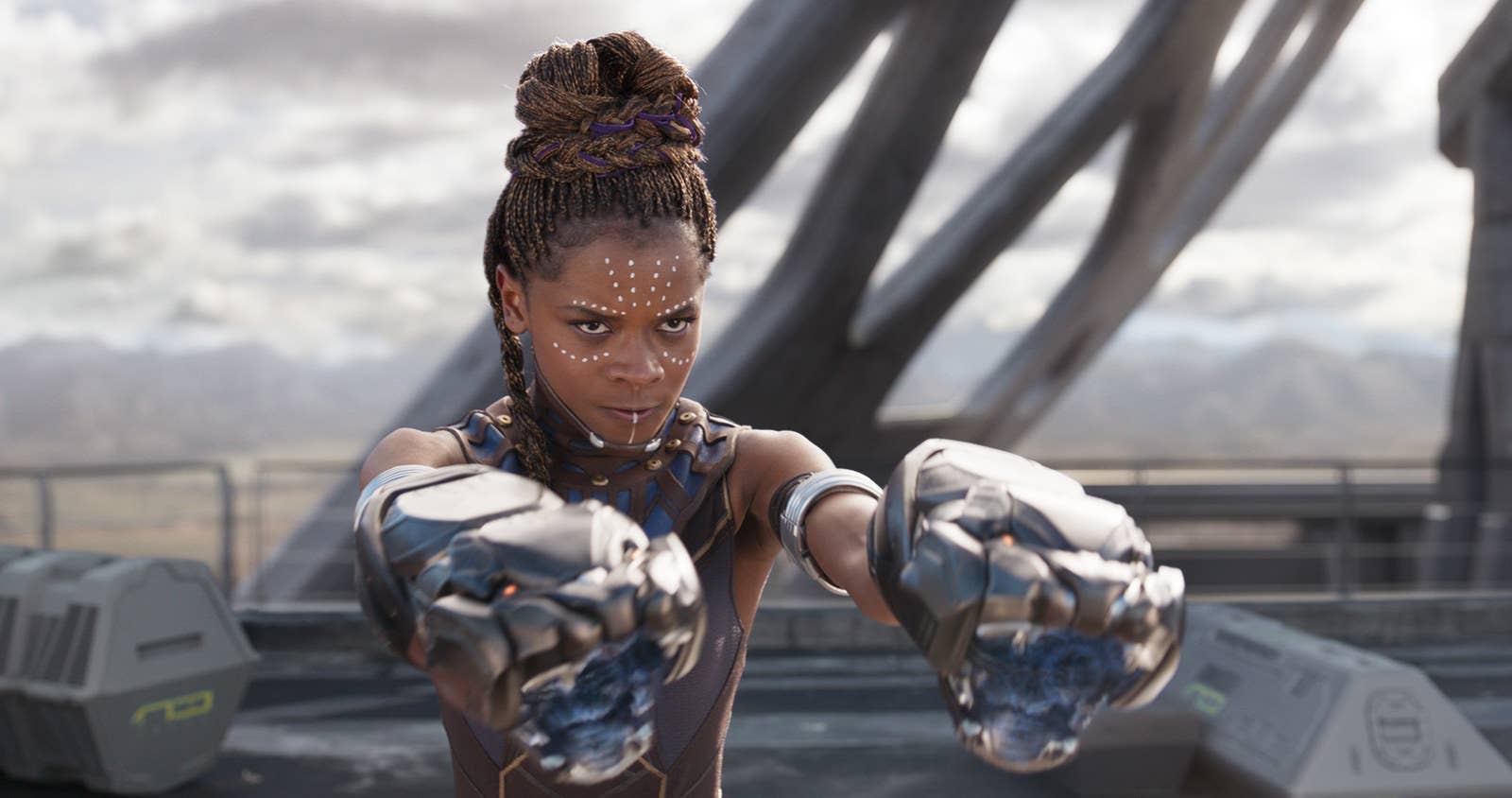 Growing up, Alexis Hancock was obsessed with the astronaut Mae Jemison, the first black woman to travel in space. She also loved Storm from X-Men, the black mutant superhero who can control the weather, and devoured the Black Panther comic books, featuring King T'Challa and his tech guru sister, Princess Shuri.

But with her head in space, Hancock also felt isolated and alone back in the real world. "I was never really ridiculed for my nerdy inclinations, just silently siloed in my own world," she said. "I wasn't really mainstream — what was popular, who was pretty. I was just sorta ignored, I guess."
Now a 29-year-old web developer based in Oakland, California, Hancock wasn't prepared for the rush of emotion she would feel seeing Shuri come to life on the big screen in this year's live-action film. "To finally see that happen on the big screen — seeing this smart black woman being held up in her community and given the space and encouragement to do her thing," said Hancock. "A lot of my friends texted me [after seeing the film] and said that, 'When I saw Shuri, I thought of you.' And I was like, Oh my god, I'm gonna cry."

In the months that followed the breakout performance of Letitia Wright as Shuri, audiences were introduced to even more smart, capable black women. There was Storm Reid as the inquisitive Meg Murry in A Wrinkle in Time; there was Rihanna as an effortlessly cool hacker in Ocean's 8, which also featured a brief performance from Nathanya Alexander as RiRi's younger but equally smart sister; and there was Lena Waithe as the tomboy gamer Aech/Helen in Ready Player One. Meanwhile, offscreen, black actor Noma Dumezweni wowed Broadway audiences — and snagged a Tony nomination — with her portrayal of the wizarding brainiac Hermione in Harry Potter and the Cursed Child.

2018 is the year of the black girl nerd.
While brilliant and brainy black women are seeing themselves reflected in entertainment in major new ways, some are also wondering if this trend will continue or if it's just another fleeting, half-hearted attempt at inclusion in Hollywood.
Still, the current pop culture moment feels long overdue. "This was years in the making; this was world-building that I've never seen in Hollywood," said Hancock. "Seeing black people in these roles I think for once [was a] fresh perspective."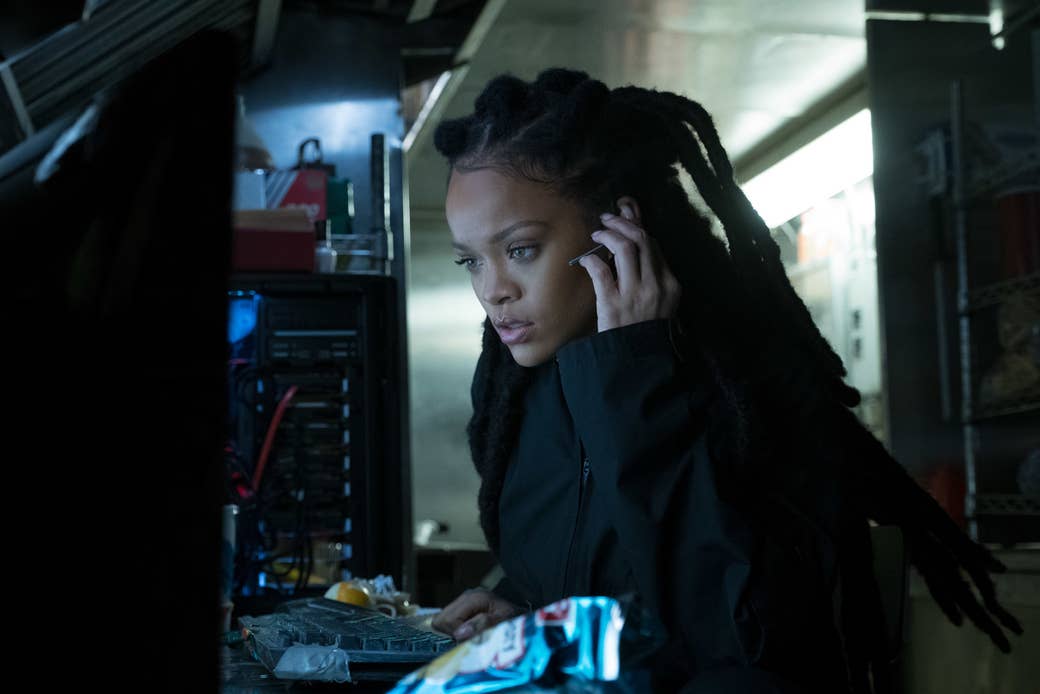 For more than a year, Jonita Davis has worked on Black Girl Nerds, a website where black women interested in all facets of nerdom can find community and discuss black culture and women's issues. Davis, the website's managing editor, has also sensed a cultural shift, equating the current moment to how the 1984 comedy Revenge of the Nerds brought geek culture into the mainstream for straight white men.

"If somebody cool like Rihanna is doing it, or if someone as kick-ass as [Wright] is doing it, it makes it to where it's a lot easier for a girl to show up and start talking tech or about some of the apps she likes to make without getting a lot of backlash," said Davis.
Having grown up during a time when black nerds were almost exclusively represented by the absurdist caricature of Steve Urkel (Jaleel White) on Family Matters, Davis particularly appreciated seeing Rihanna's confident and chill genius on display in Ocean's 8.
"She's kind of normalizing being a black girl being nerdy and having it be alright," said Davis.
"She's kind of normalizing being a black girl being nerdy and having it be alright."
It's not surprising that for a long time the film industry was reluctant to make movies about black people, given how much of Hollywood's history has been steeped in whiteness. A recent USC Annenberg report chronicling just the last 10 years of the top-grossing films in Hollywood found no significant changes when it comes to minorities in front of the camera. And when it comes to those behind the scenes, the numbers are just as bad, with a 2017 Directors Guild of America report noting that numbers of women and minority directors of feature films were abysmally low, accounting for 12 and 10% of movies, respectively.
Yet thanks to the work of increasingly powerful directors like Ava DuVernay, Ryan Coogler, and Barry Jenkins, more and more black stories are being told — and earning critical and commercial success in the process. It was Jenkins' Moonlight that won the 2016 Oscar for Best Picture, beating out a field that included Hidden Figures, the box-office smash with a majority black cast that told the real-life story of black women mathematicians at NASA who played an integral role in the space race of the 1960s. "Yes, they let women do some things at NASA," Taraji P. Henson's character says in the film. "And it's not because we wear skirts. It's because we wear glasses."
At last month's San Diego Comic-Con, the annual convention where fans and industry figures mingle and get pumped for the year ahead in pop culture, there were plenty of black women who stood out in their inventive costumes from the white fanboys with whom the event is usually associated. Some were dressed as Supergirl or draped in their favorite Hogwarts students' robes, while others donned homemade Dora Milaje costumes like the female warriors in Black Panther. One family, the Woods, had combined Jedi robes and lightsabers from Star Wars with Wakandan-inspired prints from Black Panther.
Jay Justice, an exhibitor who was attending Comic-Con this year for the seventh or eighth time, said social media had given people like her a voice. Now it feels as if Hollywood is listening.
"The media is slowly starting to cover a wider range of fans instead of just filming the cis, white, straight, able-bodied, big-tittied white girl that's out there, and more power to them," Justice said. "But we're out here too. Women of color have been here."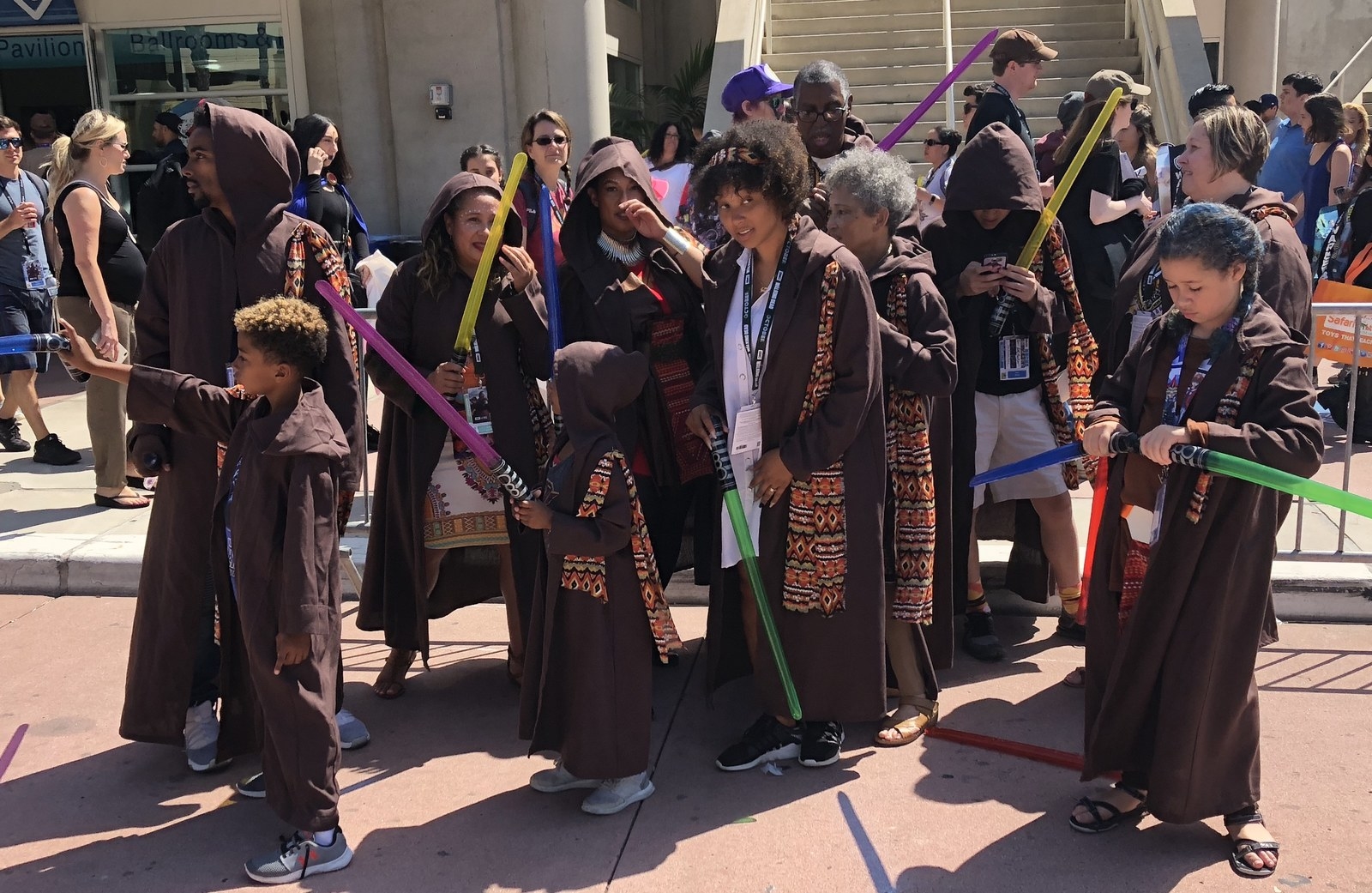 Of course, black women nerds have taken up space in the real world for a lot longer than they've been depicted onscreen. Sherrell Dorsey is a technology journalist who's been supporting entrepreneurs of color in North Carolina from her startup BLKTECHCLT since 2016. The Charlotte consulting hub has its own office — "the blackest thing you'll ever see," Dorsey describes it — where Harvard Business Review magazines lay alongside Black Panther comics on coffee tables, and art from black artists hangs on the walls.
Fed up with the way the news media would focus on white men ("Every single story is like Zuckerberg, Musk, Gates, whatever white person just raised a million dollars without having an actual company"), she hopes the rise of the black girl nerd in pop culture will shift future narratives for people like her young nieces.
"I love that right now we're seeing a different kind of black woman onscreen, we're seeing a different kind of black girl onscreen," she said. "And I have nieces and it's like now I'm able to go and buy them books and find movies for them to consume, and they'll be able to grow up to see themselves in different capacities, even down to the new Barbie doll that is a STEM black woman with kinky hair."
"I get to go out and purchase that for my niece," said Dorsey. "That is going to be something that's just part of her childhood, and she'll never know the difference."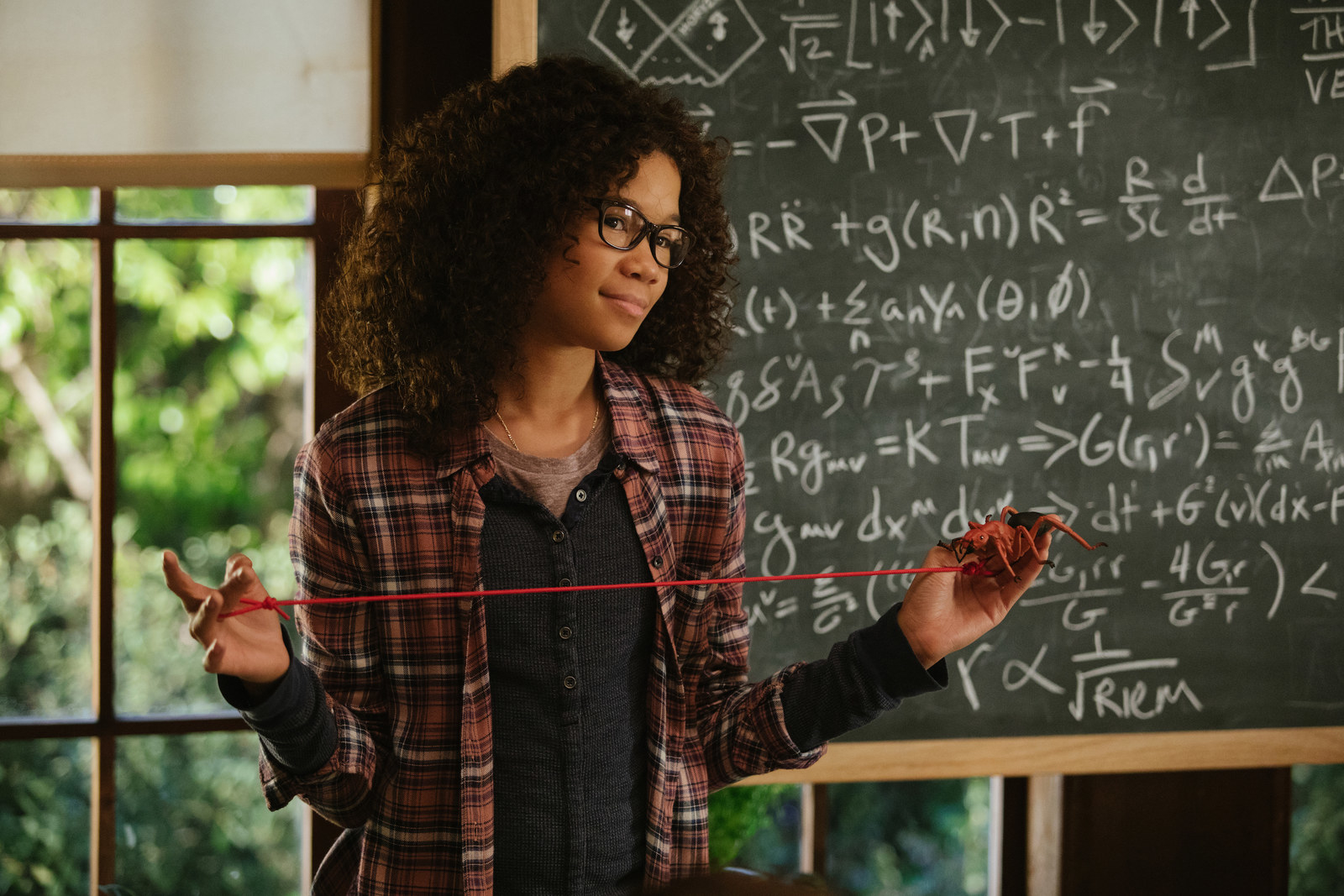 Though progress has been slow, black girl nerds remain hopeful for what these small instances of change may mean for the future.
"People need to understand that the problem over time with black women is that we've been put into a box, and we've been put into a singular story," said Hancock, the web developer. "And now I want people to world-build, whatever worlds they were building as little girls. I hope that they have these images now and that they're able to build their own worlds and their own universes and expand on what they would like to do, because the fact is, we deserve it."
Justice, who trekked about the Comic-Con convention floor in a Dora Milaje costume she made after seeing the initial trailer for Black Panther, hopes the inclusion won't solely fall on the shoulders of the Shonda Rhimes and Ava DuVernays of the world.
"I want more people to have the opportunity to create these characters, create these storylines," she said. "We need to be not just on the page, on the stage; we need to be in the boardrooms, we need to be in the writing rooms," she said. "There's plenty of room at the table. We can all be there.
Friends Eliyannah Yisrael and Marlena Free were also among those attending the convention, the former wearing blue Ravenclaw robes while the latter had chosen Slytherin green.
"It feels good to feel seen."
Free said she hopes the "inspiring" prevalence of smart black women onscreen this year shows that younger girls can "grow up and know that it's okay to be smart."
But for Yisrael, she's just happy to be living in this moment.
"It feels good to feel seen," she said. "'Cause I feel like I've always been the bookworm, but you kind of feel like you're on an island by yourself a lot of the times, and now there's so much visibility."