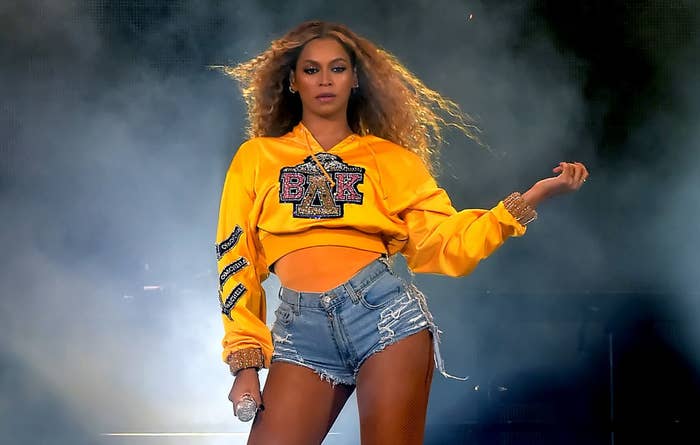 Beyoncé, the legendary superstar known for being very mum when it comes to her private life, is setting the record straight on a moment from 2001, shutting down speculation that she was high during an interview when she was still the lead singer of the girl group Destiny's Child.
In an interview with Elle published Monday, the singer dished on everything from her Ivy Park clothing line to how her views on success have changed over time to the process of beginning new projects. The interview used the outlet's "Ask Me Anything" framing, which took questions from fans via social media.
Though the Q&A is entertaining enough, one of the funniest moments came toward the end, when Beyoncé was asked if she'd still consider being a whale for a day, a follow-up to a question she was asked in 2001.
"I still love whales," Beyoncé told Elle. "And I love being in the ocean. And that video was after a 16-hour press day. Not marijuana!!"

Now for those who are not Beyoncé Historians™️, you may be wondering what she's talking about.
But worry not, we've got you covered.
Back in 2001, all three members of Destiny's Child were asked about what kind of animal they'd be by the Amsterdam-based outlet Toazted.

Kelly Rowland, seemingly very exhausted, had a bit of trouble answering, and said, "An animal? Oh, that's hard."
But Beyoncé, who seemed just as fatigued, perked up and responded by saying, "I know what I'd be. A whale."
The interviewer asked why and Beyoncé elaborated. "I've loved whales since I was a little girl."
Then, adding to the awkwardness of the video, Michelle Williams chimed in and said, "She wants to touch one one day."
Years later, the clip resurfaced, as recently as 2016, and people speculated that the women may have dabbled in some weed.
Eventually, Rowland answered, saying she'd be a bird "because they can fly" while stifling a giggle. Williams dramatically concluded that she'd be "a black panther" which elicited "oohs" from her bandmates.
Williams then fully begins to mimic the movement of the big black cat, which only added to the rumors that the women might have had a bit of fun before the interview.
And with the interview being conducted in the Netherlands, which has relaxed cannabis laws, it only fueled the speculation — until today, that is!
So there you have it, folks. Neither Beyoncé, nor her friends, were stoned that day.
Case closed!